So, with Swatch withdrawn from Baselworld, we've all been left scratching our heads as to how the brands in the group will show their new watches off and let people see them for the very first time. Of course, brands like Omega which releases all of its many special editions through online publications anyway have no problem using digital marketing. But, established companies such as Breguet are left on the side, sure they have a digital presence, but a brand as noble as this still treasures the experience of seeing things in the real world. Undoubtedly, the fine folks at Breguet are probably still unsure themselves at what to do, so, for now, they're releasing their pieces online as well.
So, to kickstart the new marketing focus Breguet unveils its new collection of Reine de Naples watches which celebrate the signs of the Chinese Zodiac. These watches are indeed something to behold, and take on a brand new appearance for the brand which is more used to exquisitely engraved guilloché dials and, more recently, enamel. This unique style is called Cameo and traditionally involves the filing and cutting of a piece of stone, glass or mother of pearl. Although its history stretches back to the very earliest of human history, it has been popular since Egyptian times.
Cameo from Torre-del-Greco near Naples, Italy, is particularly revered, fitting given this watch is the Reine de Naples, the Queen of Naples. Although the Reine de Naples is a ladies collection, Cameo was popular with men throughout history, its popularity with surged because of Queen Victoria's passion for the art.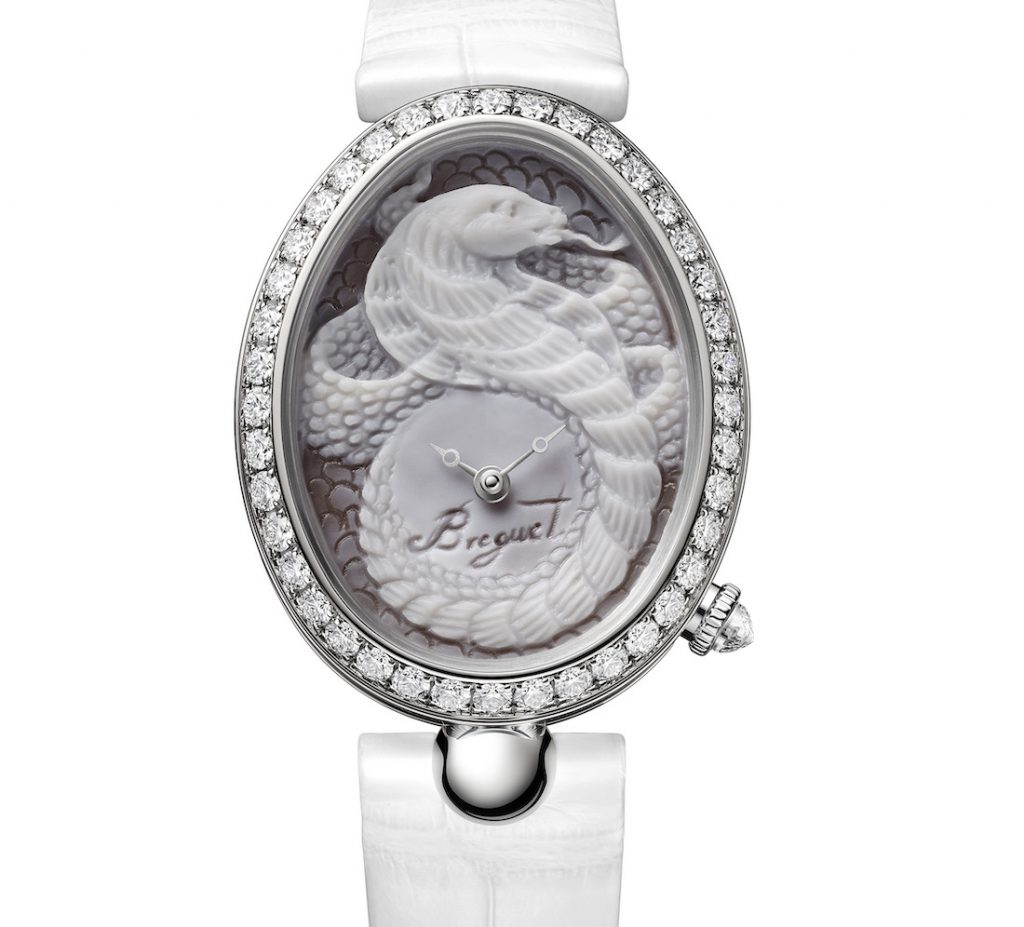 The dial on the Reine de Naples is crafted from a seashell, and four different animals join the 2016 Rooster edition.  Ladies now have the choice of the monkey, goat, snake or the dragon, all of which come with an elegant Breguet engraving on the seashell. The cases are set with 40 diamonds and measures 40mm in length and 32mm at the widest point of the egg shape. Crafted from 18k white gold, these cases also have a transparent sapphire crystal caseback revealing the calibre 537/1. It has a 40-hour power reserve and runs at 3Hz with an engraved gold rotor.
These watches represent the very top echelon of women's watchmaking, and at $72,000 a piece, they'd better had. Seriously, I can't think of a women's collection in high-end watchmaking at this level that rivals the Reine de Naples, every model in the range is a stunning and unique watch. Ladies watches are particularly suitable for a company such as Breguet as it allows them to flex their muscles in the creative department. While some men undoubtedly enjoy more ornate watches, I think it's safe to say the vast majority would instead something a little more casual and straightforward. Not that there's anything wrong with that, but I think it's somewhat limiting to watchmakers in terms of the crafts they can utilise, so allowing them to flex their muscles in this regard is a positive. Not to mention, these do look good, maybe one day they'll do something a little bit more masculine for us?
Visit Breguet here.