As you well know, Breguet is my favourite watchmaker. To me, nothing is finer than a classic Breguet wristwatch, they're a staple of high-end horology, and their designs perfectly marry modern watchmaking to old designs. A fair portion of the Breguet lineup today uses designs that were drawn by the hand of Abraham-Louis Breguet himself, but you wouldn't know that just from sight alone. One of the more peculiar watch collections in their repertoire is the Tradition line, which is based on the Souscription watches.
Breguet's Souscription timepieces were simple watches sold via subscription, which is where the name comes from. You'd pay a downpayment/subscription of a quarter of the retail price and then Breguet would make your watch for you, to your specification and to be delivered on the date agreed upon without delay. These watches only had one hand but were still capable of telling time to the nearest minute and had both thermal and shock resistance built-in, they were Breguet's "daily driver" watches and were designed to last.
Viewing the back of an original Souscription watch and the front of a Tradition watch will heed many similarities in appearance, a fantastic article by The Naked Watchmaker shows a deconstruction of a Souscription timepiece. Breguet has made a few different combinations of complications for this range over the years, and their newest one adds to that collection.
New for 2020, the Tradition Quantième Rétrograde ref 7597 marries a date complication with the Tradition line. "Big deal" you say. Well, actually, it is. Unlike on any other watch where the manufacturer can add a date wheel or two on a whim, the Tradition line needs more care as the movement makes up most of the front of the watch. The actual time dial is relatively small, so to balance all the elements while keeping the theme of the Souscription watches is imperative.
Luckily, Breguet has succeeded. The mechanism for the date is sat low down in the watch, so Breguet had to bend its heat-blued steel hand to allow it to pass over the balance wheel and gear train without collision, and there's a pusher at 10 o'clock to allow you to set the date quickly and easily. 
Around the back of the watch, there isn't much to see, as you'd expect in a back-to-front watch like this one. You do get a polished automatic rotor, though, the design of which harkens back to Breguet's own automatic winding system.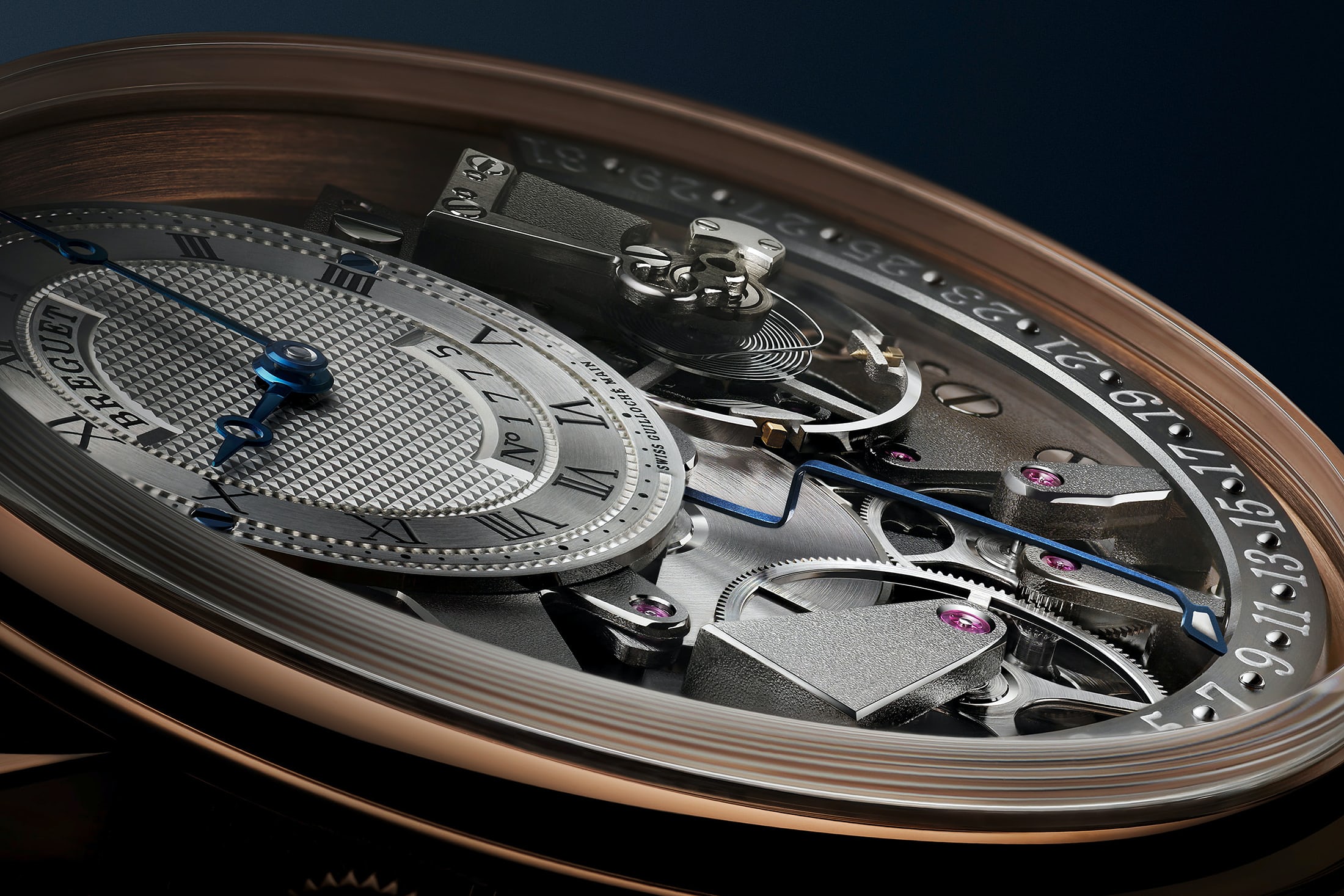 The watch is a comfortable 40mm in diameter, and the gold (either pink or white) case comes with all the finishing hallmarks you'd expect. I particularly enjoy the cold-rolled fluted side to the piece, which gives it a distinctive profile hardly seen in the industry today. Breguet isn't limiting the production of these watches, thankfully, and they cost $36,800 in pink or $37,800 in white gold.