Glashütte Original is a brand with a diverse portfolio. Whether you are looking for a handsome luxury dress watch or a robust dive watch, or even a wild card watch Glashütte Original has you covered. At WristReview we are big fans of the Teutonic brand's formal offerings and came away quite impressed with the blue-dialed Panomatic lunar that we reviewed in January this year. Recently I got an opportunity to spend some quality time with the Glashütte Original Senator Chronometer Blue, a watch that was unveiled during Baselworld 2016.
And before you read on, let me tell you that I wasn't keen on letting this one go back after the loan time ended. Now without further ado, let's dive a little deeper.
Case and Wearability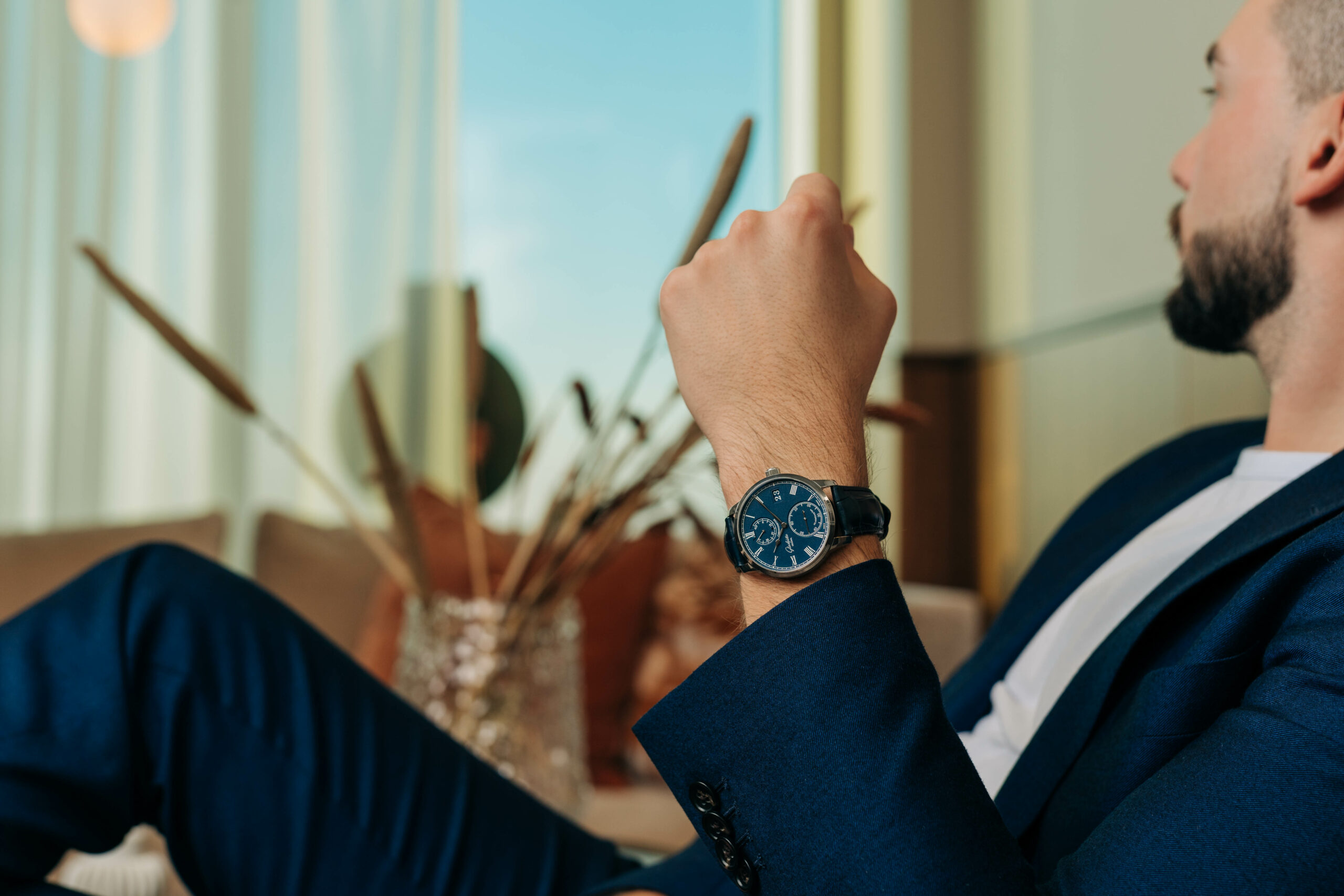 I have large wrists, and I love big and bold timepieces that accommodate my wrist well, and the Glashütte Original Senator Chronometer did not disappoint me in this regard. Now, don't get me wrong, the Senator Chronometer is very much a dress watch, and I am not comparing it to big dive watches. All I am trying to say is that it is a modern watch, that is more suited for people with medium to large-sized wrists. Let me explain why. Crafted from solid white gold and sporting a decent water resistance of 50 meters, the case on this watch measures a modern 42mm in diameter and has a thickness of around 12.5mm, and both these dimensions combine to create a profile that is not intimidating but offers a nice presence on the wrist especially for an elegant watch. Having said that, a manageable lug to lug distance of around 48mm and the downward curving lugs, make the watch hug the wrist quite well.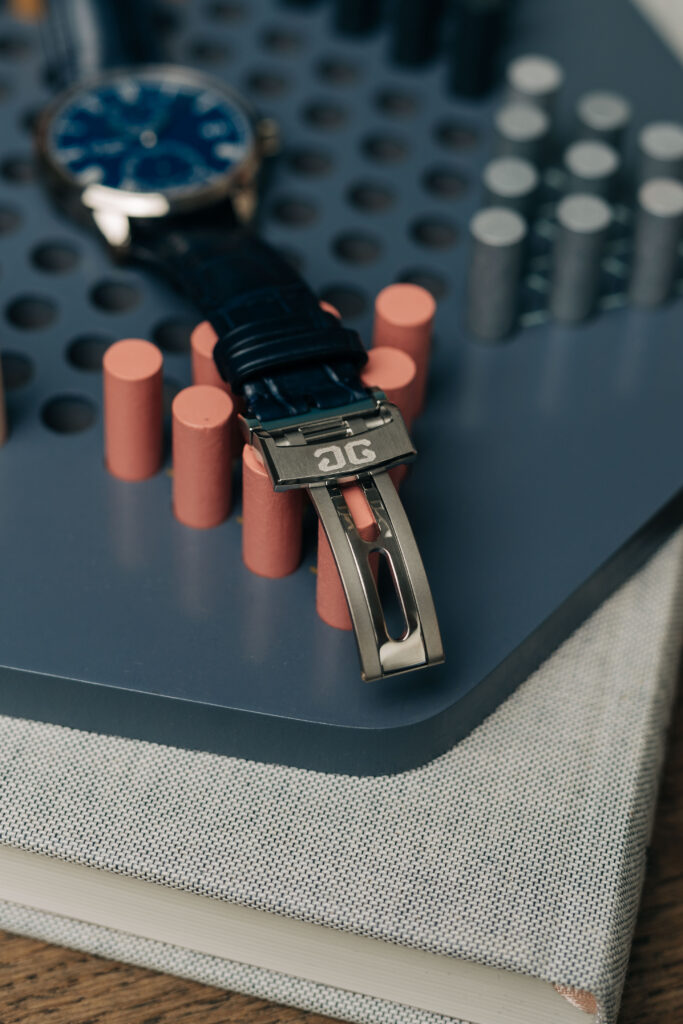 While I found the watch to be quite comfortable on the wrist there is something that bothered me now and then. The entire case on this watch is beautifully polished, which is a good thing, however, what that also means is that the case, becomes very prone to scratches. So, in case you are someone who doesn't baby their watches, be ready for some battle scars. Another point worth mentioning is that as the case is crafted from a precious metal it has some additional heft to it even on the strap, which, can be a good or a bad thing depending on your taste in watches. I like my watches to be slightly heavy, which gives me added confidence while wearing them. Speaking of the strap, my review sample came attached to a high-quality Louisiana genuine alligator strap. The blue color of the strap complements the color of the dial quite well. Also, unlike many leather straps that take time to loosen out, this one was quite supple and held the case well planted on the wrist.
Dial
Glashütte Original makes a variety of dress watches and the Senator is the most traditional among all of them. Presented in a subdued shade of blue with a hint of grey, the dial on this watch is characterized by large white printed Roman numerals that evoke a dressy vibe and are reminiscent of large marine clocks that were found on the decks of ships in the past. Furthermore, the crisp white printing offers the perfect contrast to the blue background. But what in my opinion makes this dial special is the grained finish that livens things up and without which, I feel this dial would have been slightly boring.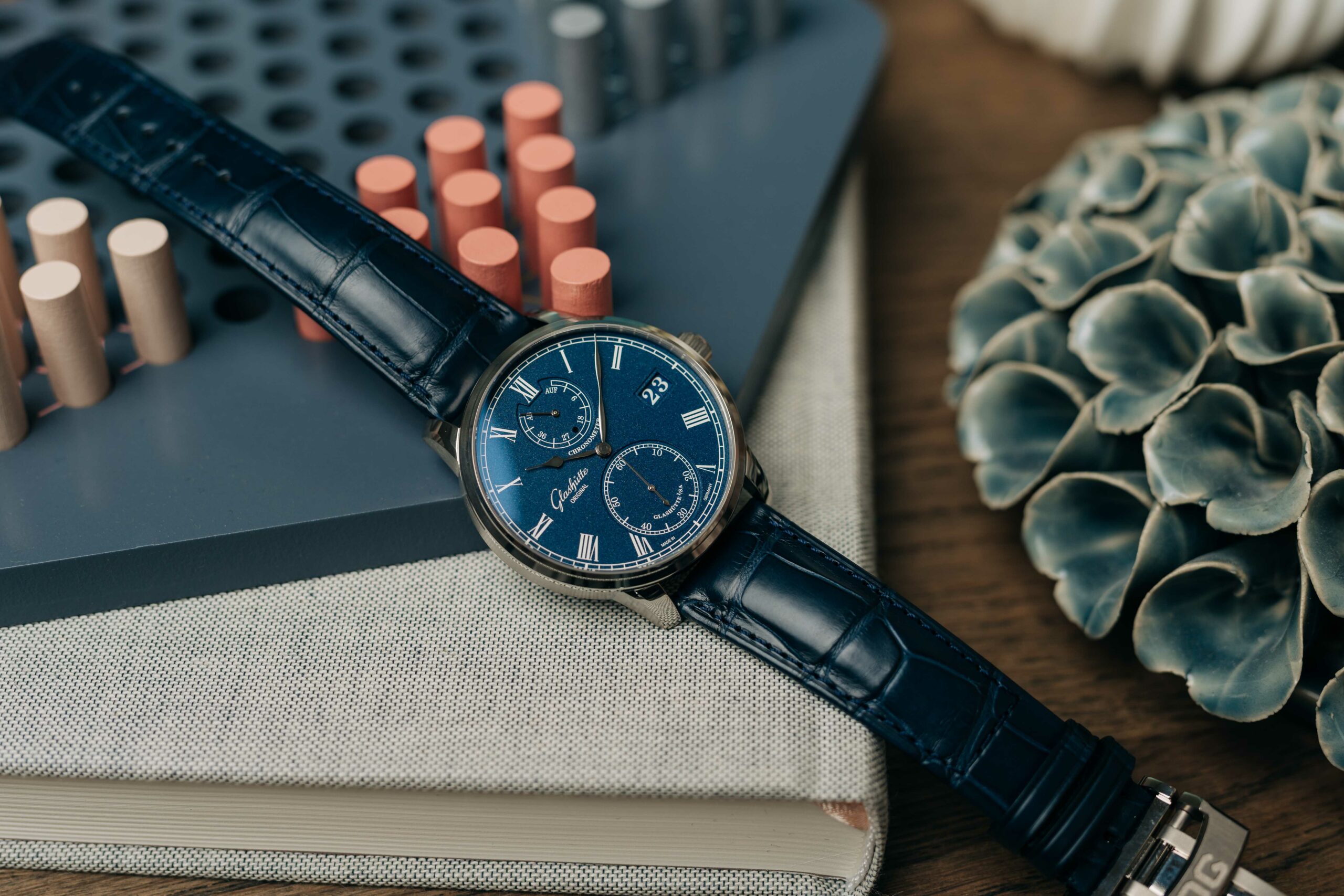 Another detail that took me by surprise was how well this dial played with light shifting from a light blue shade under direct sunlight to a darker navy-blue color in dimly lit situations. The rest of the layout is typical Glashütte Original Senator. You get a rail-road style minute track on the outer periphery, a register for tracking the power reserve at 12, an oversized subsidiary second's sub-dial at 6, and a big date display at the 3 o'clock position. Both sub-registers are nicely sunken and bring a nice sense of depth to the dial. And while I am generally not a big advocate of date windows, I like the execution on this watch. It is big and easy to read and balances out the Branding at 3 quite well. To read the time the Senator Chronometer makes use of leaf style hour and minute hands and a stick style seconds hand all of which are made from white gold and go well with the design of the watch. Overall, the dial is highly legible and simple yet attractive.
Movement
While the dial is what makes or breaks the deal when it comes down to wristwatches, movements play a critical role when it comes down to luxury mechanical timepieces. The Senator Chronometer that came in for review is powered by the in-house caliber 58-01. Before we get into the specifications, I would admit upfront that I was vowed by the beauty of this movement. Starting from the striping on the three-quarter plate, to the perlage on the base plate, the engraved balance cock, and the blued screws, everything has been implemented to an impressive level. The movement is manually wound, operates at a frequency of 4 Hz, and offers a power reserve of 44 hours and 40 minutes. Being a manually wound caliber, the wearer gets an expansive view of the entire movement through the sapphire case back, as compared to automatic movements where the oscillating weight tends to disrupt the view at times. As the name suggests, the movement is a chronometer and, is certified and tested to the highest standards of accuracy by a branch of German Calibration Service aka DKD located in Glashütte.
To conclude, I would like to say that the Glashütte Original Senator Chronometer Blue (Reference: – 1-58-01-05-34-30) is a handsome and elegant modern dress watch that offers a great blend of looks and technical capabilities.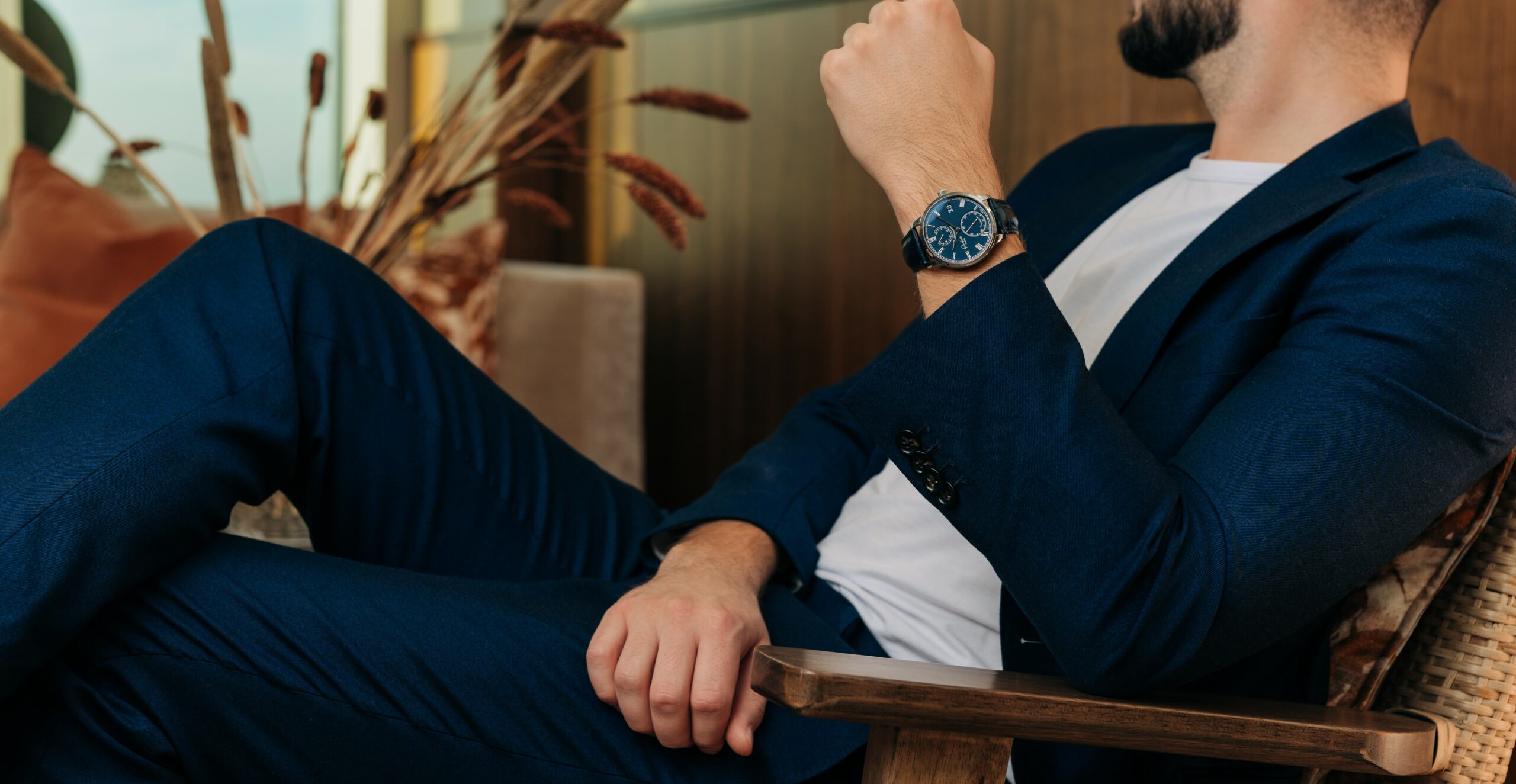 This is a watch that ticks almost all the right boxes, and anyone who is on the lookout for a high-quality classically styled timepiece should handle this watch in person before pulling the trigger. The watch retails for EUR 27,200, which I feel is a fair price, for what is being offered here.