Now lets take a little closer look at the new launched S05 Chronograph that is also available in date and GMT + date versions. The piece exists in various versions and I think that everyone will like the Stainless Steel Black D.L.C with Pearl Grey dial and rose gold hands. But I choose to present you the full stainless steel (Ref : A714AGN-AG-GG4710N) because on this one we can easily see all the details.
This sports watch has several arguments that could make it one of their one of their best-sellers. This new S05 Chronograph features a stainless steel case which is quite light compared to what you might think at first glance. Moreover Armand Nicolet have designed long lugs for this watch in order to fit perfectly on the wrist. I have a small wrist and I was really astonished by the comfort of the piece even if it is a big size at 44mm in diameter and 15.5mm in thickness.
The whole design of the dial is nice because there is not a lot information on it. Also the luminescent hands and indexes enhance the legibility of the watch which is really important for a sporty piece. Finally, the Swiss brand have added one rubber band close to the bezel and also rubber tips for all the buttons and crown. For me, and that's a personal opinion, there is too much rubber on it. But, as the watch is 300m water-resistant we know of the practicality of all these rubber extras. In addition, to ensure the watertight seal, the case back is closed and has instead been lovingly engraved by hand.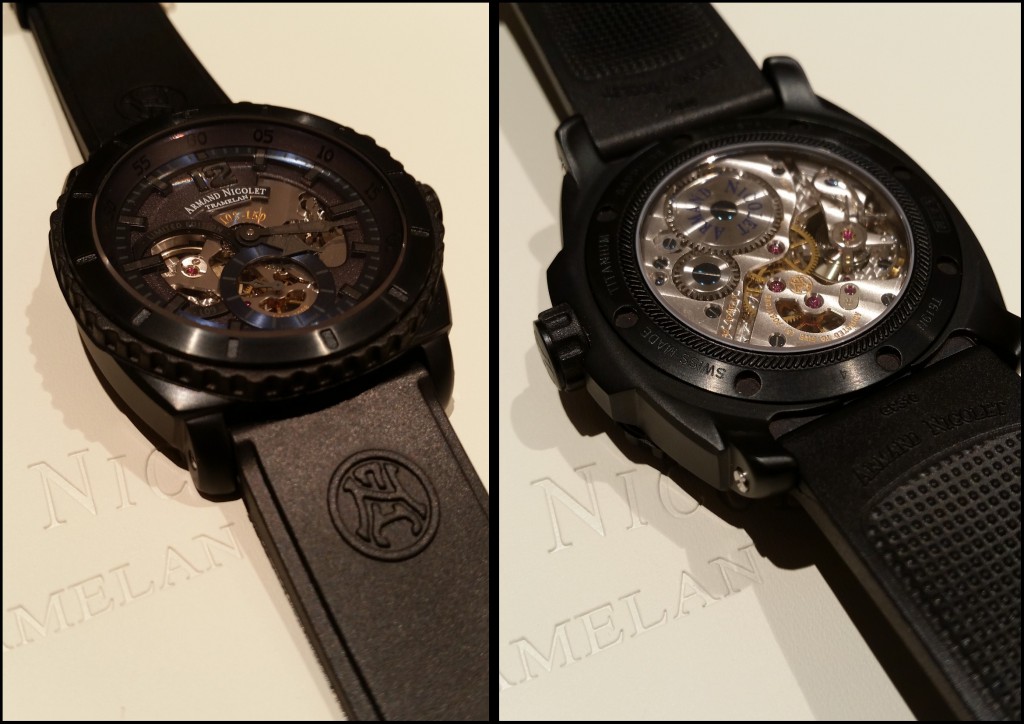 Going further with the sports watches let's talk about the L09 which is limited to 150 pieces per reference (The collection includes 7 different versions). The one in picture is the Titanium D.L.C. Black Treated (Ref : T619N-NR-G9610).
At the heart of this piece we have a manual winding mechanical movement with a small seconds functions at 6 O'clock. This movement is the Calibre AN 0711A obtained from the UT 600 that was produced in 1957 and modified in 2008 (note that in the other piece presented above "the S05" the watch has a movement ETA 2824). The style is different and we can't compare the two timepieces. One detail remains, the rubber bands that protect the bezel and the crown.
Under the sapphire glass with antiglare treatment we have luminous indexes, numbers, and hands and thanks to their big size you can be sure to have a good legibility in all occasions.To finish with this piece we have an open case back that shows us the well decorated movement.
To finish the presentation of the collections, I wanted to show you a completely different piece from those presented above. Yes Armand Nicolet has a watch to fit every watch enthusiast. The L10, which exists in 6 versions is really nice with its classic design. My personal favorite is the one in picture. This piece is made of stainless steel and has a perfect size of 40mm in diameter and only 8mm in thickness. That's what we can call a "dress watch". The contrasts between the grey dial and the 5 rose gold indexes and hands is really nice. The most interesting thing is of course the vintage movement. This one is the Calibre AN0710A obtained from the FHF 72 that was produced in 1960. When you turn the timepiece over you can see the great decoration of this movement thanks to the open case back.
There are many other beautiful things to see at Armand Nicolet and I invite you to contact them and to go on their website.You will see in these last pictures a variety of interesting watches with other complications like complete calendar or day/date, with a classic and attractive design and that you will wear and endless fun with.
In conclusion Armand Nicolet is a very underrated brand, I still don't know why because they make a really good argument for themselves. The strategy around the pieces is well-defined I think.
Still, the timepieces are pretty good and I think there is a market for them, because you have different prices, different styles and most importantly you have real quality. So there is a great potential and I only can say that we have all to keep an eye on Armand Nicolet! For more info, please visit armandnicolet.com
Pages: 1 2


JONATHAN KOPP – CONTRIBUTING WRITER
Jonathan Kopp has an avid enthusiasm for timepieces of all genre, from vintage timepieces to modern Luxury Haute Horology. His preference goes to small and independent high-end watchmakers. He loves the difference rather than classicism, although if he admits to being in love with several ultra-classics pieces. Jonathan was caught by the passion for watchmaking there are almost 6 years. For about 5 years, he wanders in this industry and was Communication-Marketing-PR Consultant for several brands. He has worked for over 2 years as a freelance for the development of the Swiss brand Arthur Oskar Stampfli (AOSWatches). To keep in touch with Jonathan you can follow him on the various social networks: Instagram, Facebook and Twitter. Read his articles here.