Bovet is a tiny company based in Fleurier which traditionally makes watches: entirely by hand. Actually, that's not entirely true, there are a few machines here and there, but they are merely to assist with specific tasks, such as making hairsprings. That's right, Bovet is one of the few manufacturers that still produces its hairsprings in-house, a very complicated procedure.
The staff of Bovet has worked tirelessly to bring an old name into the modern world. To do this, they've had to bring back some old-styles, such as their cases which are known for their elegant and sophisticated strap systems. On these cases, usually known as a Fleurier case as opposed to a Dimier, the strap system is connected via one central lug on the bottom of the watch, and on the top is a classy looped lug (they call it a bow) system which incorporates the crown, which is at the top instead of on the side of the case. This makes for a sophisticated if aged look, you wouldn't expect to see many young folks wearing Bovets of this style. Then again, not many of them can afford a Bovet, as they are often priced in the hundreds of thousands range.
These watches take that cool strap system and elevate it to a whole new level. Bovet took seven years in developing what it calls the Amadeo system. To distinguish their watches from Fleurier based competitors Chopard, Parmigiani and Vaucher, Bovet created the Amadeo system which allows a wristwatch to transform into a pendant watch. In the case of a quick change of attire, this could be very useful as one may not wish to carry more than one watch with them on their trip.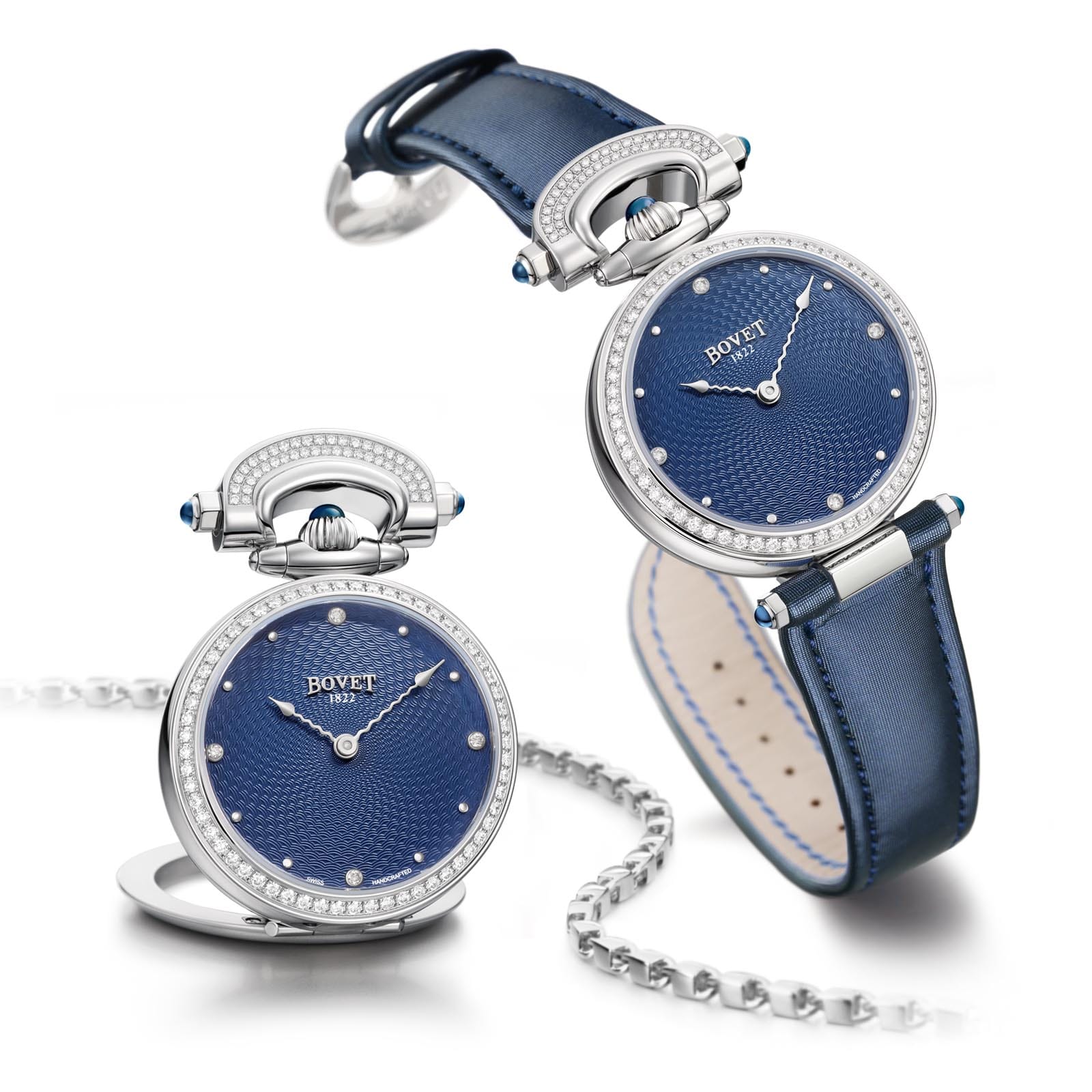 Both the new Miss Audrey and Monsieur Bovet have the Amadeo system included. Miss Audrey, the ladies piece, specifically has a long necklace chain made of rhodium plated silver to accompany it. That watch is 36mm in diameter and 11mm thick while the case is water resistant to 30m. The case is made up of mirror polished stainless steel for a very classy appearance. The bezel of the Miss Audrey watch contains 103 round cut diamonds which equate to roughly 0.99ct. Inside it is an automatic winding Calibre 11BA15 movement which is 11.5 lignes or 26mm in diameter. The power reserve is 42 hours. I think the blue mother of pearl and guilloché dial is lovely on this watch, it can be quite hard to give a ladies watch a definitive look while keeping to brand specific styles, so this one does a good job.
Inside the 43mm Monsieur Bovet watch is the excellent Virtuoso II à spécialités horlogères ref.13BM09A1 movement. It also features a Bovet patent, the 'double co-axial seconds', which means that the seconds display which you see on the front of the watch is also on the back, both seconds hands move clockwise thanks to a differential in between them. Another Bovet hallmark is that the back of the watch also features information on the back, though in this case, it's a classy and straightforward fan guillocheé motif with reversed hands (the more complex the Bovet, the more information there is displayed on the reverse). The movement has a seven-day power reserve, is 13.75 lignes (31mm) in diameter and is fantastically well decorated.
Finally, as a tribute to Edouard Bovet, the company founder and namesake, these watches can be highly personalised. The solid dials make the ideal setting for a painting of some sort, while cases can be engraved or gem-set as required. This art is what gave Bovet a strong reputation in the 19th century and has been carefully preserved to this day, and we hope it continues for a long time to come. Visit Bovet here.