Crowdfunding platforms have brought about a revolution in the world of watches. Starting a new brand or launching a new watch has never been easier. All you need is a well-thought campaign offering a deep insight into the design, features and more importantly, the pricing and you are ready to roll. Having said that, all the convenience that we just talked about also leads to a cut-throat competition which implies that you truly need to offer a special and value-oriented product to taste success. So, on that note, we would like to introduce the Waldhoff Imperial and Vanguard V8, two German watches that are currently live on Kickstarter and which we feel offer something unique especially at the price point and in this segment.
Waldhoff is a small German watch brand that was started in 2015 collaboration between Nicolas, a Swiss watch designer and Manfred Starck Uhren Gmbh, a watch manufacturer based in Pforzheim. The brand's primary goal has been to produce high-quality mechanical timepieces assembled and calibrated in their German manufacture and sell them at a relatively affordable price point. Following this mantra, the brand has successfully released quite a few intriguing watches and is now back with two new watches that are aimed at providing an accessible high horology experience. So, let's have a quick look.
The Imperial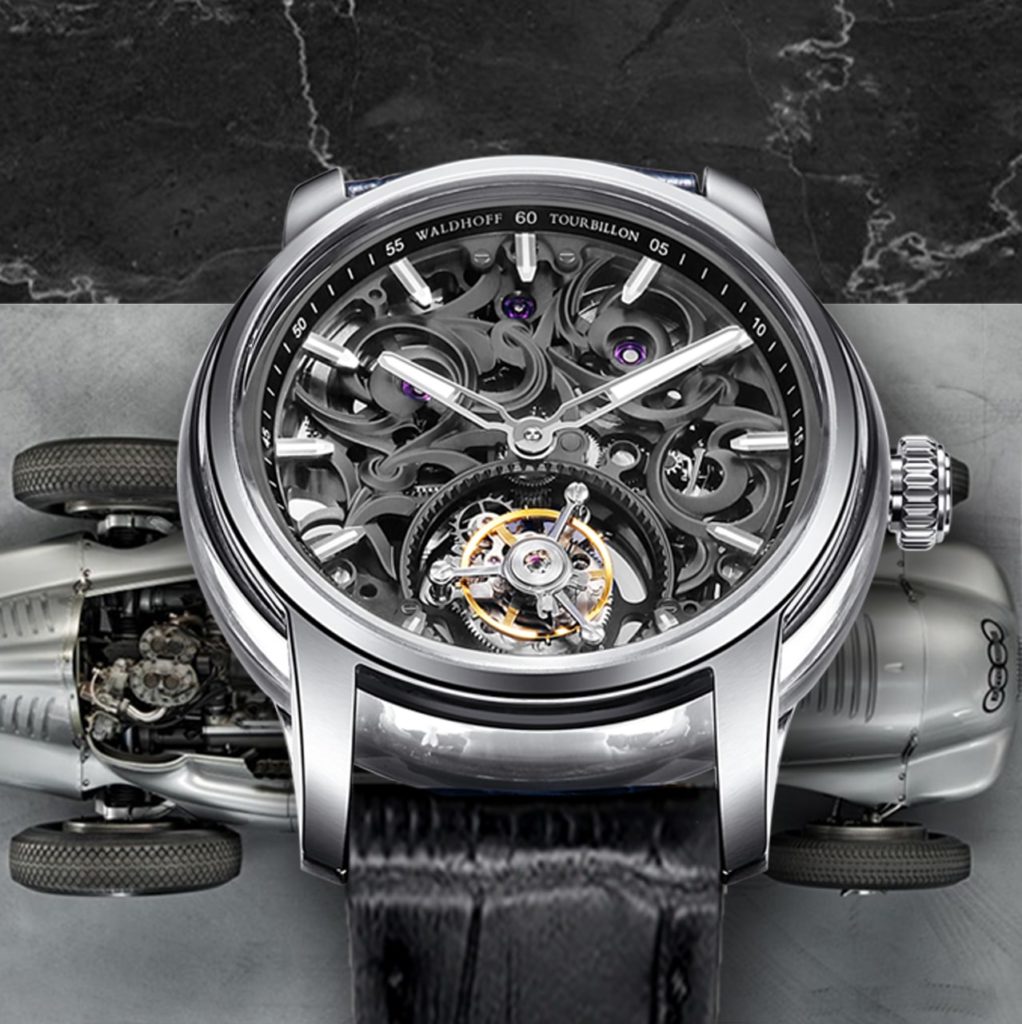 As can be seen in the pictures a lot is going on with the Imperial, but one aspect that truly stands out is the case. Typically, Stainless steel is the most common choice of material for watch cases but Waldhoff has gone the distance and made things special by combining steel and sapphire on the case of the Imperial. The outer frame of the case which includes the bezel, the back, and the beautiful Art-Deco inspired lugs has been crafted from steel whereas the central section is entirely made of Swiss sapphire. This not only gives the case a level of transparency but also keeps it away from all the scratches. It is also well-sized with a diameter of 43mm, a thickness of 13mm and a manageable lug to lug distance of 49mm.
Like the case, the dial on the Imperial is quite striking to look at. It has been thoughtfully carved out to emit a baroque vibe and at the same time give a glimpse of the components of the Hangzhou 3452 Tourbillon movement that powers this watch. It is a hand-wound movement that operates at a high-frequency of 4 Hz, offers a power reserve of around 80 hours and as the name suggests features a Tourbillon, which can be seen in all its glory through the large circular cutout at 6. A tourbillon is a complex mechanism that aims to improve the accuracy of a watch by negating the effects of gravity by mounting the escapement and balance wheel in a rotating cage.
The Vanguard V8
The second new offering from Waldhoff, the Vanguard V8 is a racing-inspired watch which like the Imperial still features a Tourbillon but is aesthetically quite different. Let's begin with the case. Unlike the Imperial, the case on the Vanguard is made from 316L stainless steel and is quite well finished offering a mix of brushed and polished surfaces. Sitting on top is a decagonal bezel which gives this watch a distinct and sporty visual identity. As for the size, the case still measures 43mm but is both slimmer and shorter than the Imperial with a thickness of just 11.5mm and a lug to lug distance of 48mm, all of which should translate into better wrist comfort.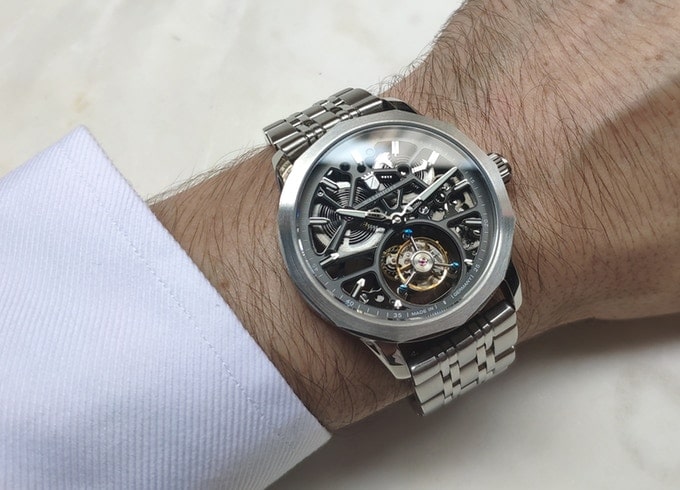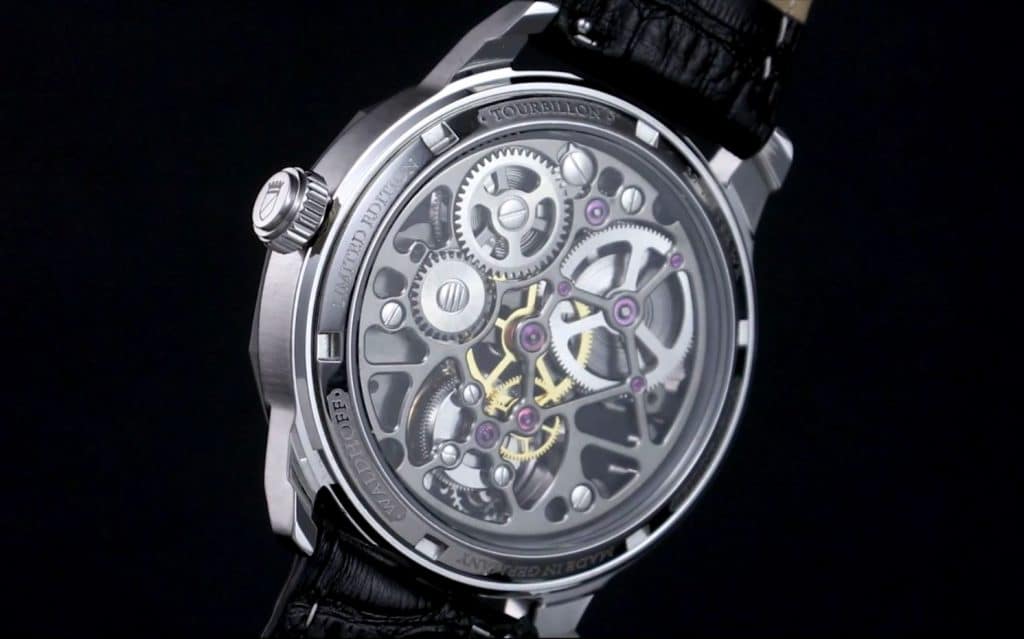 The face of the Vanguard V8 is once again highly skeletonized but looks less ornate than the Imperial. The execution is much cleaner with a stronger focus on what's beneath the dial. Powering this watch is the Hangzhou 3450A, a manually wound movement that operates at a frequency of 4Hz, features a tourbillon and offers a power reserve of 80 hours through its two barrels. And just like the Imperial, the movement has a nice industrial finish to it and can be viewed through the exhibition case back as well.
In the end, I would like to conclude by saying that the Waldhoff Imperial and Vanguard 8 offer a great value proposition. Tourbillon equipped movements and Sapphire case construction are rarely found even in watches from the big players, whereas Waldhoff can you make you experience them at a fraction of the price. Yes, the movements are Chinese, but there is no need to worry as the German in-house assembly would take of any issues should the need arise. So, in case you like what you see, go ahead and pick your poison at a great price while they are still available. As of writing this article Waldhoff seems to have already fulfilled their Kickstarter goal for this project with 29 days still left to go. As of now, you could get yourself an Imperial for CHF 1,299 which is hefty CHF900 off retail or you could opt for the Vanguard V8 for CHF 979, saving CHF420 off retail.
Click here to support their campaign