Hey, you! Do you want a weird-looking watch made of gold that's extremely expensive and produced by Louis Vuitton? Well, boy, I have the watch for you. The new Tambour Carpe Diem Automaton Minute Repeater has just landed, and it shows Louis Vuitton's climb up the ladder of complications. It also has a snake on it.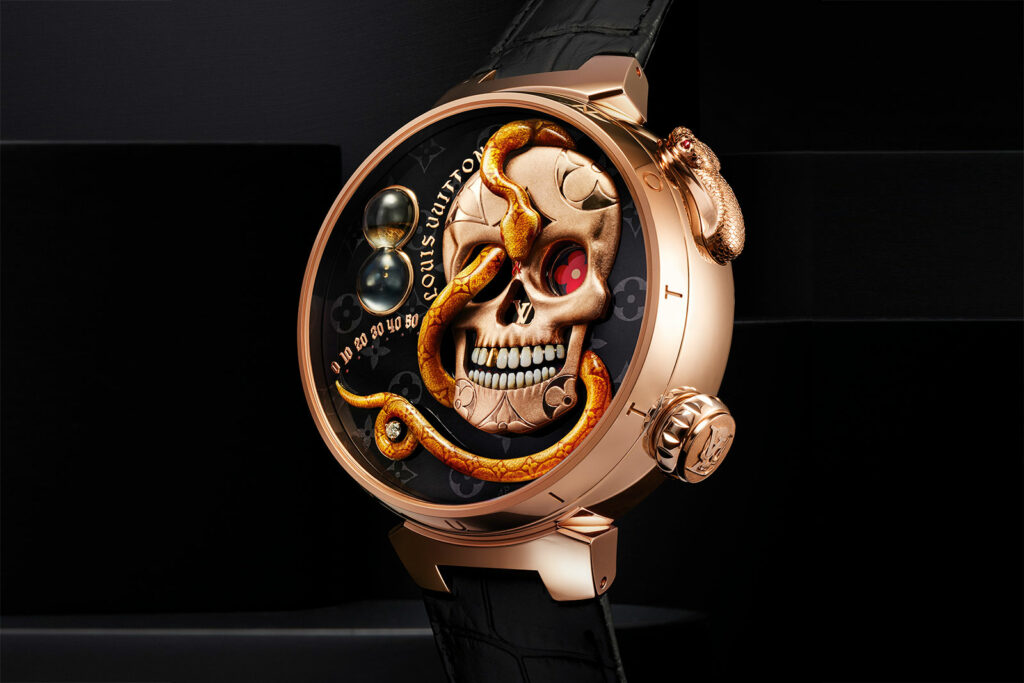 I think it's important to mention before we get too involved that all of the work in this watch was completed in-house by Louis Vuitton except the engraving (finished by Dick Steenman of Geneva-based Art&D) and the enamelling (performed by master enameller Anita Porchet). The highlight of the dial for me is the enamelled snake, which appears to be highly delicate and sophisticated while accurately recreating the animal's appearance except for the Louis Vuitton logo that appears along its back. The snake's eyes are rubies, and its tail is curled around one brilliant-cut diamond.
You might be wondering how you're supposed to tell the time on this at a glance, and the answer to that is you can't. The automata on the watch protect the time in the way a snake will defend its nest. To read the time, you press the snake-shaped pusher on the side of the case. The snake will move its head to reveal the hours located in the skull's forehead, and the tail will move to point at the minutes. Simultaneously, the Louis Vuitton monogram logo within the skull's eye-socket changes thanks to some clever pivoting components, and the skull's mouth with enamel teeth opens to reveal the words Carpe Diem.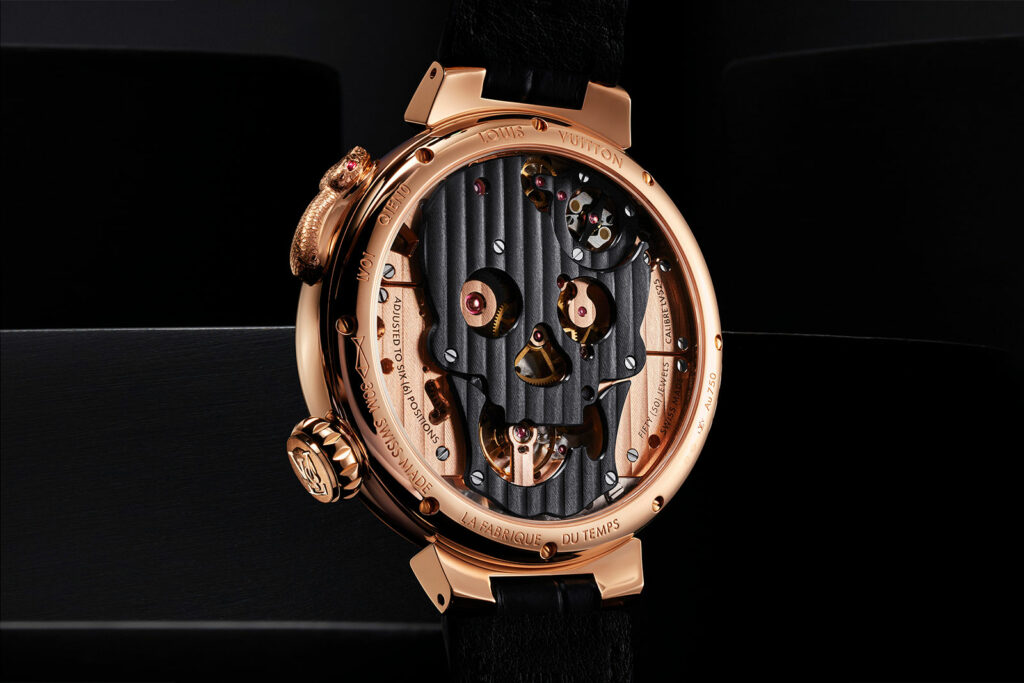 All of this comes from the calibre LV 525, developed by La Fabrique du Temps, a Louis Vuitton subsidiary. It's hand-wound with a 100-hour power reserve and a 3.5Hz beat rate and has a cool blackened skull on it. Interestingly, this is built on a previous movement from La Fabrique du Temps, which found its way into Laurent Ferrier's Galet minute repeater.
Click on the image above to see the magic
The way I see it, there are only a couple of downsides with this watch. Firstly, the gothic design isn't for everyone. Secondly, it's huge. The automata take up a lot of space, so the pink gold case of this piece is 46.8mm x 14.42mm. The last part is the price. It's $475,000. On the plus side, this will be a serially produced watch for Louis Vuitton, just don't expect them to churn these out.
Visit Louis Vuitton here.