The cursive "Flinders" print is very small and so is the slightly larger logo towards the top. Tiny numbers remind onlookers of the minute and second indications while sitting next to even tinier stainless steel dots at the end of the hour markers. The multilayered dial is most impressive towards the center where an indention is met with vertical lines as well as the date window on the far right. The date window is an excellent accompaniment that is welcomed by me! Surrounding all of it is the stainless steel case that perfectly matches the hands and markers. A well put together face that ties together all around.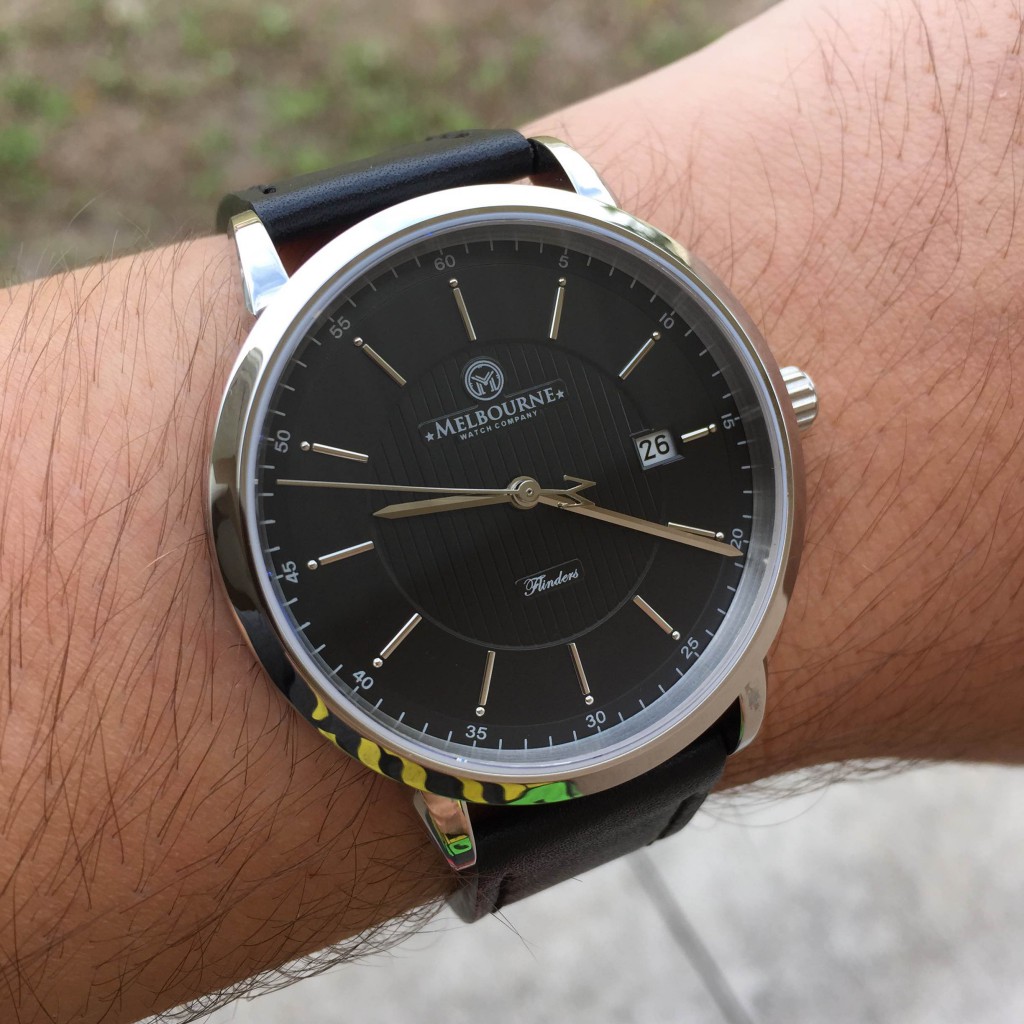 Case Back
If you have read any of my previous articles then you know I have a love for exhibition case backs. It's a must in my little world and this is my favorite one to date. The rotor spins around a visible, unmoving shaft that has what looks like 7 extremely tiny ball bearings between it and the rotor. That helps it spin effortlessly with wrist movements and keep the watch powered. The edge of the rotor is quite interesting, too. Rather than being the same as the rest it almost sparkles as if it is diamond encrusted…very cool.
There is a tiny gear that moves with the rotor and of course the balance wheel is visible along with other gears that move while setting the time and just a few of the 24 jewel bearings are accounted for from this view. The information printed on the back isn't the greatest, but it is separated by screws that make me feel confident that this thing is held together well. I think the crown could have a slightly larger diameter to make changing the time slightly easier, but it sticks out enough to make up for it. It has two positions to independently set date and time (thank goodness!). Lastly, it has a tiny logo on the end of it for some extra character.
Strap and Buckle
As I always begin the strap section of my reviews: "I'm a huge watch strap fan. I love custom straps made by old guys in their garages, NATO straps from Europe, and odd straps like denim, ostrich, or stingray. Just one beautiful strap can create multiple new looks for your collection.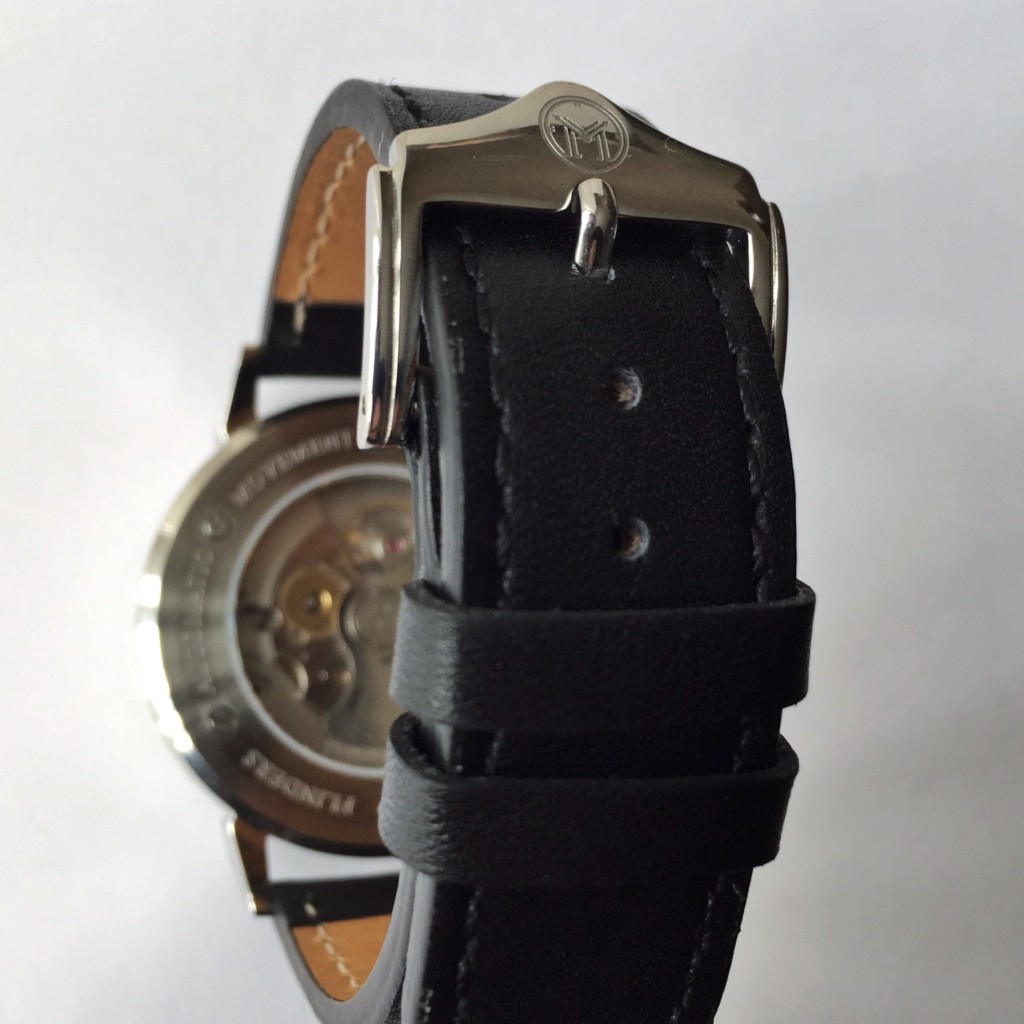 " Im kinda "eh" with this strap. It's great quality and it works. But something about it makes it seem plastic-y. If it were soft leather I think that would be an improvement. Other than that, the hole cutouts are perfect and so are the keepers. I also like the unique buckle because even it has some appreciated detailthat doesn't get in the way of functionality.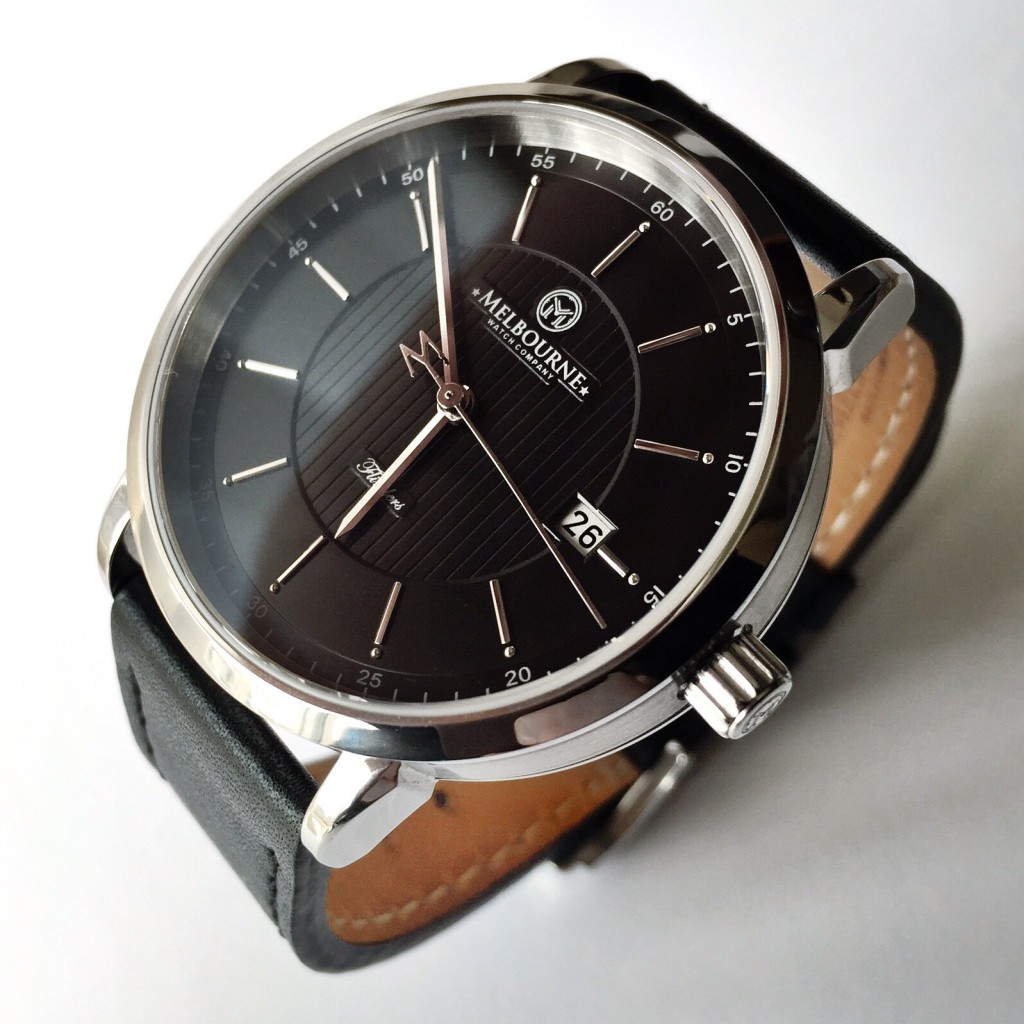 The Verdict
A subtle, classy design with excellence in detail and materials. Rather boring color way that needs a slightly larger case and strap to fit the modern stylings. Also…it's pretty expensive. For more info, please visit melbournewatch.com.au
Pages: 1 2
Mark Wisdom Phillips – Contributing Writer
Mark largely collects practical watches, but never hesitates if he can snag a deal good enough to call it an economical decision. He loves taking photos of his collection and participating in the tight knit watch community on Instagram. You can see his photos and follow him here. He is highly opinionated and expects nothing but the best and at the cheapest price possible. In his eyes, a watch needs to have superb and bold design to be worthy of anybody's wrist. To him, organization creates valuable time and so you should expect it from him in his reviews. Wisdom is his middle name and he is here to share it with you. Read his articles here.