Have you ever thought that luxury watches were all uptight, conservatively designed objects? I'd say if you 100% agree with that, you should pay more attention to WristReview because we show lots of crazy watches too! I get where you're coming from, though, and it would be a little fair to say the Swiss and the Germans especially have a stereotype of being really precise and rule-following. Well, Zenith's latest watch aims to do something about that (and also divert some attention from the thoroughly mixed reception their last watch, the Chronomaster Sport, got).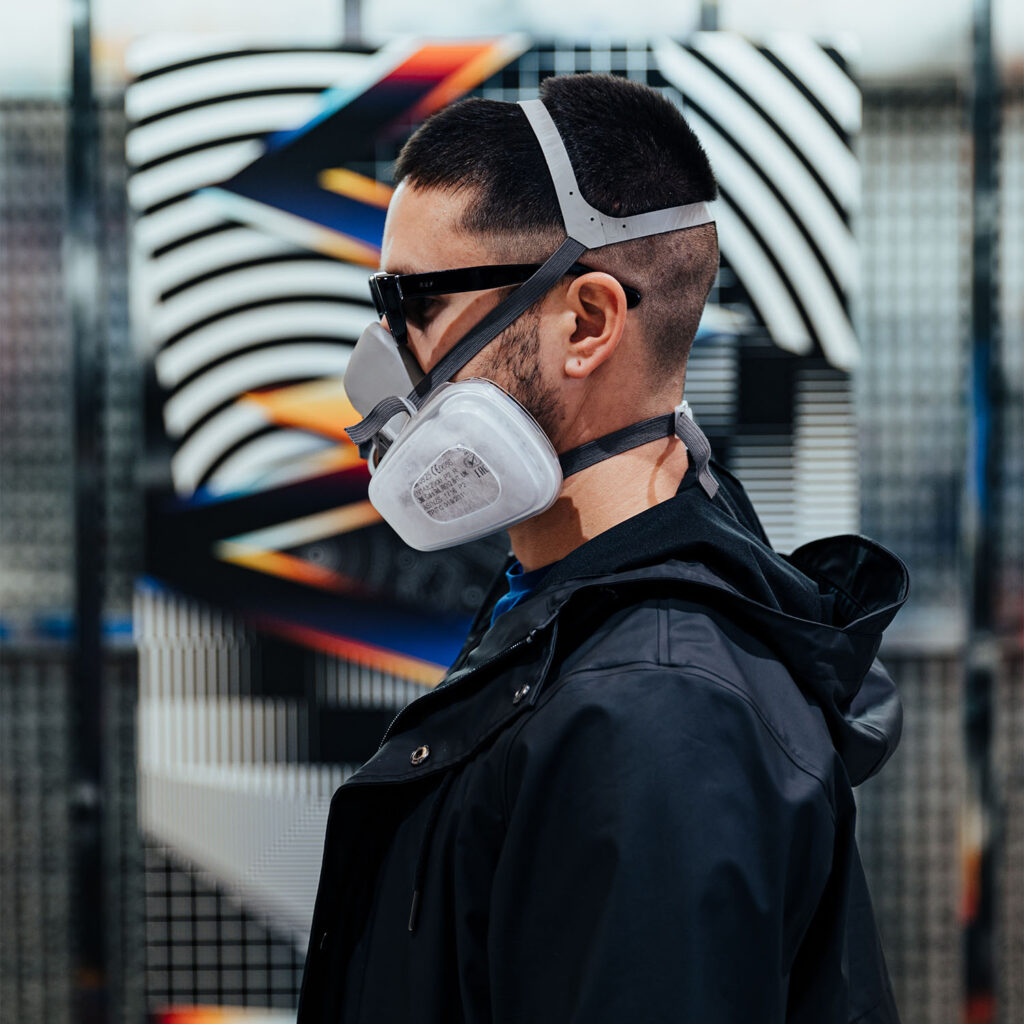 To do this, they teamed up with Argentine/Spanish street artist Felipe Pantone who bases his work on graffiti, geometry and kinetic art (art that moves, think the perpetual motion machine sculpture in Iron Man). It's rather fitting, then, that he decided to work on Zenith's Defy 21, a watch that blends watchmaking art with the science of time.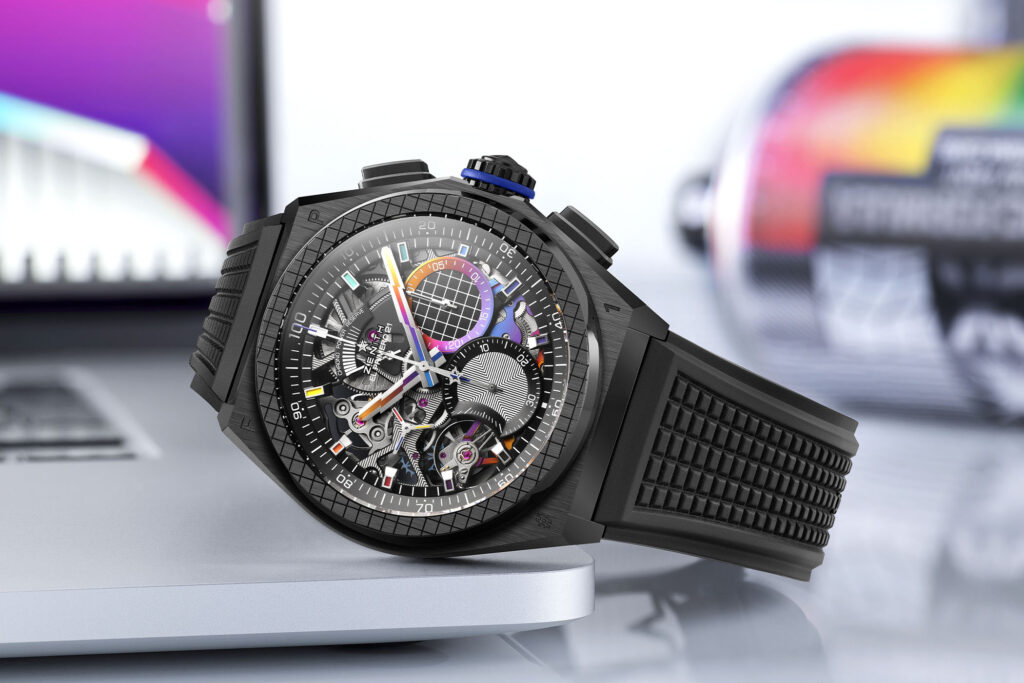 The most notable changes are the splashes of rainbow colours that pop up around the dial. These appear on the markers, the chronograph subdial, the running seconds, some bridges of the movement and the cool hands that Zenith has been using to tease us on Instagram. Interestingly, Zenith used a brand new type of three-dimensional PVD process involving silicone particles acting as a base. Yep, I don't know what that means either, but no one else seems to have it explained, so I guess this is all we're allowed to know.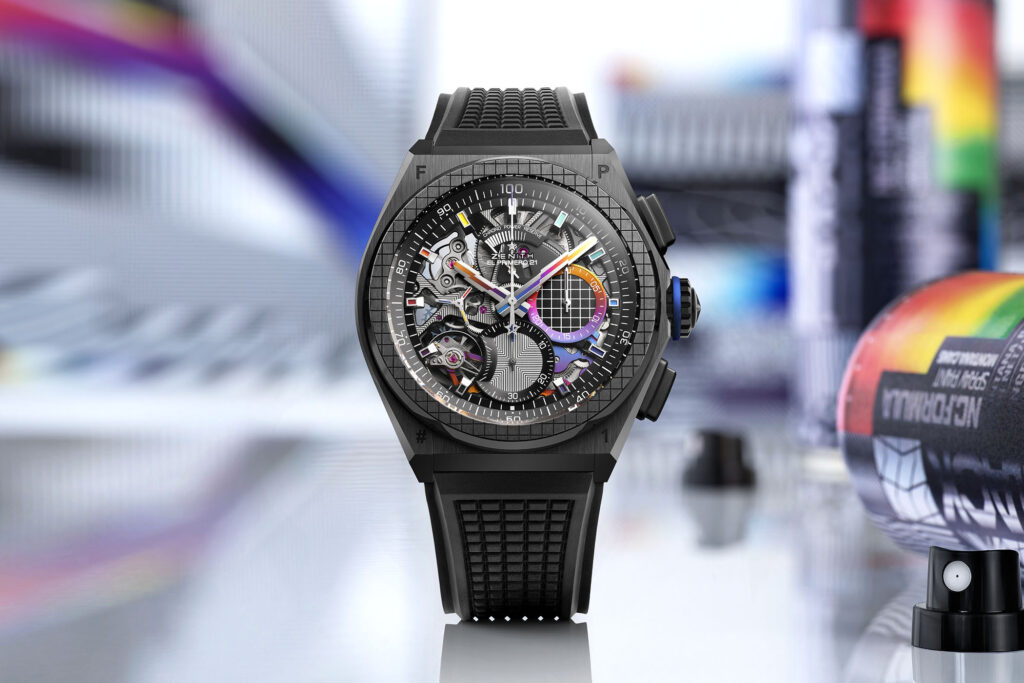 To add to the wackiness of the watch, they've added Moiré effect patterns on one of the subdials and around the bridges of the movement. The Moiré effect occurs when two or more similar patterns don't quite overlap correctly; it can be quite challenging for clothing photographers, especially those who don't have super high-resolution cameras. Check out this video from the Royal Institution to see a cool demo of Moiré patterns in action.
The straight lines and geometrical patterns also influence the black ceramic case, which has grid lines etched onto it and also FP#1 in the four corners of the case, meaning we may see more colours and cool patterns in the style of Felipe Pantone in the future. The case measures 44mm in diameter and is 100m water-resistant.
The automatic movement inside the case hasn't changed much. It's had the same rainbow treatment as the dial in some places to make it contrast the black case and black rotor, though. This movement is actually two in one. It has a mainspring barrel and escapement assembly powering the hands as you'd expect, these run at 5Hz (for a total of 50 hours), which you'd also expect. Then there's a second mainspring barrel and a second escapement assembly as well. The difference is that this second assembly is for the chronograph function, and it runs at a whopping 50Hz on demand. That means this watch can time 1/100th of a second if you need it to, and if you don't need that function, it'll impress your mates for sure.
The watch comes on a black rubber strap with a DLC-coated titanium folding clasp. It will be available to buy from Zenith's boutiques and their webshops from the 15th of March for a price of CHF18,900, which includes a snazzy presentation box. Also, it's limited to 100 examples only and will probably sell out pretty quickly.
Visit Zenith here.