Ayrton Senna may have passed away a number of years ago but his spirit and memory still lives to this day. This is especially true of those of us who follow Formula 1 and know what he meant to the much-loved sport. So it was with some excitement and apprehension that we show you the new collection presented today. TAG Heuer has released four new special-edition timepieces in honour of Senna ranging across the Carrera line and the Formula 1 line.
Ayrton Senna wearing a TAG Heuer Ayrton Senna Chrono S25.706C
The TAG Heuer Ayrton Senna Chrono 1991S25.706C from 1991
The Carrera Calibre 16 Chronograph Senna Edition has a few unique features that help it stand out from the rest of the range. These include the famous stylized Senna 'S' in red lacquer, on the dial, the caseback and also the bezel (completel with tachymeter scale). Another feature that is reminiscent of the Senna TAG wristwatch worn during his racing days is the 'Legend' bracelet, which has unique S-shaped links. The new reimagined version has been redesigned and rounded to provide optimum comfort to the wearer.
The case measures 44mm in diameter, which is expected being from the Carrera Calibre 16 collection, and has two different finishes. The first model is finished in stainless steel with an anthracite grey sunray dial and features three chronograph sub dials with black dials. This particular model comes equipped with the 'Legend' steel bracelet and features all the markings mentioned above.
The second model also features a similar styling with a 44mm case and automatic chronograph movement with three counters and Senna iconography on the case, dial and caseback. However, this model has a case made of ultra-black light titanium and comes equipped with a rubber strap and dynamic tire-tread design.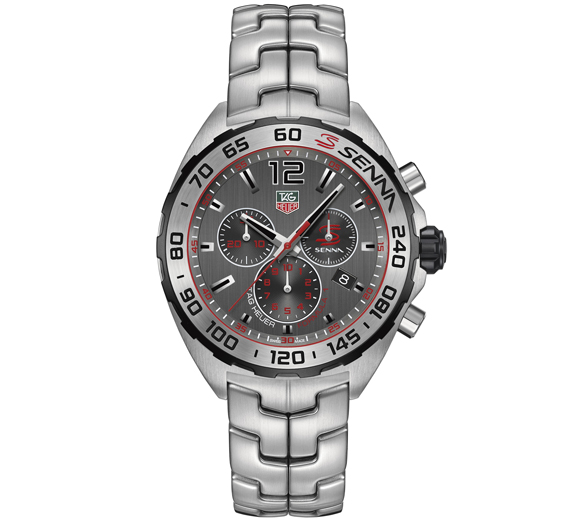 Apart from the Carrera Calibre 16 models are two new TAG Heuer Formula 1 Chronograph models. The first is a 43mm diameter stainless steel timepiece with quartz chronograph movement and anthracite grey dial featuring three chronograph sub dials and iconography showing its status as a Senna Edition timepiece. It comes complete with the 'Legend' steel bracelet.
The second Formula 1 Chronograph model is the 43mm diameter quartz chronograph that features a black dial, three chronograph sub dials and touches of yellow and green throughout the piece. These colours have been used to represent the colours on Senna's iconic racing helmet, which are also the national colours of Brazil where he was born.
Although it's great to see Ayrton Senna's memory passing down from generation to generation, it will be interesting to hear what fans and aficionados think of the new TAG Heuer Ayrton Senna collection.
For more info, please visit tagheuer.com

OSHEEN ARAKELIAN – CONTRIBUTING EDITOR
Drawing on a lifelong love of horology and a more recent introduction to appreciation of fine whisky, Osheen brought the two together with watch & whisky. He is proprietor of the site, which covers everything related to watches and whisky. In between completing a degree in commercial law and supporting a rich social life, he is out and about attending all the latest watch and whisky events Sydney has to offer. His passion has also taken him around Australia attending a number of events and he hopes to continue his career in the watch industry on a more serious level after he graduates. Read his articles here.