Rolex has always been pretty smart with its lineup of watches, that is if you discount the who resizing thing they did with the President to eventually make the Day-Date 40. I could understand the Day-Date watches only being offered in precious metals, I mean, it's not only always been that way but it is also known as the President watch, so it's rather fitting. Then the Sky Dweller came in not too long ago, a watch with an annual calendar that was sort of for pilots (even though most are aware of Rolex and Pan-Am's creation, the GMT Master) or for those who wanted a different kind of calendar design.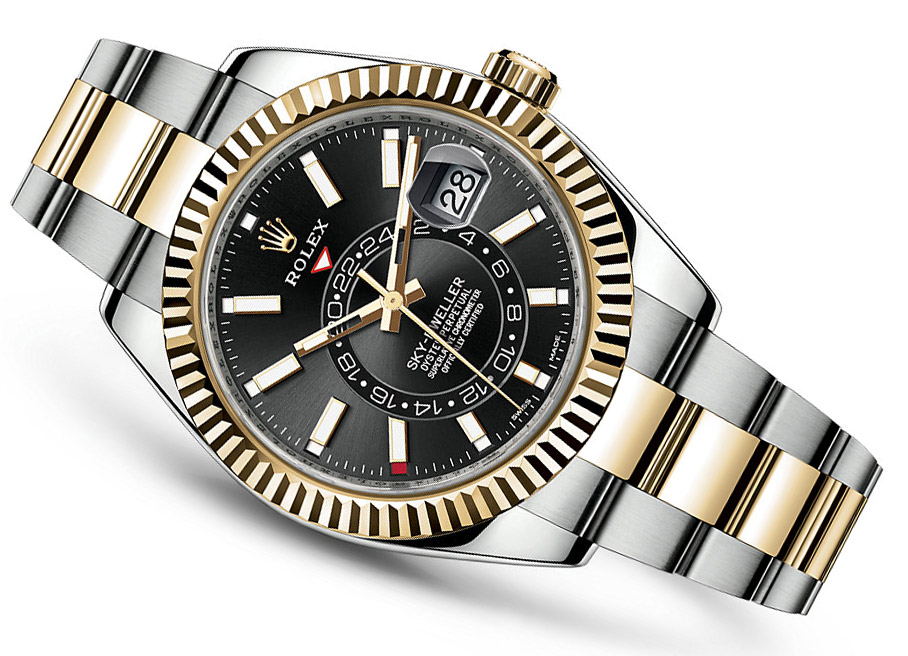 But then it was only made in precious metals, which baffled me. It's a very cool watch that they immediately placed out of the potential grasp of most of their customer base. Luckily, Baselworld 2017 has come to the rescue as Rolex proudly show their new, more affordable, Sky-Dweller.
It's a good looking watch already in precious metals, but when I saw it in steel and 18k white gold I fell over, and I was sitting down. This is what we were waiting for and something similar to what we were expecting, although I don't know if there will be any stainless steel versions, but this is a positive sign.
The new Rolesor Sky-Dwellers come in either white gold and steel or yellow gold and steel, there's been no word yet of an Everose combination. Each watch comes with Rolex' Ring Command bezel, if you've not come across the Sky-Dweller before then the way it works is that the annual calendar complication is operated via the bezel itself, which changes the date, local time and reference time. After selecting which you want to change, you then use the crown to make the adjustments, a very clever alternative to tiny push pieces in the side of the case which are a nuisance to adjust and also increase the likelihood of a leak into the watch, meaning the 100m (+10%) water resistance may not be achievable.
The perpetual calibre 9001 has been placed inside these watches, it's one of the most complicated ever made by Rolex. It features the Parachrom Blue hairspring which Rolex uses in most of its watches nowadays, as well as what's known as a Rolex overcoil to give more accuracy after shocks. It also has a 72 hour power reserve in there.
Steel and white gold versions are $14,400 and the steel and yellow gold watch is a more costly $17,150. Anyone for a bacon sandwich with a bit of Rolesauce? (Sorry, I promised I'd stop). For more info, please visit rolex.com