As the brand is known for, the new Breitling Superocean II 36 Diver for women has the usual sporty style. You won't be surprised with new and improved ideas, but rather the usual mix of sportiness, with a bullet-proof mechanism and high build quality. Is there anything more to ask for?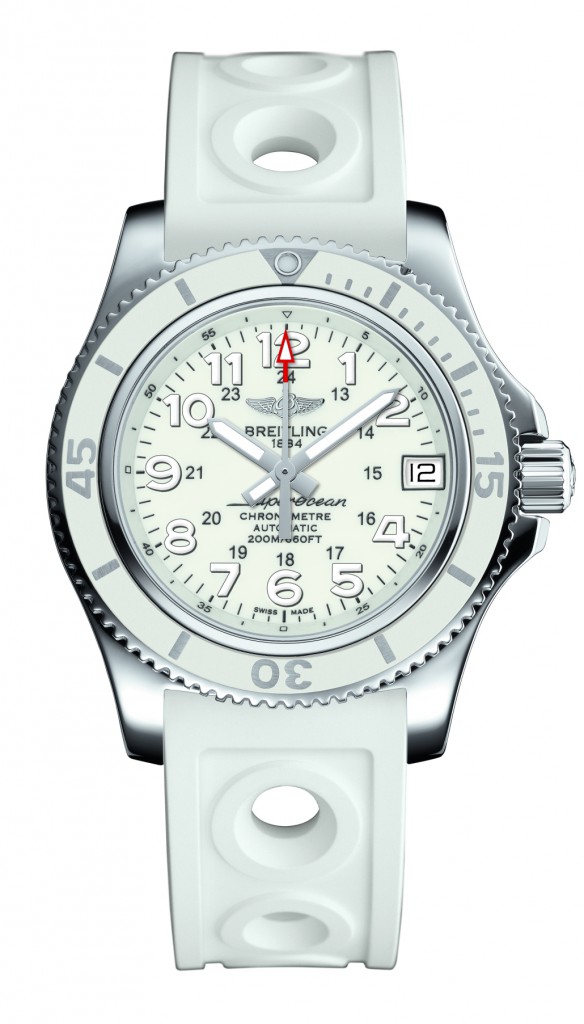 Being at 36 mm diameter, the watch is not that small, as most women's watches are. Given its rather long lugs, it covers a large sum of the average lady's wrist. The lug-to-lug length is about 42 mm, but that is not a problem considering the timepiece is supposed to be 'large', even if we are talking about smaller sizes. The thickness of the watch is just a bit over 11 mm, making this Breitling Superocean II 36 quite comfortable to wear in almost any setting. It weighs less than 70 grams as well, meaning your wrist won't feel much weighed down wearing this watch.
The case on this timekeeper is very well defined, as always. There's great quality of the surgical grade steel and the level of polishing. It's unlikely to find anything better in this price range. The rubber molded bezel with its fluted edge makes the watch even more attractive, but considering that it is rubber and prone to scratches, you'd have to be incredibly careful with it as replacing the piece could be quite costly. With water resistance of 200 meters, it is not fit for hardcore diving but is perfect for snorkeling or amateur diving.
As for the movement, it's the same Caliber Breitling 17 that we have seen in their SuperOcean 42 White Water professional diving watch that was first revealed almost three years ago. Being a COSC-certified, chronometer-grade version of the ETA 2824-2 ebauche that we all know, the movement is much more reliable than the base movement, as well as features even better accuracy. The watch's guaranteed power reserve of 40 hours doesn't sound particularly impressive, but this timepiece is supposed to be a daily beater, so its mainspring will always be almost full due to all the motion you make during a day.
The Superocean II 36 features a bit of a busy dial traditionally with its main set of Arabic numerals, accompanied with an extra set in a 24-hour presentation, and the rest of the space is taken up by all sorts of beautiful inscriptions so you never forget the wonder you've got on your wrist. The date window is fairly large, and the hands are wide enough so that one could never have trouble seeing the numbers.
All in all, I'd say that the Breitling Superocean II 36 would be a great watch to possess. For more info, please visit breitling.com
SUMMER SHEFFER – CONTRIBUTING WRITER
Summer's stepfather introduced her to the world of watches when she was at a young age. He'd gotten a watch with a face that lit up, and she'd become incredibly intrigued. Years went on, and she did more research about watches, mostly what's on the inside. She was fascinated by how they were put together. As for luxury watches, Summer prefers Breitling. Though her favorite brands are Franck Muller and Jaeger-LeCoultre. Read her articles here.