Chopard is a company that's come along an incredibly long way in the last 20 years, the main driving force behind that has to be the focus on the L.U.C. collection. L.U.C. stands for Louis Ulysse Chopard, the founder of the company. It also stands for progress, innovation and dedication to fine watchmaking. Seriously, people do compare the finishing of L.U.Chopard watches with a Geneva Seal to those from Vacheron Constantin and Patek Philippe, and rightly so, they both use roughly the same verification process (the Seal of Patek Philippe is a bit different).
The Case
Here comes another one of those pesky Geneva Seal watches which challenges the top players, the L.U.C. Perpetual T – Spirit of the Chinese Zodiac. Chopard, along with companies such as Blancpain enjoys connecting with customers in the mysterious continent of Asia. This one specifically focuses on the Chinese Zodiac, and you can see that from the edges of the case. Watching the artisans in the manufacture of Fleurier practice their engraving technique was a real treat when we visited them. Chopard has engraved the caseband of this watch with the 12 animals of the Chinese Zodiac.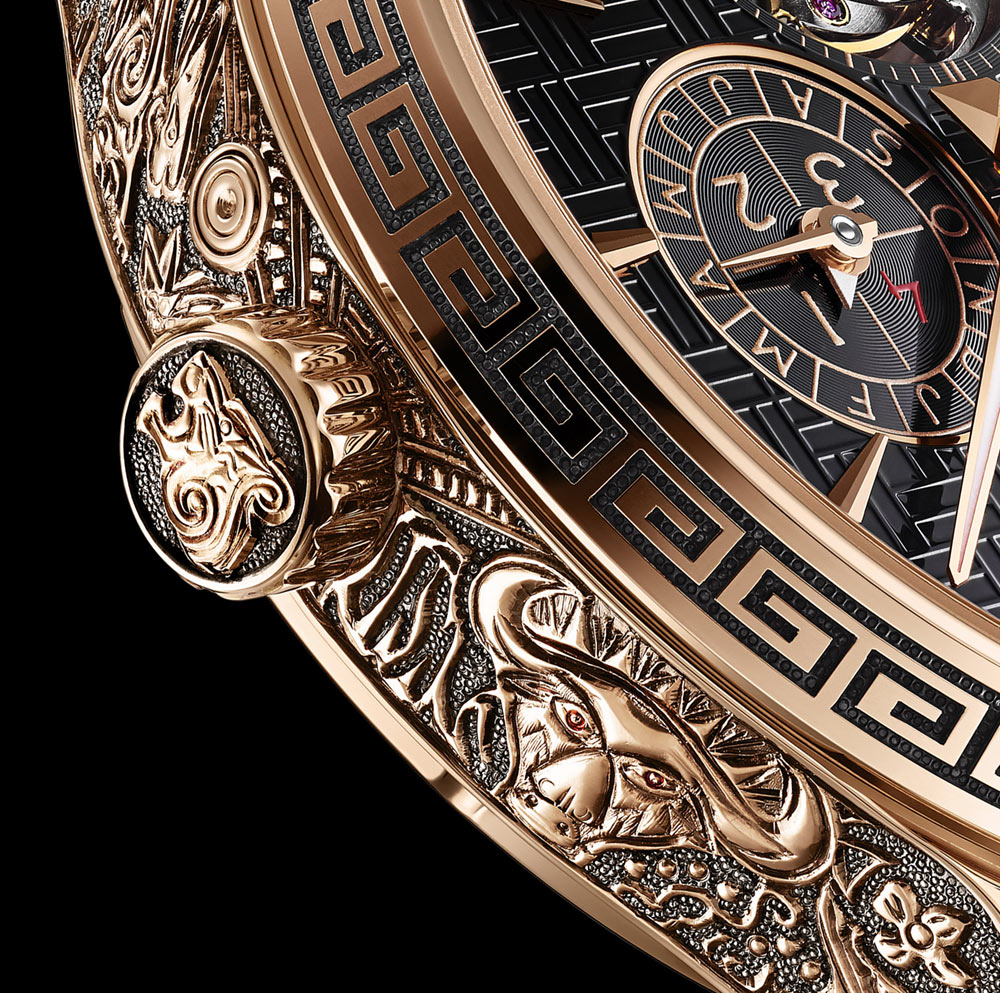 The bezel also has engravement on it in the form of what appears to resemble a Greek Key pattern, at least more than a Chinese one anyway. That work on the case sides and the bezel is the result of a tricky procedure called champlevé. The process involves cutting all the shapes required, in this case, animals and then filling in the spaces usually with a contrasting colour. As this watch has a dark contrast going, on it's no surprise that black is the colour used on this finishing technique.
The Movement
Talking about finishing we find ourselves drawn to this lustrous Chopard L.U.C. Calibre 02.15 – L with all its finishing glory. True, you can't see most of the high-level finishing required of the Geneva Seal because it's hidden behind the baseplate (click here to read more about the decoration requirements of the Geneva Seal). What you get instead are a handy power reserve indicator and some remarkable hand finishing, as well as a small glimpse into the gearing system.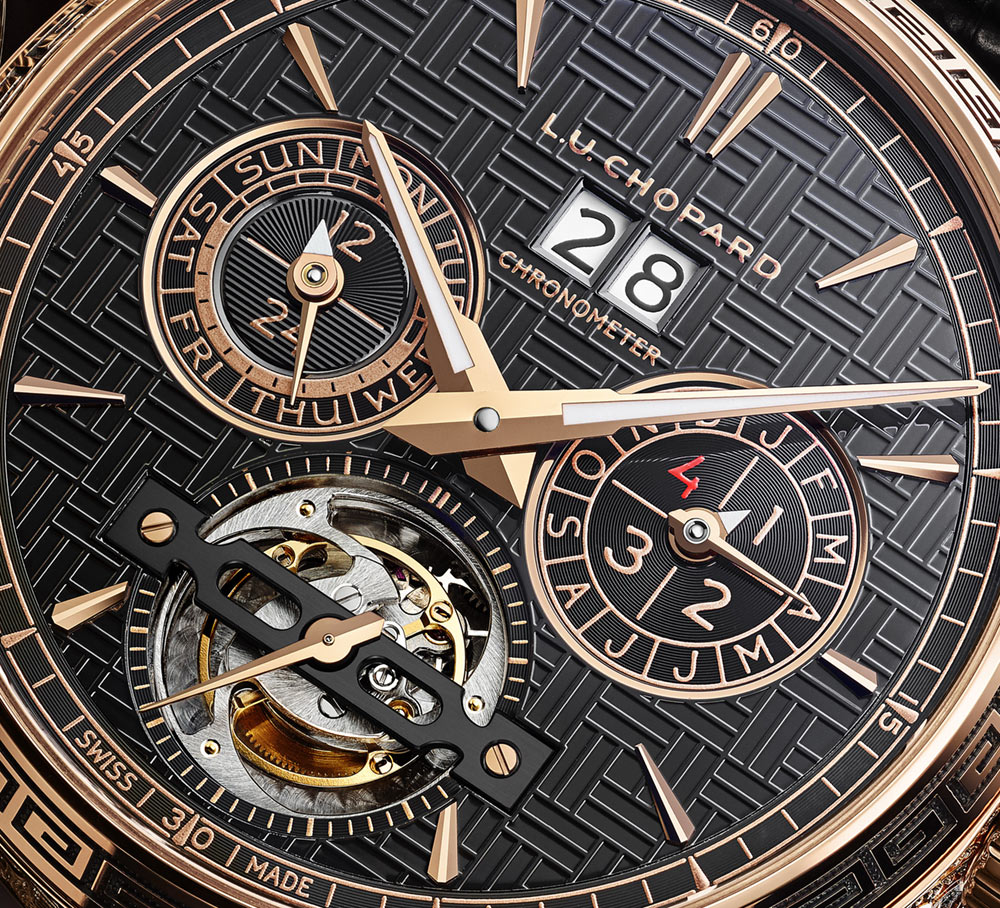 Back to the front and the dial is clearly where it's at with this watch. The pattern itself is unusual as it reminds me of the floorboards of ancient Chinese huts, except it's a deep lustrous black colour. It's also got the hallmarks of an expensive timepiece: the tourbillon at six O'clock, and a perpetual calendar. I love the look of the cages Chopard puts over the tourbillon mechanism it produces, they look futuristic but not enough to stand out when put into a historical context. There's also the big date windows at 12 O'clock which have no difference in depth, unlike some other companies *cough Lange cough*.
As you can imagine production for such a highly decorated watch is low, in this case, it's a one-off. Chopard could have extended the exquisite decoration themes to the movement plates as well, but it's not like this watch is lacking in the engraving in the first place. This 18k rose gold masterpiece has a price which is only available on request. For more info, please visit chopard.com