A long titled article, this time, but it's time for the return of Clash of the Chronos, the Wrist Review exclusive monthly series where I pit 2 chronograph watches against each other in order to find out which of the watches you should purchase. Last month we looked at a Patek Philippe and a Lange watch, and the Lange won out just with it's "more complications for less money" approach. Both of these watches aren't lacking in features, whereas last time we looked at two clean dress watches, today we're looking at the watches that accompany you down into the murky depths of the oceans and then along the Italian coastline while remaining beautiful.
First let's look at the Blancpain. You can get it in either deep rich black or an eye-popping blue, the latter of which is my personal favourite. All the usual Blancpain Fifty Fathoms trademark features we've come to know and love have returned on this watch. First and foremost is the colouring, there's the sunburst effect on the dial as well and the domed sapphire crystal bezel, which is unique to Blancpain and incredibly difficult to make perfectly.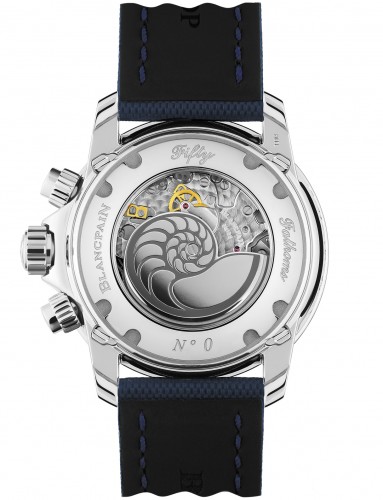 Then there's the new parts of the watch. This timepiece runs on a Blancpain 66BF8 automatic calibre which is made of 448 individual components and has a power reserve of 40 hours without the chronograph constantly running. There's a lot of complications on this watch which is unusual for a diving watch as most want a clean, legible dial. For starters, there's the chronograph itself which is the opposite of no frills with the flyback system which means you can reset the chronograph without having to stop it first.
There's also what Blancpain calls a Complete Calendar on board too. You can spot the calendar functions pretty easily, there's the two windows under the 12 O'Clock numeral, one being the month and the other being the day. There's also a rotary date indicator on this, it's got a red box at the end  and is the only hand without any lume applied to it. If you're familiar with Blancpain indicators then you may have little trouble with this one as it's not wavy. There is a familiar face on this watch though (literally), the moonphase at 6 O'Clock has the signature Blancpain face applied to it, giving it a nice touch.
Pages: 1 2