HYT is already known for their innovative and eye-catching fluid hours mechanism that was a marvel when first released. It was the first time we saw a functioning device that used fluid compressed in a tube to tell us the hours in the day. As time went on we saw various iterations of this culminating in the amazing HYT H3 that was released earlier this year at Baselworld. From then on we have seen a few new releases including the H4 Gotham, however, it is this new piece that is intriguing to me.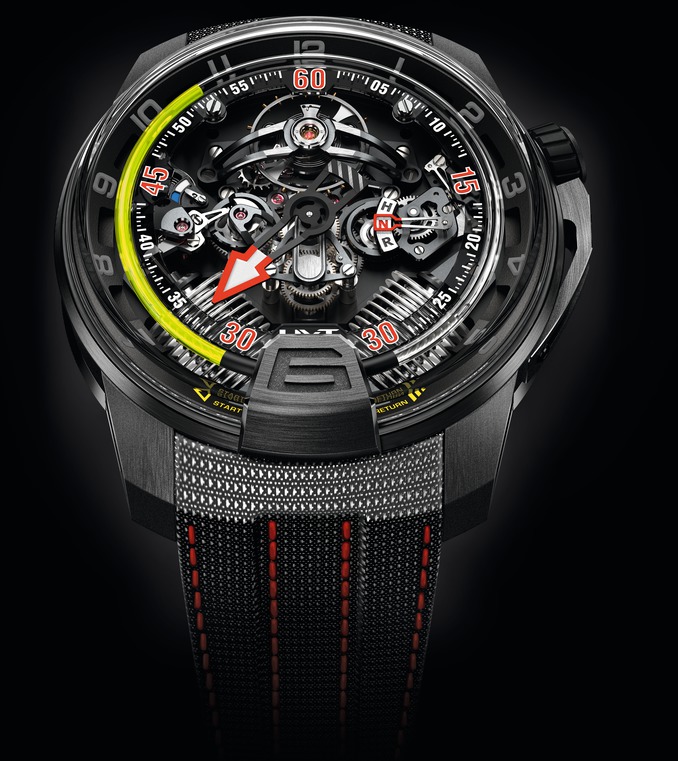 The H2 Aviator is the latest from HYT and is an aviation inspired timepiece, but without any of the functionality of an aviator watch. The new H2 Aviator has a number of unique features that set it apart from the rest of the H2 line including a reworked oversized minute hand that I actually quite like. But before we get to carried away let's start with the case.
The case has the same distinct HYT aesthetic with a titanium black DLC with polished, micro-blasted and satin finished featuring the oversized 6 o'clock numeral. it measures a whopping 48.8mm in diameter and has a protected crown also finished in titanium black DLC. A sapphire crystal with anti-reflective coating protects the dial and a screwed sapphire caseback finished off what we have come to expect from HYT. It's pretty much an HYT standard now and helps differentiate it from other timepieces in its class.
Tucked away underneath the sapphire crystal is a newly reworked and redesigned dial. This is where the so-called Aviator inspired name makes its mark. The first element to undergo a change as highlighted earlier is the minute hand that has been redrawn with its quarter hour indexes enlarged and finished in red. The central hand underwent the same treatment. It has been magnified and tipped by a red arrow. The crown position located at 3 o'clock is also visible via a little window that displays the selected function. The dial also has a grey anthracite Super-Luminova that is found on the hour indexes and minute hand but unsurprisingly not on the fluid hour indicator (A pretty essential element for an aviator watch). Legibility is NUMBER ONE for any aviator watch and it might have been a bit of a misstep naming it the H2 Aviator because legibility is an issue unfortunately especially at a quick glance, even for learn-erred watch enthusiasts who can read the time on HYT watches efficiently. The dial is also unstructured and shows off a lot of the inner workings of the H2 movement including the dual bellows and various other elements  of the movement.
Beating within however is another great HYT creation. The mechanical manual winding movement is an HYT exclusive and offers a retrograde yellow fluidic hours function and a jumping minutes hand. It features 28 jewels and beats at 21,600 vibrations per hour with a thermal indicator as well to ensure the fluid can be kept at an optimum temperature for accurate timekeeping.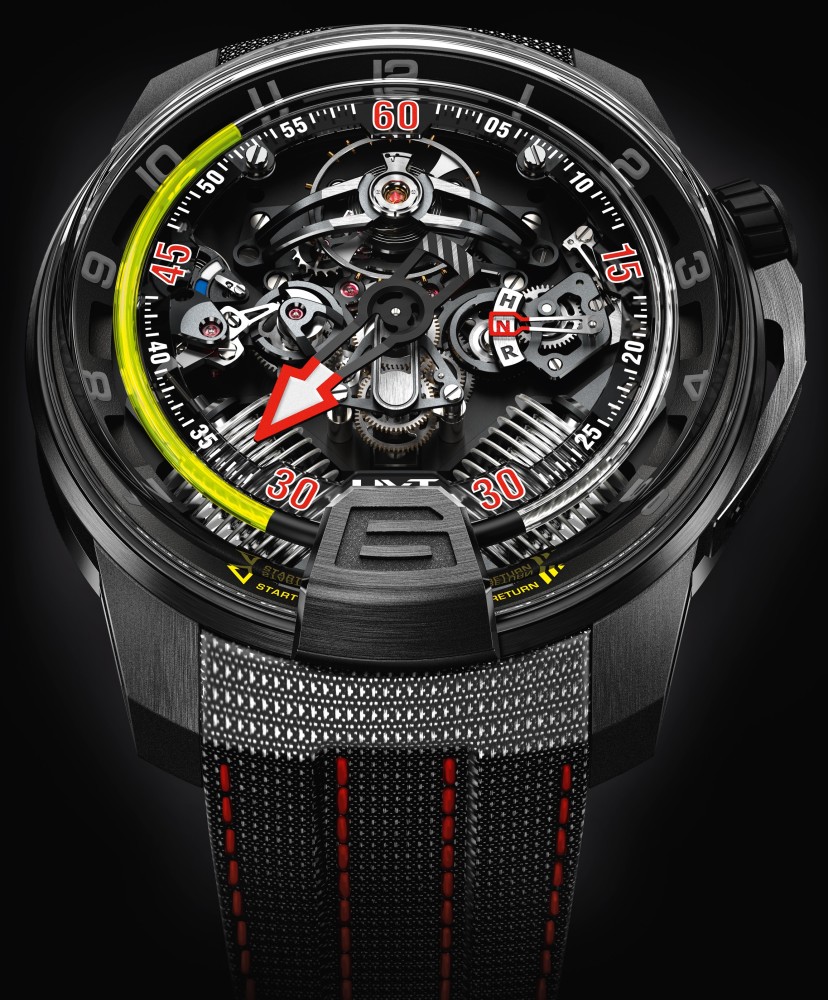 The piece is then finished off with a grey/black Kevlar strap with red stitching and titanium black DLC deployment buckle.
I find this latest piece from HYT to be a little confused with its identity. If only the name were anything other than "Aviator", then the piece would be a bigger hit with me than it is. Calling it an aviator with the function and legibility of an "Aviator" is a little misguided because it's far from legible and doesn't provide the essentials that an Aviator is looking for in a wristwatch. However, I do find myself liking the piece regardless. The new reworked oversized minute hand looks great and the titanium and DLC coating found all over with the fluid working its way around an intricate dial design. I also love the depth of the dial. The way the minute hand hovers above everything else and the clever use of polished components around the DLC looks fantastic when combined together.
It's just a shame about the name.
For more info, please visit hytwatches.com
OSHEEN ARAKELIAN – CONTRIBUTING EDITOR
Osheen is a long time collector and passionate watch aficionado. He is the Founder and Chief Editor of the Sydney Watch Guide based out of Australia. Alongside Sydney Watch Guide, he has also expanded and started OSHEEN's House of Horology, an online shop that specialises in vintage, pre-owned and niche watches from around the world. He is also a contributor to a number of Australian Men's Lifestyle magazines and is fast becoming the go-to destination in Sydney for anything watch related. Read his articles here.