It's one thing to buy an expensive wristwatch from a reputable company. You go out to their boutique or AD, see the watches on display in the window and then try it out. If it fits well on the wrist and you have the money in pocket then it's full steam ahead and the staff member smiles as they remember they get a big commission on the most expensive watches. But this does leave one with a question, what do you do when it comes to watches from crowdfunding websites? They will very rarely have a store you can visit and demo wristwatches to try so you really just need to take the plunge. If you are going to jump on in and you want something unique and motorsports inspired then the Ferro Distinct 2 watch might just be the one for you.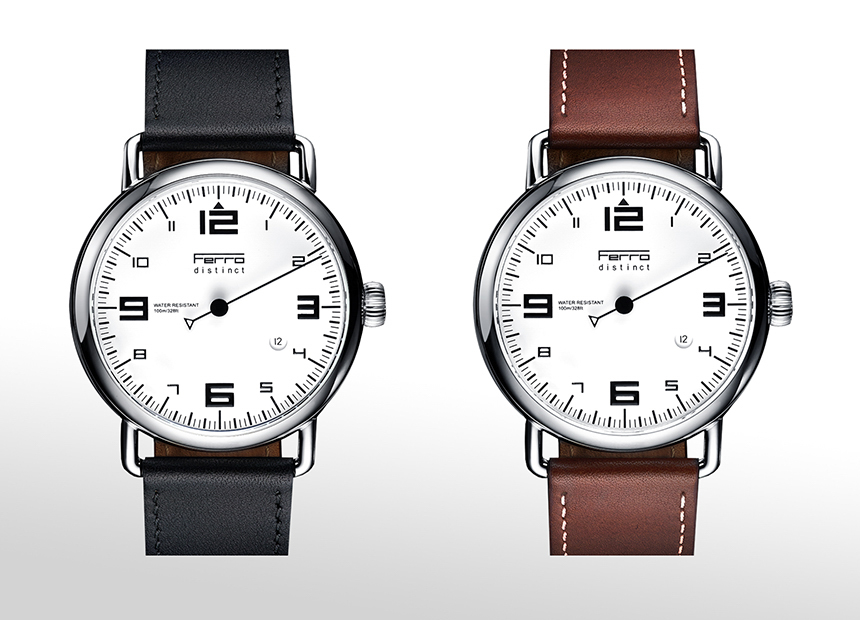 Single handed watches can appear puzzling to some who have never seen them before, but the concept itself is dead simple and when thought about makes some sense too. To make an accurate single handed watch take a great movement like Ferro did and remove the seconds and minutes hands. Then make the hour hand stretch all the way to the edge of the dial and voila, you have a single handed watch.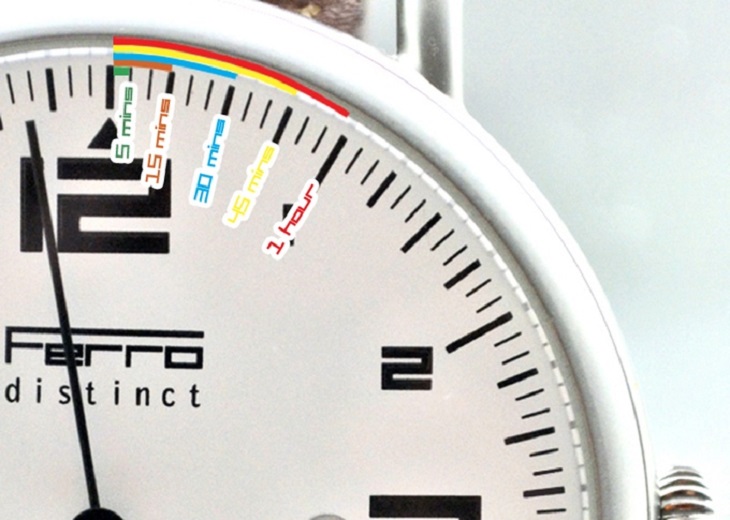 The question is how do you read it? That's pretty simple too and the good clear design of the Distinct 2 watches makes it especially easy. all you need to remember with a single handed watch is that the markers around the edge of the watch represent 5 minute increments only, we're used to seeing them as minutes and seconds on our watches because of the extra hands. It'll make more sense in person and is something that the wearer will adjust to very quickly indeed.
Because there is one hand to the watch the designer has a lot more leeway with their design and perhaps the most significant design theme for most generations is motoring. Legendary sports cars from companies like Ferrari and Lancia used instruments with very thin hands. Companies such as Jaeger and Veglia often designed their dials with very thin hands and that has clearly resonated with Ari and Bob Shahbahshi when they thought up the idea. The Ferro Distinct 2 watches incorporate the same clever thinking as some of their other products such as folding bicycles, wallets and many other accessories.
The Ferro Distinct 2 Single Handed Watches come in 2 different flavours and three different price points. There's a choice of a black dial watch with a thick black leather strap and a white dial watch with a gorgeous brown strap. Both watches are made of steel and of course you can always choose which colour strap you think would work best for you no matter what colour dial you've got. The lowest priced watch sells for $199 Canadian and come packed with a Swiss Rhonda Quartz 715 movement guaranteed to be extremely accurate and robust. These models also have flat crystal on them. The second level is powered by an automatic Miyota 8215 3Hz movement which is on display sound the back, it sells for $349 Canadian. The final piece and perhaps the favourite of collectors would be the ETA powered version with a 4Hz 2824-2 automatic movement inside it and comes delivered with a pair of luxurious driving gloves all for $779 Canadian. Each watch is 44mm in diameter meaning it's a great clear size and well worth the money put into it, you really do get what you pay for with this one.