Founded in 1952 on the innovative concept that all a women needed to be chic was a few perfect pieces in her wardrobe, Hubert de Givenchy revolutionized the silhouettes of the era by shifting fashion trends from one-piece dresses to something more versatile and separable. Designing the label since 2005, Riccardo Tisci honors Givenchy's legacy and spirit by reinterpreting classic womenswear, menswear and accessory silhouettes with avant-garde structure, gothic undertones and striking iconography.
The Seventeen watch is Givenchy's first timepiece. Named according to creative director Riccardo Tisci's lucky number. A mysterious and powerful prime number, but seriously I really don't know why the Seventeen is his lucky number. A good question to ask him no doubt.
The last women's version was launched in 2013 and has in its heart a Ronda 715 quartz movement and you can find it in various colours like black-tone stainless steel or gold plated stainless steel with either a black, olive or grey dial.
Now with this men's collection, it's time for the French fashion firm to return to the world of watches with a product powered by an automatic movement that impresses with its iconic design.
This is not a normal style design but we must admit that it's quite sporty thanks to the pronounced lugs and crown guard. A the same time I'd say that I think the case design has been inspired by a kind of Neo-minimalism art from late 20th century. Indeed, in architecture, installation art of the 80's was more visual and lavish and often characterised by impressiveness and excessive use of materials. The minimalist work focuses attention without distraction on the straightforward reality of the object, the relation of the object to the space in which it is seen and on the relation of the viewer to this experience. Minimal art has always used single forms or units, apparent simplicity, industrial materials and techniques and shapes that refer only to themselves. We can directly put this timepiece into this kind of art genre because the minimal works are objects in their own right and it's the case when you look at this watch. Minimal works have never represented any traditional subject matter in art. They don't describe experience but are objects that generate new experiences for the spectator. By using this kind of Neo-minimalism style this watch can be seen as extending the abstract idea that not a lot of brands understand, which is that a watch should have its own reality and not be an imitation of other timepieces.
Everything is in the details, we all know that, and this piece is also a bit retro-inspired from the side of the dial that bears the black, grey and white colours. This style is helped by the large minutes and hours hands, and also with the bright and captivating red seconds hands. That's indeed a really simple face but also efficient and easy to read. The luminous material on the dial and hands ensures great legibility in low light conditions while the sweeping seconds hand is picked out in contrasting red that gives a really cool effect.
A stylish watch powered by the automatic ETA 2892 calibre, known for its accuracy and reliability, which is showcased through a sapphire crystal caseback. I can also tell you that the Seventeen's lightweight titanium case is satin-finished, and thanks to this material you'll probably not feel the watch on your wrist at all.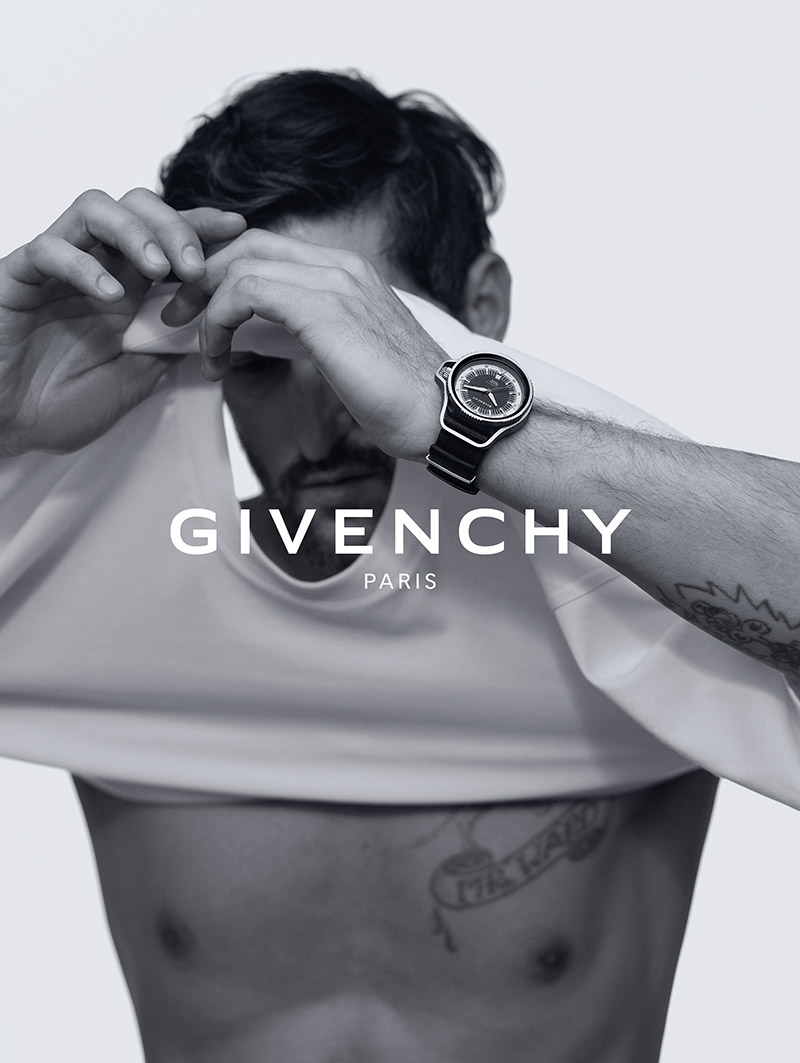 The Givenchy Seventeen Titanium Automatic is presented with two interchangeable black NATO style straps, one in grosgrain nylon, the other in raw-cut edge calfskin.
The timepiece will be priced at round €2,700 which is not bad for a fashionable automatic watch that is Swiss made.
This is a great example of a very well designed and wearable watch created by a fashion brand. What Givenchy has done is remained true to itself while offering an appealing and wonderfully unique design.
Now we can ask a more specific question. Is it through this piece Givenchy will attempt to enter the world of high-end watchmaking as Chanel or Dior have done long before?
In Baselworld, Versace has also launched a new piece with an automatic movement so would it be the moment for these fashion brands to take risks and to raise their level by creating high quality timepieces?
I have my own opinion on the subject, and I would say YES without hesitating. For more info, please visit givenchy.com

JONATHAN KOPP – CONTRIBUTING WRITER
Jonathan Kopp has an avid enthusiasm for timepieces of all genre, from vintage timepieces to modern Luxury Haute Horology. His preference goes to small and independent high-end watchmakers. He loves the difference rather than classicism, although if he admits to being in love with several ultra-classics pieces. Jonathan was caught by the passion for watchmaking there are almost 6 years. For about 5 years, he wanders in this industry and was Communication-Marketing-PR Consultant for several brands. He has worked for over 2 years as a freelance for the development of the Swiss brand Arthur Oskar Stampfli (AOSWatches). To keep in touch with Jonathan you can follow him on the various social networks: Instagram, Facebook and Twitter. Read his articles here.