Hamilton, another brand of the Swatch Group with a long history, has released a watch that is inspired by a historical timepiece (yeah, I didn't see that coming either), this latest one by the 1968 Chronograph A and Chronograph B models. In some ways, it's nice to see them paying homage to their past, and these particular watches look like they've paid a lot of attention to their past models, rather than just being "inspired" by it.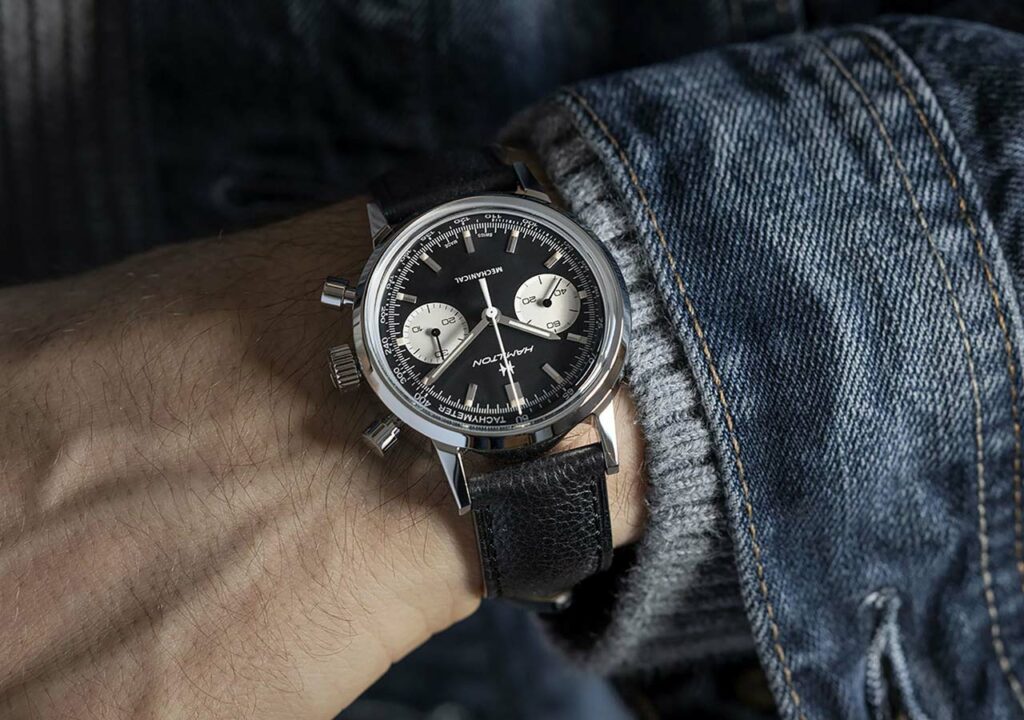 The stainless steel case measures 40mm in diameter and has a polished finish to it, which will mean some scratching down the line, but you can pass that off as patina if you like. Covering the dials is a domed crystal that is reminiscent of vintage watches. The dials of the Intra-Matic Chronograph H watches are clean and very reminiscent of the original watches. You can either have a black dial with beige chronograph subdials or the reverse. Hamilton has added some fauxtina (lume with a patinated colour) to the hands and the markers, although there's no lume for the chronograph.
I like the dials' appearance, both black and beige, and I like the fact they have avoided putting a date on it like so many other brands like to do. I also like the vintage font on the dial and the original style logo with the Hamilton 'H' and italic writing. I like the fact it says 'Mechanical' on it, it doesn't have to, we all know it's mechanical, but it says it anyway.
Inside the watch is a movement based on the ETA 7753, but Hamilton calls it the H-51. Usually, I have an issue with manufacturers buying an off-the-shelf movement and calling it their own without doing anything, but this time Hamilton has removed the automatic winding system like the original Chronograph A and B had. It has a 4Hz beat rate and a solid 60-hours of power reserve without the chronograph running. The movement is not visible through the caseback.
You can have the watch on either a leather strap or a steel mesh bracelet with a polished clasp. If you want the leather strap, the price is CHF1995, or if you want the bracelet, it's CHF2075.
Visit Hamilton here.