IWC has had a longstanding tradition of making watches for professional pilots. Nearly every other watchmaker that pops into my mind focuses more on diving watches and happens to make pilot-y watches on the side. The only other names I can think of would be Breitling and perhaps Longines, but that last one depends on my mood as they seem to do lots of diving things. Anyway, with IWC having such a distinctive history, it's no wonder that professionals of the skies still turn to them to make the best watches in the class.
IWC has refreshed a historic lineup for 2022: the Pilot's Watch Mark XX. In true modern watchmaking fashion, it's based on an older watch. In this case, it's the Mark 11. Originally supplied to the UK's Ministry of Defence (MoD) in 1948, the Mark 11 was issued to the pilots of the Royal Air Force to be their companions in the skies. The Mark 11 was useful for performing precise latitude and longitude calculations, allowing the pilot to navigate safely. It's an entirely different style of pilot watch to IWC's other well-known range, the Big Pilot, based on the old B-Uhr specification (IWC supplied watches to both sides during WWII).
The modern Pilot's Watch Mark XX does away with touches such as the full name printed on the dial and the Broad Arrow stamp on the dial. That last one's not just a styling choice, the Mark XX is not a military-issued piece of hardware, so it is illegal to sell it in the UK with that marking without permission. As the UK is a large market for luxury watchmakers, I doubt IWC will be keen to throw it all out the window for historical accuracy.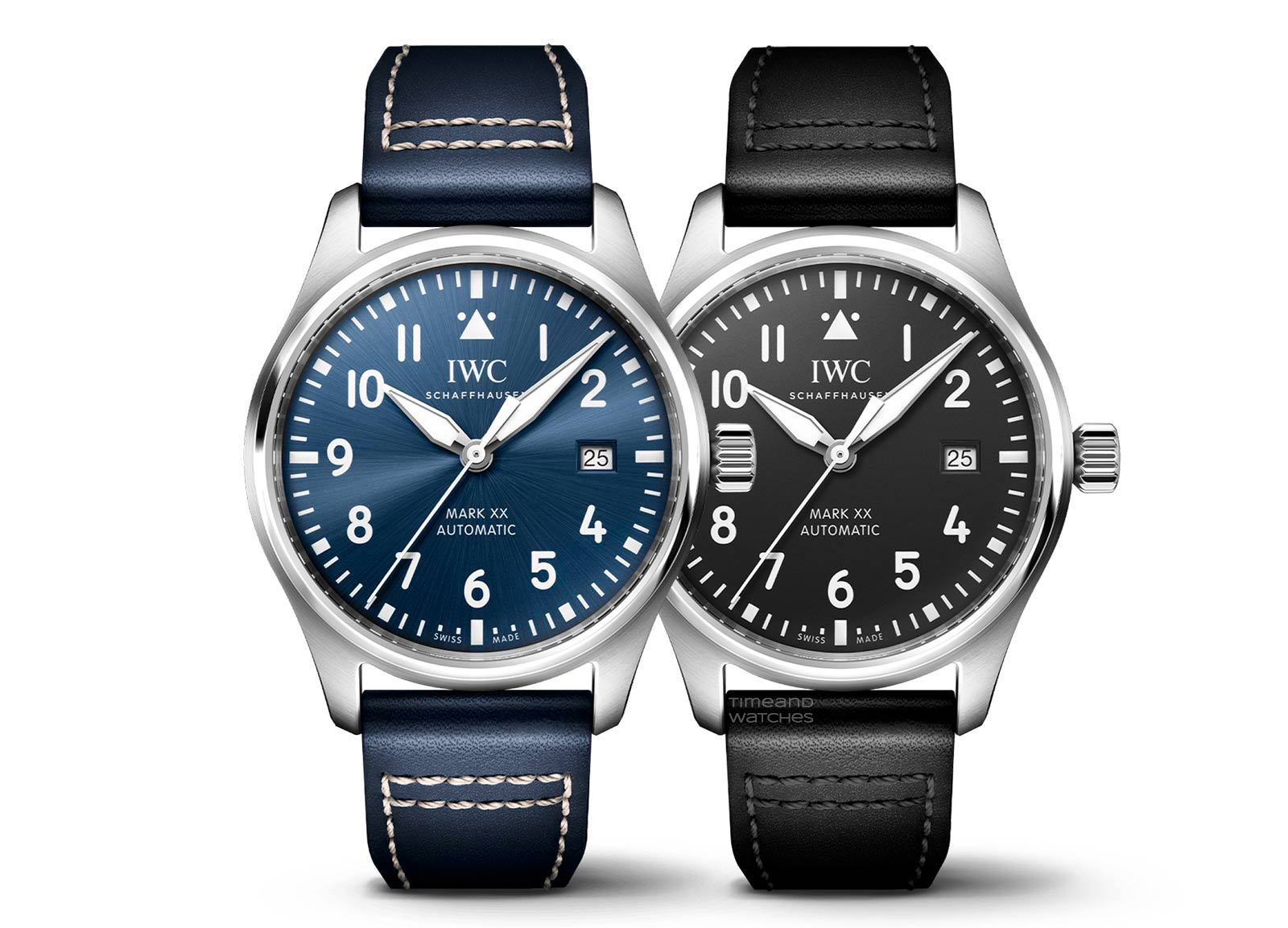 Instead, you get a 40mm stainless steel dressy/sports watch. The case is quite chunky proportions-wise, and the dial is a bit busy to call it a dress watch, but it's not like some of the beefy sports watches this brand makes. It's subtle, refined, and comes with a black or blue sunray dial. There's plenty of lume on the dial and hands, and there's a date window though it looks a little small.
IWC is known for making excellent in-house movements, and it's also known for using Sellita-based movements and charging top dollar for them. In this case, we get one of their excellent in-house calibres, the 32111. It's self-winding with a superbly long 120-hour power reserve and a 4Hz beat rate. There's plenty of perlage decoration applied to the calibre, although a solid stainless steel caseback obscures it with a lovely depiction of a twin-propellor aircraft. IWC hasn't said if this is a particular plane model, but I'm sure if it is, one of you readers can tell me!
Fitted with IWC's EasX-CHANGE quick-change system for the strap, this watch has a calfskin leather strap fitted from new. It's available now from $5250 and is not a limited edition model.
Visit IWC here.