As a longstanding and very historic race, the triple crown has been the staple event in horse racing. Fans all across the world tune in to watch the epic thrills and entertainment that the race brings each and every year. What better way to honor the event then with a commemorative watch? Longines honors the 2015 Triple Crown Series Thoroughbred horse racing event by releasing a limited edition timepiece.
In reverence of the 2015 race series winner, American Pharoah, Longines has come out with the Triple Crown Limited Edition Watch. This timepiece puts on display the classic tradition of the race. Very rarely does a horse win the series event outright, in fact, this is only the twelfth time that this feat has been accomplished, so commemoration of this historic event is of great importance. American Pharoah is the first to win the Triple Crown since Affirmed in 1978. The Triple Crown has been the most prestigious award in horse racing since its beginnings in England in the mid 19th century. The event today consists of three individual races, The Kentucky Derby, The Preakness Stakes, and The Belmont Stakes. All of these races are run by three-year-old thoroughbred race horses. Each of these three races are run here in the United States.
For many years, Longines has been the official timekeep of horse racing, and keeps their status with the release of the 2015 Triple Crown Limited Edition Watch. This piece is exclusive to the United States and is available in three variations. The 42mm watch can be bought in a steel finish, a two-tone variation with steel and rose gold, or can be bought as an 18k rose gold model. All three models are limited edition and make a great piece for any watch collection.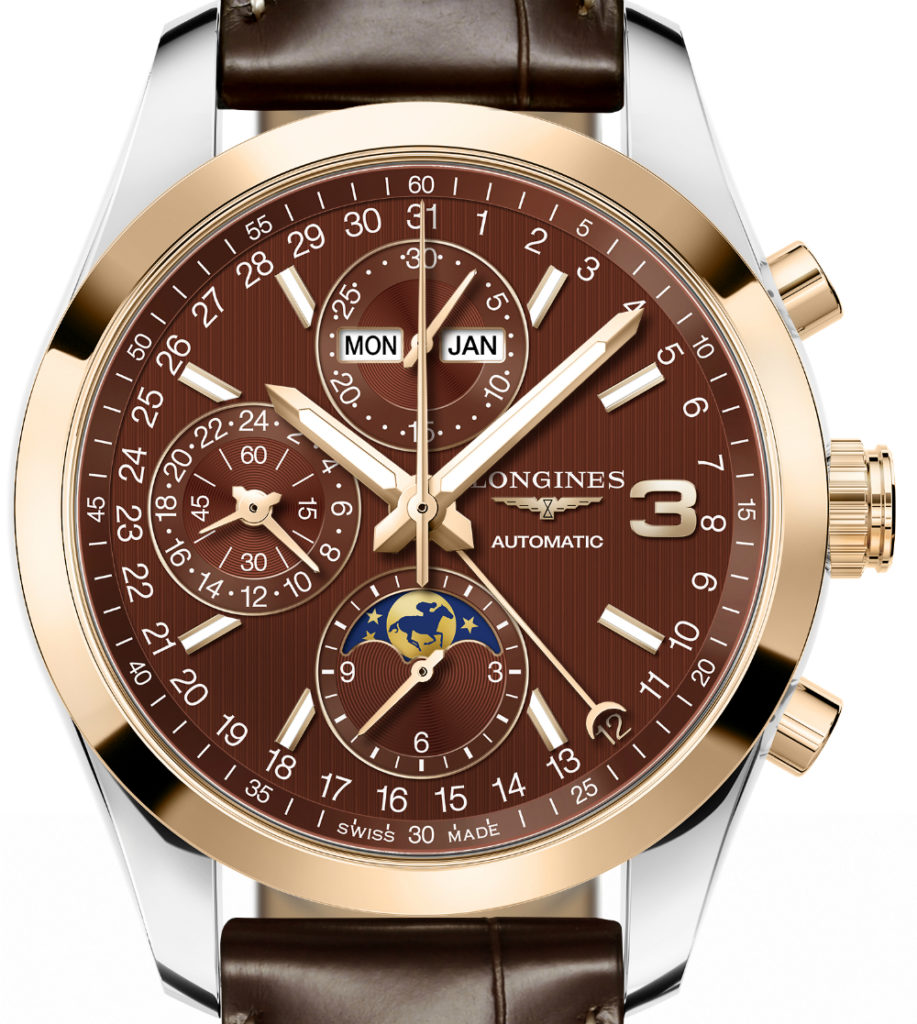 The color of the dial on this watch's chronograph is made to match the coat of American Pharoah, and is up to 50-meters waterproof. The "3" hour marker is the only number present on the watch in honor of the triple crown, and the "12" on the date marker is yellow in color to honor American Pharoah as the twelfth horse in history to win the Triple Crown. The logo of the Triple Crown is marked in the casing of the back of the watch and the traditional moon mongraph marked in the face of the watch is replaced by a monograph of a jockey riding a horse. The timepiece has 42 hours of power reserve, beats at 28,800vph, and is based at 678 automatic. The watch has a fourth hand on the face, shaped like a crescent moon and is used to indicate the date of the month.
All three variations of the Longines Conquest Classic Triple Crown Limited Edition have a brown leather alligator strap that compliments the rows face of the watch, as well as complimenting either the steel or rose gold finishes. The price of the steel variation is set at $4,200, the two-tone variation is priced at $4,600, and the 18k rose gold is priced at $13,500. Pick which variety best suits you and get your limited edition timepiece today. Only 180 total will be released; 120 of the pieces are available in the steel variation, 40 of the pieces are available in the two-tone, and 20 available in the 18k rose gold. For more info, please visit 
longines.com