Do you remember those watches from Panerai released earlier this year that looked like they belonged in a Tron movie? Well, they're back, in a very special watch too. This new watch may look like the watches from the "Luminous Trilogy", but it actually follows on from their LAB-ID Luminor watch from 2017, but with Panerai being Panerai this isn't just a new paint job.
While it looks like the guy who does all the glowy ambient lighting for Mercedes Benz got ahold of one of the old LAB ID models and went to work, this new PAM1700 is an entirely different beast. It's being introduced to coincide with Panerai celebrating 70 years of its Luminor collection.
It is therefore fitting that Panerai has given the PAM1700 watch a 70-year manufacturer's warranty, something that's practically unheard of. This builds upon the previous LAB ID model, which had a meagre 50-year warranty. Panerai, for obvious reasons, isn't telling us exactly how they've created a watch designed to run for this long, but it has a lot to do with a super-low friction composite which includes a tantalum-based ceramic. By using this space-age composite instead of traditional jewels and oil, Panerai can do away with the need for regular maintenance with this piece.
The enormous 49mm case of the watch is constructed of Carbotech, one of the brand's signature materials. It's both lighter and more scratch-resistant than regular titanium or stainless steel, both of which Panerai also uses. It's made up of sheets of carbon fibre bonded with something called PEEK (Polyether Ether Ketone) which binds the layers together under intense heat and pressure. The result is a case that's super light with an interesting and unique texture and pattern. It's also 100m water-resistant and comes on a nylon strap.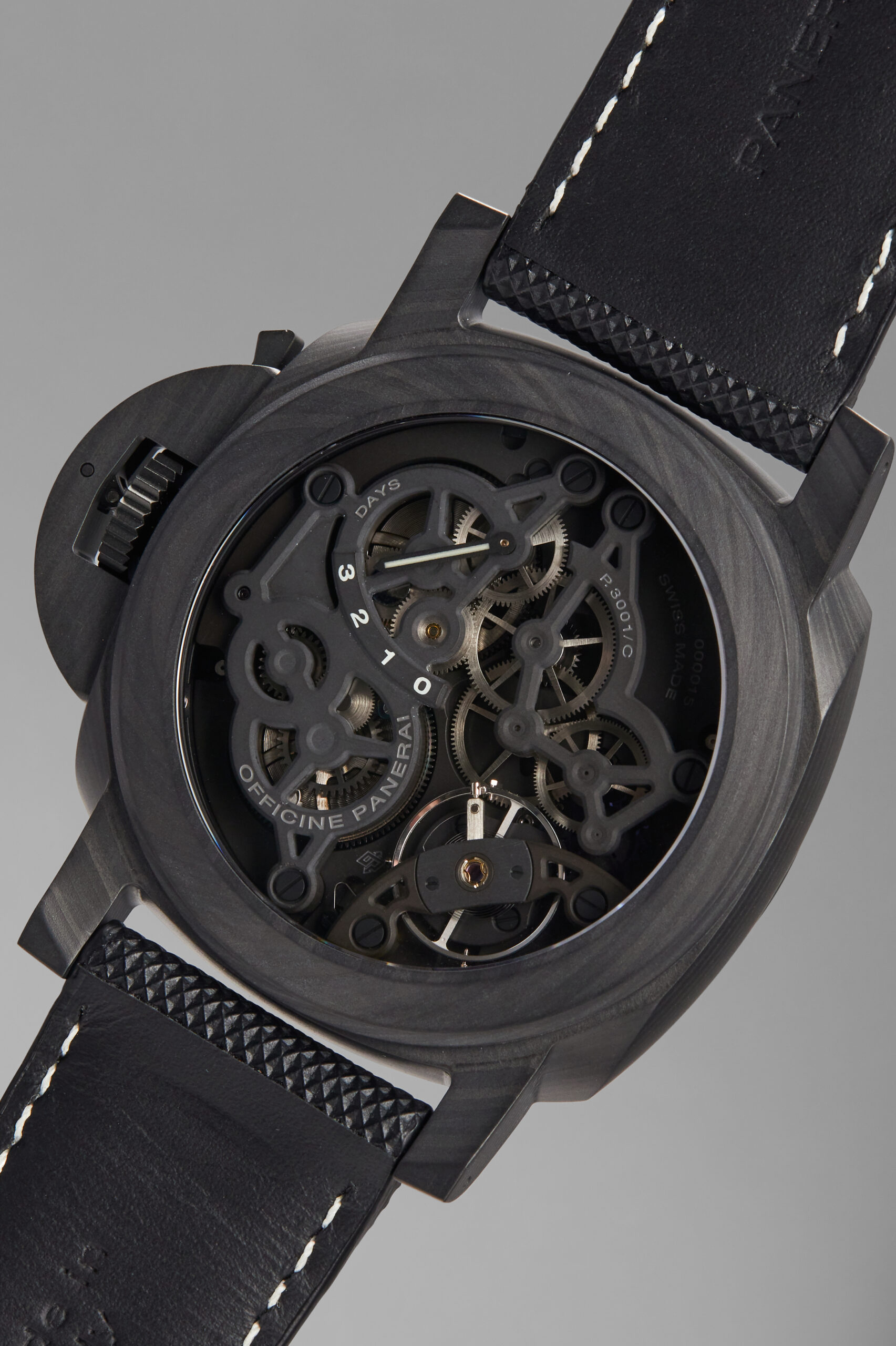 Around the back of the watch is where things get technical. On display is the calibre P.3001, but before we get to that, I noticed that the caseback itself on this watch is also made of Carbotech. On Panerai's other Carbotech models, the caseback is made of titanium. I'm not sure if this is a first for Panerai, but it's interesting to me at least.
The calibre P.3001 is a mix of black, silver and what appears to be some lume. There's not a whole lot in the way of super high-end polishing and chamfering like we've seen on other Panerais even, but this does have aesthetic appeal. I love the geometrical shapes formed by skeletonising as much as possible, and the silver wheels contrast well. It appears that the SuperLumiNova Grade X1 lume (which is designed to be brighter under the waves while recreating the neon green Pantone 802-C colour of old Panerais) has also made its way to the power reserve indicator which is odd but unique nonetheless. The dry-lubricated calibre will run for three days before needing to be rewound and has a 3Hz beat rate. The movement measures at 16.5 lignes in diameter, which is 37.22mm, so I'm not sure why the case of this one has to be so enormous, surely it's going to be offputting for most.
Another unique part of this watch is the way Panerai is launching it. Rather than just telling us all about it in a press brief and then mailing it to the showrooms, Panerai has decided to use Phillips "Racing Pulse" auction, due on the 12th of December NYC time, to sell the first model. They haven't even made the other 69 watches yet, but the first one is ready to sell. It'll undoubtedly generate a buzz, but I'm intrigued to see how much it will go for, maybe over $250k. If that doesn't sound good to you, don't worry, the RRP of the watch is going to be $70,000 when they get around to making them.
Author's note: It should be made clear that, as with the first LAB ID watch, Panerai is not guaranteeing that this watch won't need to be serviced for 70-years. But you will get 70 years of cost-free servicing unless you damage it yourself.
Visit Panerai here.