As 2016 marks the Patek Philippe Nautilus 40th anniversary, PP fans have so much to look out for. I've already covered the platinum version of the Patek Philippe Nautilus 40th Anniversary 5976/1P which is a terrific watch and as for this article, I'm going to talk about the other variant which is the Patek Philippe Nautilus 40th Anniversary 5976/1G. For the keen observer, the only difference is the last letter G which stands for Gold. Now the exciting part for which a PP fan would really be grateful for is the remarkable price of the watch which is just under $100,000 USD which of course is still low considering that this is a product of a Swiss luxury watchmaker. Well if you're not excited, just think about a large gold watch fitted with diamonds, wow. On the other hand, if you're looking for a more subtle timepiece that still clings to luxury, well look elsewhere because this PP Nautilus 40th Anniversary 5976/1G is filled with ostentations and there's no denying that.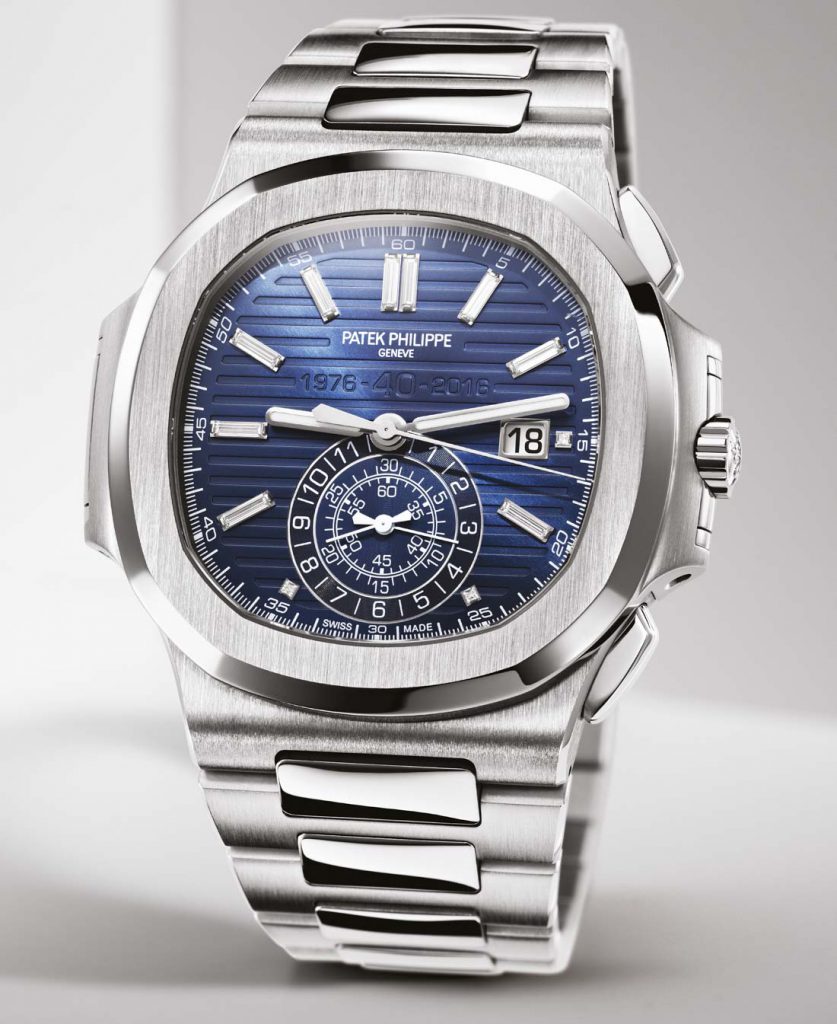 Ok so let's go down to business. Unlike the platinum variant, the 49.25-millimeter-wide, 18-karat white gold case is immensely wide and it also is limited to 1,300 pieces compared the platinum's 700 pieces which is also a bit pricier, hmmm probably because platinum looks badder than gold, I admit I'm guilty in this case. This watch is really large especially for a luxury watch and it really justifies the "Jumbo" nickname of the original Nautilus. From lug to lug, it screams awesome and I also like the pushers near the lugs, they add more complexity to the overall design.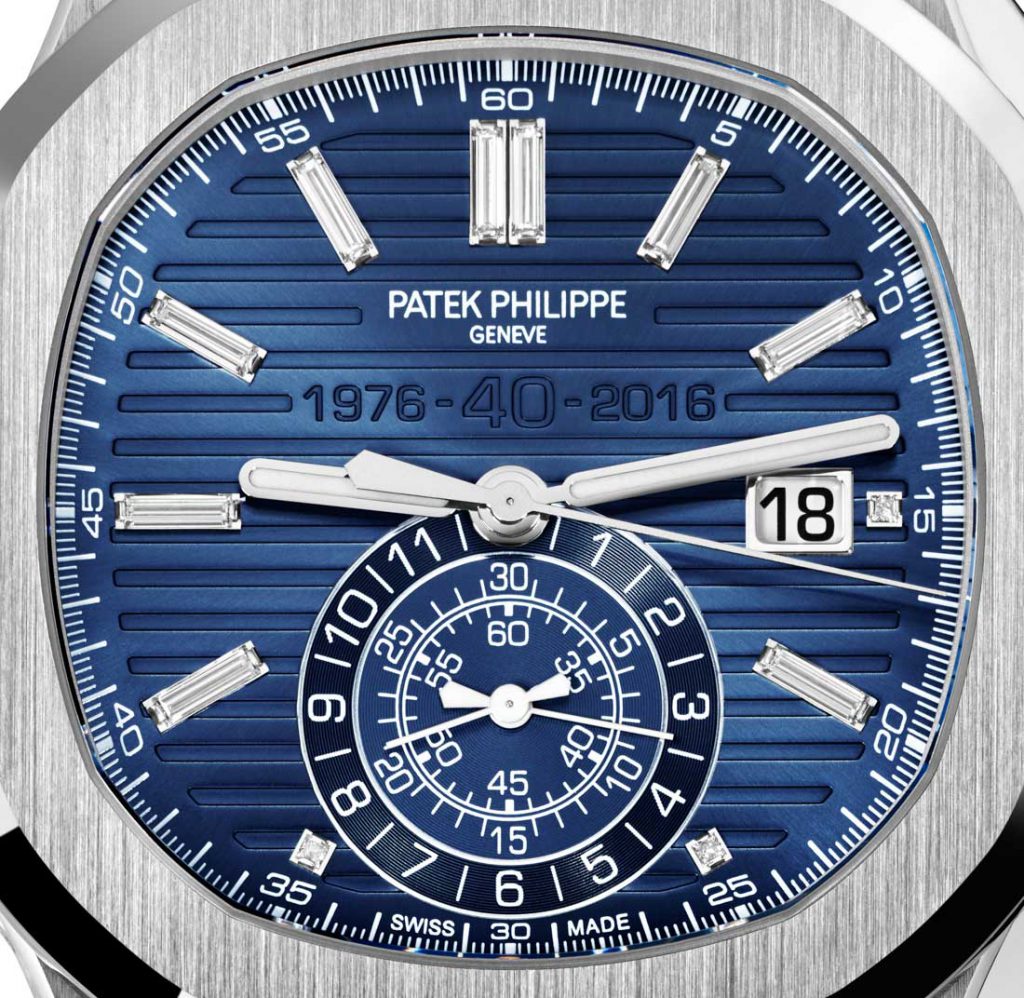 Now going to the dial, of course, expect the blue PVD coating, this is Nautilus, my friends. The chronograph that sits above the 6 o'clock looks clean too. Note that the hour scale here has been moved to the outer periphery of the sub-dial displacing the 60-minute counter on the inside, looks neat to me. The chronograph's only negative effect is, of course, it cuts the beautiful baguette indices in half leaving smaller princess-cut diamonds to take up the remaining realty space instead. Moreover, the baton hands simply scream classic, they look fantastic and never dull to look at.
So what powers the Patek Philippe Nautilus 40th Anniversary 5976/1G? Well, it's the Patek Philippe's CH 28–520C flyback chronograph caliber featuring automatic winding and a date at the 3 o'clock. Its frequency of 4 Hertz also allows it to yield 45 to 55 hours of power reserve which is good enough for a watch this caliber. When it comes to its 21k gold automatic winding rotor, well what can I say, it just adds more lavishness.
So for all PP fans out there looking for the real bad boy in the luxury watch category, look out for the Patek Philippe Nautilus 40th Anniversary 5976/1G. It has diamonds and a full white gold case, what else could you ask for when its price sits at $96,390 USD? For more info, please visit patek.com