People the world over are familiar with Breitling watches for their aeronautical watches and instruments as well as their air display teams which make regular appearances at large air shows. As well as their gorgeous Navitimer, Breitling is also renowned for making the Avenger watches, much like the superhero team, the Breitling Avenger is a solid display of strength coupled with power, in this case, wrist presence.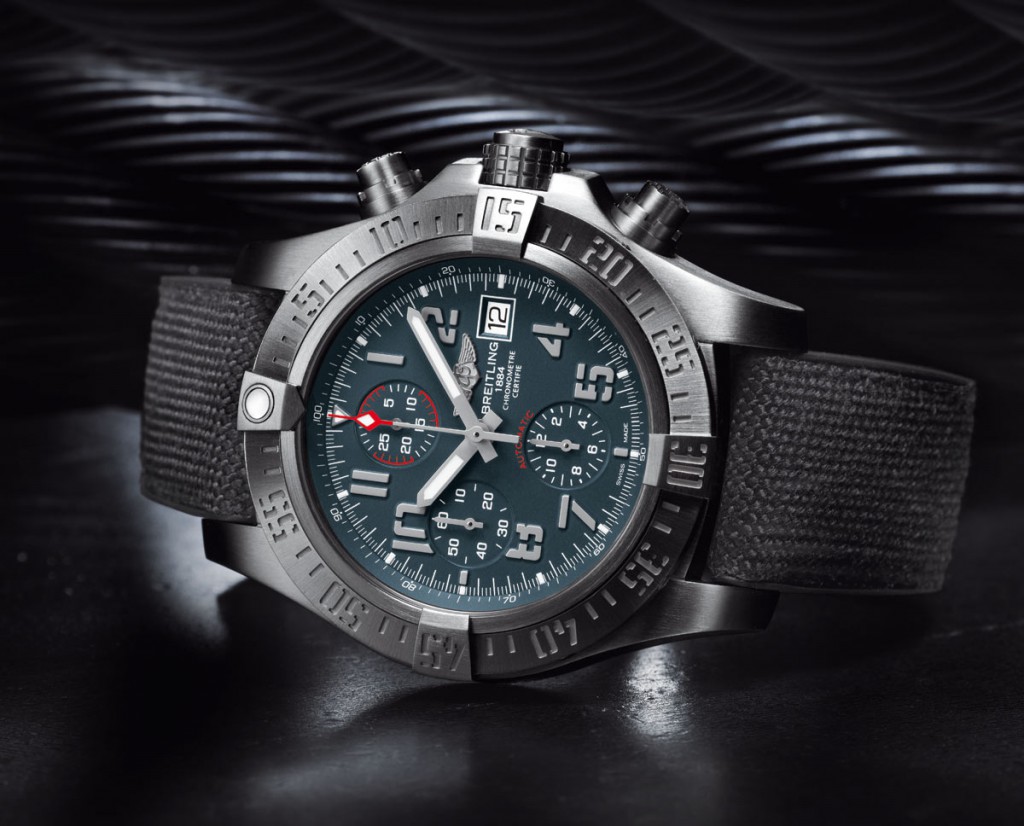 The brushed titanium case on this watch gives it stealth befitting a master bandit, being able to swipe valuables without you ever noticing. In this instance, the valuables are the titles of "Most user-friendly crown and chronograph pushers" and also "Most noticeable bezel grips". The so-called 'rider tabs' on the bezel are actually designed to give you more of a chance of being able to adjust the unidirectional rotating bezel with gloves on which is a nice feature. Also, the crown and pushers have a grid grip design on them to prevent slipping, notably this design is more likely to work more effectively than the normal ridges that you might see on the watches made by Breitling's main competitors: Omega and Rolex.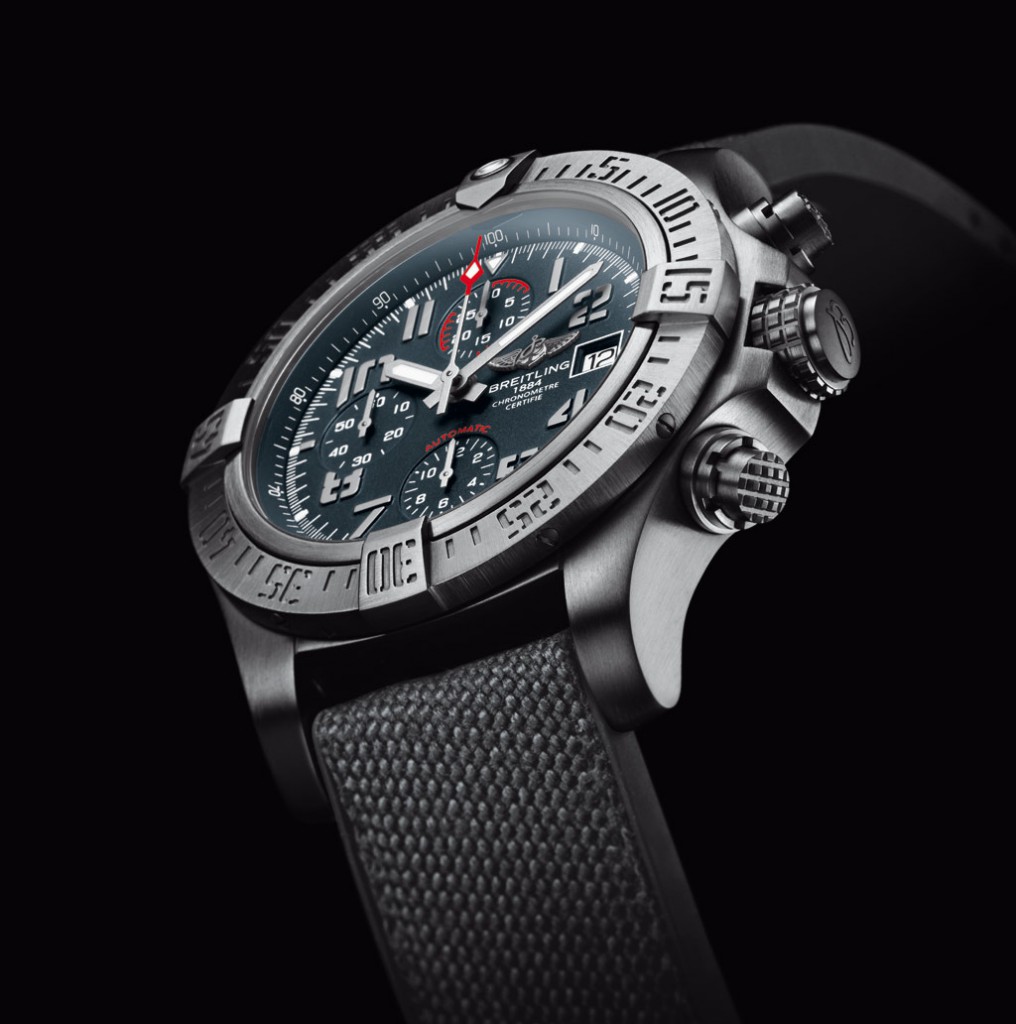 Unlike Rolex, and now Omega as well, Breitling still mainly relies on ETA to make base movements  that it then modifies in-house and it's exactly the same story here. One reason for this may be funding, Rolex is what it is and sells enough watches a year to make a profit while Omega also sells a lot of watches and has some access to the funds of the largest watch group in the world, Swatch. Breitling, on the other hand, has neither of these as it is independent. But, it's not all doom and gloom, the ETA Valjoux 7750 movement is a robust and proven mechanical movement and, in this case, has been given a COSC Chronometer Certification no less, meaning it's more than enough for those of you requiring an accurate timepiece.
Without the chronograph running this watch will run for 48 hours, the movement powers a date feature and a quarter second chronograph with a 30 minute counter and a 12-hour subdial as well. To make this watch as user-friendly and tool-y as possible, the back of the watch has been closed up and a handy unit conversion guide has instead been engraved onto it. The Avenger Bandit is placed directly between the Avenger II and the Super Avenger in terms of size, the Avenger II is 43mm in diameter, the solid titanium cased Avenger Bandit is 45mm in diameter and the Super Avenger is 48mm, so while we haven't got a physical reference for you just yet, think of it as just a tiny bit smaller than the large Planet Ocean.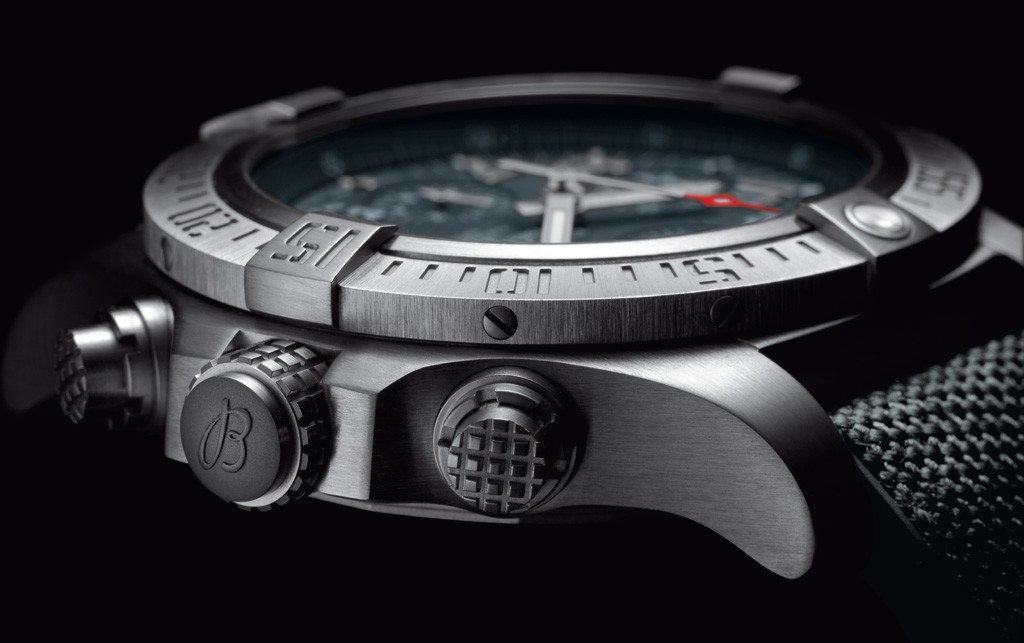 The watch also has anti-reflective treatments on the sapphire crystal and a 300m water resistance rating. While not specifically a diving watch it's always good to have the knowledge that this watch goes that little bit further in the field. You can expect this watch to cost you a very reasonable $4500 when it goes on sale soon.
For more info, please visit breitling.com
HARLAN CHAPMAN-GREEN – MANAGING EDITOR
A keen bass guitar player, Harlan enjoys all the perks modern watchmaking technologies the industry has to offer. Although you might catch him sampling Omegas or the "odd" Rolex, Harlan loves all things Haute Horology, with his three favourite brands being Breguet, A.Lange & Söhne and Vacheron Constantin. He hopes to study timekeeping more in depth someday and will never be able to thank his father enough for introducing him to the industry. You can follow him on Instagram Read his articles here