Travel has become a big part of today's society. Whether traveling to work and back and on a daily basis or even traveling the world, across several different time zones. This is where the very popular watch company Hublot has come into play. Thanks to their patented GMT module technology, "time travel" has never been easier.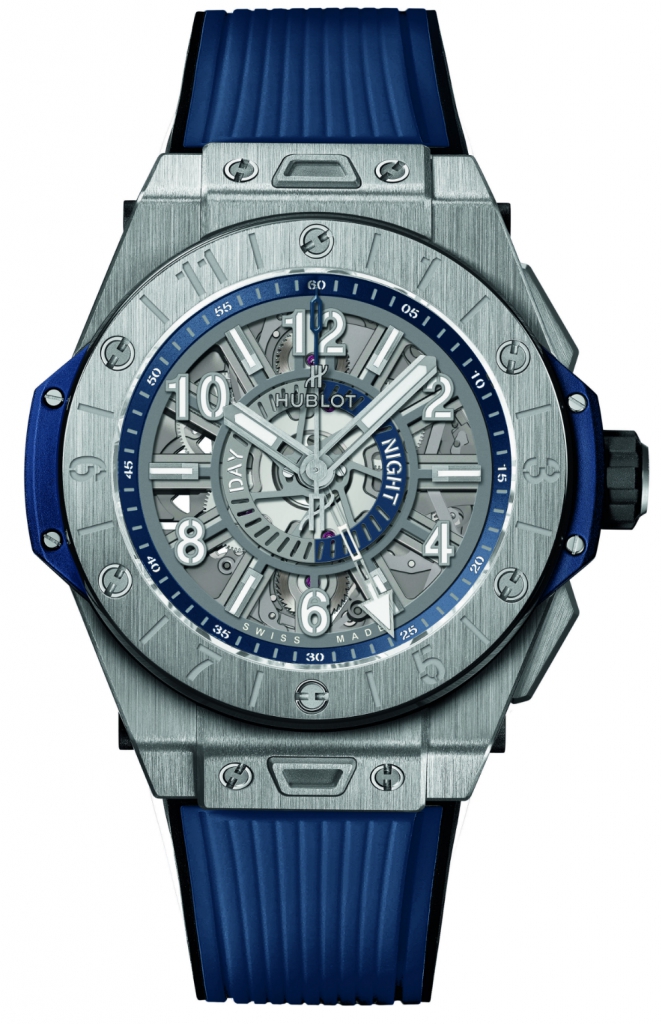 This technology consists of two different buttons on the piece to essentially change time zones (travel time); a button at 2 o'clock to move the watch forward by one hour increments, and a button at 4 o'clock to move the watch back by one hour increments. It is that easy to update a second-time zone onto this piece. The local time on the watch is set independently by the dial and has no influence over the separate time zone settings. Now, most people might sit and wonder how they can distinguish their local time from the second time zone that is set on the watch. It's very simple my friend, the local time is shown on the watch with an isolated, arrow-shaped hand on the face of the piece. To create even more accuracy, this arrow-shaped hand is correlated to a disk which indicates whether it is day time or night time. The arrow-shaped hand and the disk are both very easily read at a glance of the watch's face so a traveler can easily see the time of their loved ones back home.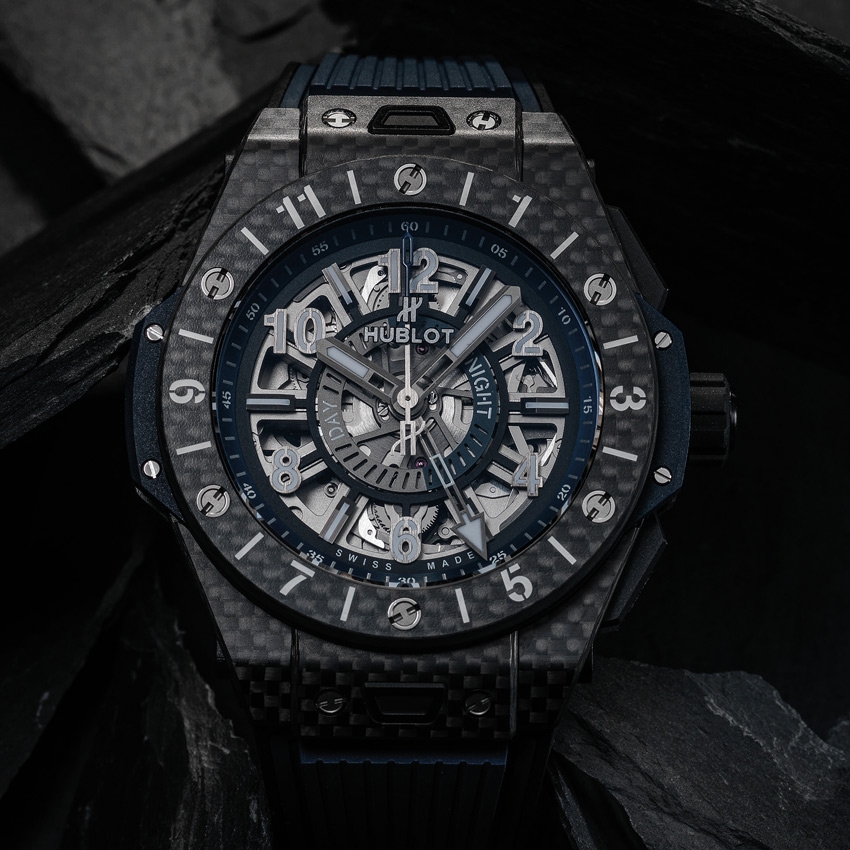 The face of the watch is built to show off the features and the technology of the piece and the technology used in our modern day watch-world. The transparent face shows the user the intricate details of the inside of the piece, showcasing a symphony of moveable parts that make the piece function. Also on the face are the even numbers of the watch, used best for indication of the time in both time zones. The odd numbers are marked with skeleton blue and luminescent colored indexes. The signature Hublot insignia and the word Hublot are found on the face of the piece as well.
The dial of the piece displays a beautiful black and white checkered finish with a beautiful gloss finish. On the dial, the odd numerals of the piece are displayed in bright shining white and the even numerals are marked with six H-shaped titanium screws to give the piece that extra special pop. The skeleton blue and anthracite grey and mat black are prominently displayed on the dial of the piece as well.
The bracelet is a black and blue ribbed rubber with a folding clasp. The watch's movement is of mechanical automatic, UNICO HUB 1251 caliber, which runs at 28,800 vibrations per hour and has a 72-hour power reserve. The satin-finished case is polished titanium and carbon fiber. The case itself is 45mm. The watch itself is water resistant up to 100 meters, or 330 feet. The piece is priced at $19,900 for the titanium variation and $23,100 for the carbon fiber watch. There are only a limited amount of pieces available for purchase, so travelers need to hurry and get theirs today. For more info, please visit hublot.com