Get ready to rumble as 2015 will be a road trip into smart watches and smart accessories. Montblanc decided to start the year by presenting their new e-strap.
The Montblanc Timewalker Urban Speed e-Strap (product reference 113827) is the first initiative into digital wearables from a traditional luxury brand. Montblanc, rather than create a smartwatch, chose a smart way to include the connected functions. Indeed, the e-strap is a nice way to combine Swiss watchmaking tradition and 21st century technology.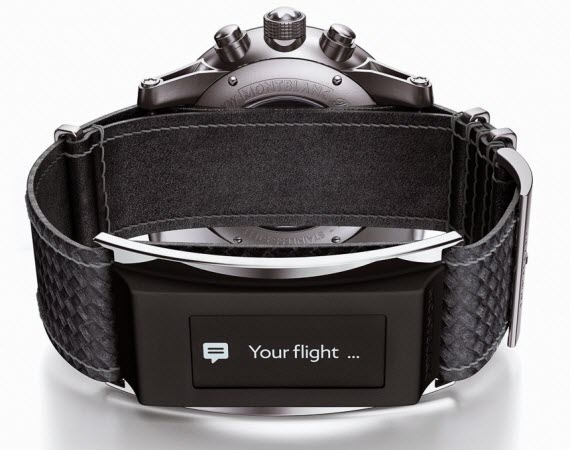 The e-Strap features a high-end leather strap that has a carbon fibre texture to it that Montblanc calls "Extreme Montblanc Leather" and is produced in Florence, Italy. In the place of the normal clasp, under your wrist, you'll find an electronic module made from DLC (diamond like carbon) coated steel or in grey steel. But I'm sure there will be a few more colour and size options. We can also note a monochrome screen of 0.9 inches and with a resolution of 128×36 pixels that will allow you to read you emails as well as the other usual tasks.
It says in the details that the Montblanc e-Strap is an accessory that offers an entire range of functionality to any kind of mechanical watch. Functions include to track activity, send and receive some message and phone notifications, receive social networks notifications, control your music and also a find-me functionality for attached devices. If you want to send messages with this I think you need to have very little fingers to use the screen.
This accessory is both Android and iOS compatible and is attached to the strong leather NATO-style strap. The interesting thing is that you can use it on any 20 or 22mm strap you want. The touchscreen device is readable during daylight and has, according to Montblanc, a battery life of five days at which point one will be able to re-charge it using a standard micro-USB connection.
The Montblanc e-Strap is currently compatible with select Android devices running Android 4.3 Jelly Bean or later and also all Apple iPhones since the 4S, so if you have a Blackberry it's not worth buying it right now.
In the same time, Montblanc announced three new Timewalker watches, which will all come with this e-strap.
Montblanc Timewalker Urban Speed watches have 43mm wide cases produced in steel with a ceramic bezel and with a huge colour palette available that includes a really nice red accents. The 43mm wide Timewalker Urban Speed Chronograph (ref. 112604) with a base Swiss ETA Valjoux 7750 automatic movement and with the e-Strap will be priced at €4,690, while the 43mm wide Timewalker Urban Speed UTC will be at around €3,990  and the 42mm wide Timewalker Urban Speed Automatic around €2,990.
Separately, the Montblanc e-Strap will be on the market for around €350 – which, even if it's a lot for a device like this, it's not very expensive for something related to a luxury watch product.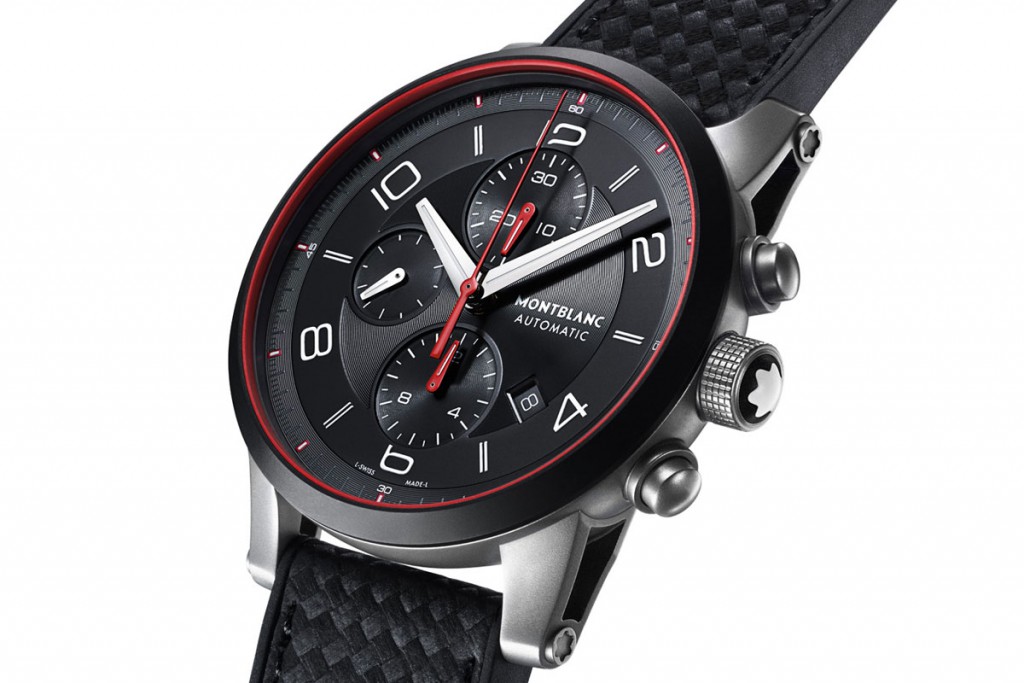 Indeed, with a marketing point of view, the very smart point is that this accessory will be sold separately. So we can easily imagine that some customers will adapt it on other brand's watches which I see as a good way to earn more money and recognition for Montblanc. If we look at the side of the customers, thanks to all its functions, the strap will eliminate the need of a smart bracelet. This is very convenient if you don't like having to wear two watches.
It sounds like a good idea at a first glance and I must admit that this is an interesting approach by Montblanc and probably best suited to traditional watchmaking enthusiasts who might be interested in a smartwatch, but I see a little problem with it.
You have this accessory under the wrist, so if you put your arm on a table, or on your computer,  I wonder how durable the screen would be.
Moreover, the notifications are signaled by vibrations. I hope that the buyer doesn't use social networks a lot, otherwise their arm will vibrate hundreds of times a day, which is a good enough reason to use a traditional buckle.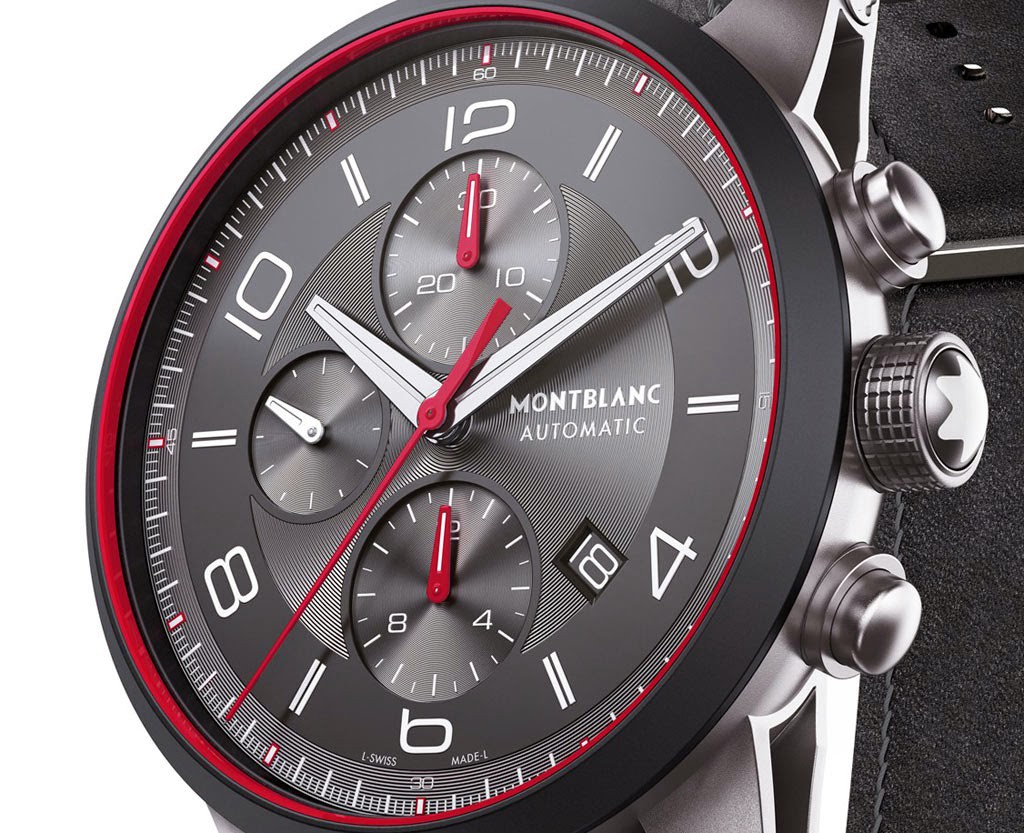 In my own opinion I think that today almost everybody already has a smart phone that will do all this if you want it to (you just have to download the various app – and maybe buy a fitness tracker for around €100 for the health data). For the rest, notifications and messages, we just have to put our hands in our pockets and take out a phone. So, we don't need an e-accessory extra attached to a mechanical watch.
But I must admit, that's the most interesting proposal of the market at the moment. To have a final opinion we must try this accessory and I confess that I can not wait. The official unveiling will take place at this year's SIHH show in Geneva, Switzerland later this month. For more info, please visit montblanc.com

Jonathan Kopp – Contributing Writer
Jonathan Kopp has an avid enthusiasm for timepieces of all genre, from vintage timepieces to modern Luxury Haute Horology. His preference goes to small and independent high-end watchmakers. He loves the difference rather than classicism, although if he admits to being in love with several ultra-classics pieces. Jonathan was caught by the passion for watchmaking there are almost 6 years. For about 5 years, he wanders in this industry and was Communication-Marketing-PR Consultant for several brands. He has worked for over 2 years as a freelance for the development of the Swiss brand Arthur Oskar Stampfli (AOSWatches). To keep in touch with Jonathan you can follow him on the various social networks:Instagram,Facebook and Twitter. Read his articles here.