2015 marks the 75th anniversary of the Portugieser line of watches by IWC and it's chosen to celebrate with this classically styled watch. It's got some wonderfully retro features to it, so let's jump right in.
From the very start you notice there are some classic cues to this watch that help us identify it as a tribute watch. First and foremost, the standard block capitals IWC logo has been replaced with a more vintage handwriting looking design which spells out the words International Watch Co. Another small tribute to previous models is the hour ring which has a more 60s diving watch look to it than dressy piece.
If you're a Portugieser buff then you'll be pleased with the black dial version which harks back to the original 1930s Portugieser watch which, like this one, was a manual wind. In fact, in order for IWC to get a good idea of the 1930s original they consulted a private collector who allowed them to look at it and get a good feel for how the dial was laid out. Even the hands and sub seconds dial took inspiration from the original watch. That's attention to detail.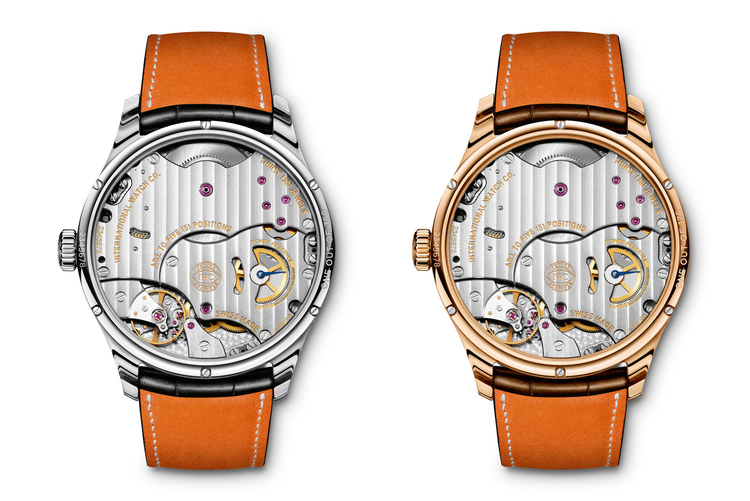 It's not finished there either, this watch has a display back to it and in order to keep in with the vintage feel IWC placed the power reserve indicator on this side, right out of view I might add. Although impractical for everyday use it's still lovely to look at and even lovelier to know that they weren't overly interested in modernising their watches unlike some companies with their ranges *cough cough* Calatrava.
IWC never told us it could run for 9 days. Well sort of, let me explain. This watch can actually run for near enough nine days solid. However, the 75th Anniversary has a locking system in it that stops the movement from completely exhausting its reserve which could damage the springs. Remember that some of these parts are as thin as human hair, so little things like this matter an awful lot. It's a great idea and you really shouldn't slate IWC because they are saving you a lot of servicing costs with it.
This watch is pretty svelte at 12mm tall and 43mm in diameter, a larger sized dress watch but a dress watch nonetheless. If we can let 41mm DateJust II be a dress watch we can let this one as well… right? It doesn't matter anyway, it looks classy, it's made of a precious metal (750 in stainless steel and 150 in rose gold) and is made by a very good company indeed. Even better news is that while it's not as rough and ready as a sports watch, it's a dressy watch that's good to go when it comes to everyday wearing.
It looks sleek enough to be able to fit nicely with a suit, evening dress or just a square patterned shirt on a sunny Sunday afternoon while you sit back and relax in the garden with your friends. To add some extra bragging rights to this watch, I should mention that the leather strap is made by Santoni, which is an Italian luxury shoe maker. I believe they know a thing or two about leather. The pricing for this watch will be around $22,000 for the gold version and $11,500 for the steel version in total, so snap one up before they're gone for good! For more info, please visit iwc.com
Don't forget to follow our articles as we keep you updated with all the wonderful works of art from SIHH 2015!
Harlan Chapman-Green – Contributing Editor
First introduced to horology with the Patek Philippe Calibre 89 by his father two years ago, Harlan enjoys his passion for fine horology. He prefers to spend his time in the boutiques of upmarket brands, trying out new pieces constantly. His preferred 3 brands are A. Lange & Söhne, Breguet and Vacheron Constantin. Although not much for the smaller brands, he still finds the complications intriguing and wishes to own one watch from each of his three favourites. Read his articles here.