As I'm looking at the Armin Strom Skeleton Pure, I remember being fond of the Tomb Raider movie when Angelina Jolie stumbles upon a unique timepiece that is part of a larger mechanical structure that basically times the alignment of the stars to control time. Whew, now you ask me what's the relevance of that movie to the introduction of the Armin Strom Skeleton Pure? Well, my answer is everything, yeah it's named Skeleton Pure for something and it ain't just for the looks. To give you a brief introduction of the man himself, Armin Strom has been featured in the Guinness Book of World Records for building the world's smallest skeletal watch. His remarkable feat can be attributed to his impressive skill as a master engraver. Wouldn't you want to buy his creations? Heck, I would and if you have the money now is your chance to buy this introductory Armin Strom Skeleton Pure at the Only Watch 2015 event in Geneva. Certainly, the event is going to be filled with excitements and this Skeleton Pure is a must to closely watch out for.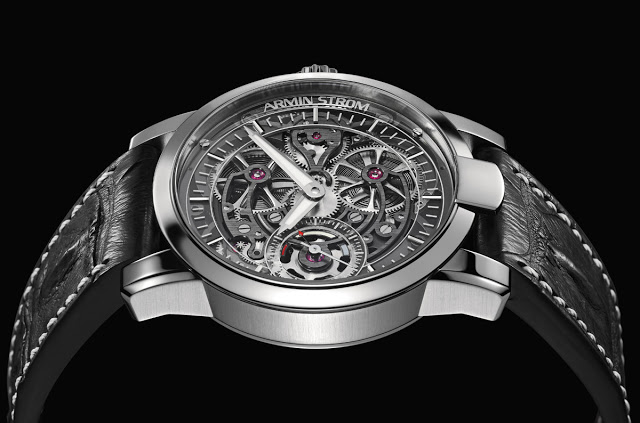 Alright, enough ramblings, so what really makes the watch tick? First of all, if you're looking for a classical neat watch then look for something else or if you're too lazy to appreciate a mechanical art, look elsewhere. Now that I've made myself clear, let's give the watch what it deserves — respect. Since I've always been fascinated by the inner workings of impressive complicated mechanical watches, the Armin Strom offers a brief respite for such wonder. It's literally a physical tutorial on your very own wrist. You can precisely examine everything, how the watch works and much more. Damn, I'm so excited right now. I can finally figure out how these remarkable watches tick. Since everything is visible, from the moment you drive the crown, you'll see the two large main spring barrels rotate.
Whilst also observing the main springs wound driving the second hand on the dial. In fact, you get to feel the interaction between the gears, pinions, bridges and levers and all that from your very wrist, no need to go under a Mayan Cave to observe the giant mechanical frame in the Tomb Raider's movie.
The Armin Strom Skeleton Pure's 43 mm case is made of stainless steel but sturdy enough to get you as deep as 50m if you can reach such depth. I have no qualms with the smooth case since it just makes the watch look more sturdy. As for the dial, well it's like gazing at a stark naked person. Plus the main plate and bridges have a straight-grain finish and matte black PVD-coating. The contrast is remarkable making it easier to figure out where the power reserve indicator and the co-axial hands are.
And it is being powered by the manual winding caliber ARM09-S featuring two main spring barrels capable of storing energy good for eight days when fully wound. As for the subtle sub-dial at the left of the dial, it contains the small second and the power reserve indicator. The hands are filled with luminous material for an even easier reading. And it also comes on a leather strap. For more info, please visit arminstrom.com
JOVAN KRSTEVSKI – FOUNDER, PROPRIETOR & EXECUTIVE EDITOR
Watch collector, aficionado and an Event profile in the Swedish nightlife. He launched Watchgeek back in 2011, which is now known as WristReview and is one of the most widely read watch blogs on the Web. He quotes 'WristReview is a site to help people find, explore, discover and enjoy wristwatches.'  His passion jump started in his early teens when he was given his first mid-range wristwatch which was an Omega Seamaster. Since then he has always been in love with wristwatches! Besides WristReview, he also writes for a number of publications. Read his articles here.