I don't usually cover table clocks with mechanical movements but what the heck, the Thomas Mercer Britannica Unique Piece for Only Watch 2015 is indeed a unique find. This is a cabinet watch that will mostly appeal to those leaning to the technical side of things. If you could carry this around at all times then why not but with polished steel enclosure, I don't see the ease of moving it around to show off to your buddies. However, it's a good home display and a very nice one at that. Note that Thomas Mercer is the Legendary Marine Chronometer manufacturer and the Britannica is its first participation in Only Watch.
The Britannica is a table chronometer encased in a unique cabinet made of steel, leather and an in-house distinct movement sporting the one-of-a-kind bas-relief dial. The Britannica is an incredible masterpiece and a very sophisticated one. The cabinet design is the creation of the British furniture designer Jake Phipps who practices geometric rendering of mineral crystals prompting him to build an octagonal cabinet that is now the shell of the Britannica.
Moreover, the cabinet's base and overall structures sport extensively polished 316L steel. And in order to showcase its magnificent movement, it is also fitted with extra-white crystals on all sides for maximum viewing pleasure. Now you will be faced with a dilemma when it comes to storing this time keeper. If you put it in an enclosed exhibition desk, you will certainly miss out on the thrills offered by its remarkable crystal back and sides. Nevertheless, you will find the Foglizzo Leather signed white leather to be mesmerizing when combined with polished steel, in fact, it covers the whole cabinet of the Britannica. Personally I only see this kind of leather fitted on luxury yachts and vintage cars. Nonetheless, it's not surprising because Thomas Mercer has a technical footprint when it comes to United Kingdom's marine heritage.
The dial is simply stunning in the hand-painted blue background complete with a bas-relief constellation map and Roman numerals hour markers made of polished steel. Honestly, the circle dial is somehow dulled by the geometric shape of the external dial finish. But it does have an incredible presentation sporting the brand's unique bas-relief technique. The hands are also darkened which contributes to a hazy time reading. Perhaps in a clearer color, it would have been better.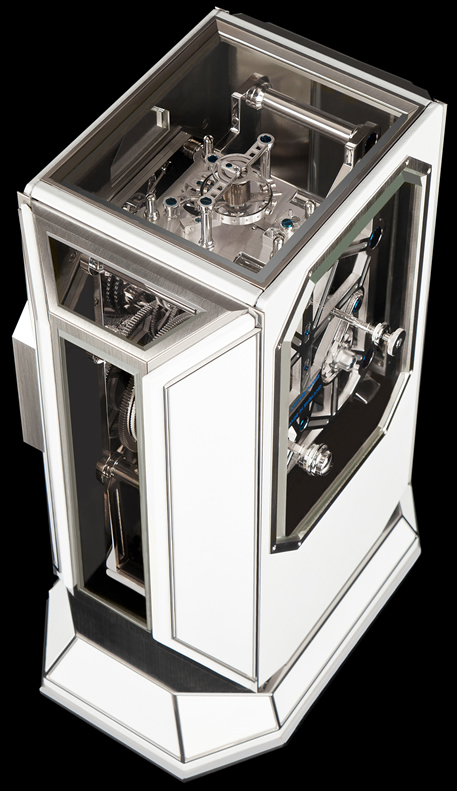 For the most part, you'll be greeted with its incredible movement which is the TM0802 calibre. It sports a fusee-and-chain transmission system doubling as a gearbox that constantly changes gears in order to provide the movement with an almost constant level of torque that not only stabilizes the movement's frequency but also yields a remarkable 8-day power reserve. The movement is a testament to Thomas Mercer's British marine chronometers touting the spring detent escapement which in the horology world has become a thing of rarity. Furthermore, you can just feast your eyes with the movement's symphony through the exhibition crystal fitted cabinet. For more info, please visit thomasmercer.com
Technical Specifications
Case: Octagonal shape for the main body, base and dial bezel. Made in 316L stainless steel with fine white leather and extra-white crystals.
Dial: Two-tone type in stainless steel. Outer ring with minute indices in bas-relief and anthracite colour effected by galvanic deposition of ruthenium. Inner circle with constellations map in basrelief and decoration in hand-painted blue. Roman numerals and hands in polished stainless steel. Open-work window with visible escapement.
Movement: Calibre TM0802, hand wound, mechanical spring drive with fusee and steel chain system, 17 jewels, 8-day power reserve, frequency 2Hz (14.400 vph), spring detent escapement, ovalising balance oscillator with cylindrical weights. Hour, minute, small second at 12 and power reserve indicator at 6, rhodium plated and ruthenium finish with screws in blued steel, skeletonised back plate.
Dimensions: 183(h) x 150(w) x 90(d) mm Dimensions: 333(h) x 240(w) x 152(d) mm
JOVAN KRSTEVSKI – FOUNDER, PROPRIETOR & EXECUTIVE EDITOR
Watch collector, aficionado and an Event profile in the Swedish nightlife. He launched Watchgeek back in 2011, which is now known as WristReview and is one of the most widely read watch blogs on the Web. He quotes 'WristReview is a site to help people find, explore, discover and enjoy wristwatches.'  His passion jump started in his early teens when he was given his first mid-range wristwatch which was an Omega Seamaster. Since then he has always been in love with wristwatches! Besides WristReview, he also writes for a number of publications. Read his articles here