We all love complications, and truly, there's no grander complication than a minute repeater, except perhaps the multi-axis tourbillons. Anyway, let's get on with the list. The minute repeater is a method of telling the time in the dark when lume on a dial wasn't possible. Using a series of chimes if you listen closely you can tell the exact time displayed on the watch, minute repeaters are usually  activated by a button pusher or a slider on the side of the watch. Here's our list of the top watches with the most difficult to produce complication own them.
5. Patek Philippe 5078P-001
This watch is a personal favourite of our Masthead, but don't worry, that's not the main reason it's here. Patek Philippe ensures that no minute repeater watch is ready to leave the factory until Thierry Stern, the head of the company has personally checked to make sure the watch is ready to be worn and enjoyed by whoever's lucky enough to own it. The movement is on display on the rear of the case and the micro-rotor is sat next to a Patek Philippe logo that covers the governing system. patek.com
4. Jaeger-LeCoultre Master Grande Tradition Grande Tourbillon
A watch which I have had personal experience and have written a hands on about (you can read that here when you've finished with this list!), this really is a masterpiece and is able to describe the company perfectly, perfection. I seriously cannot fault this piece except that I don't actually own one. The flying tourbillon, suspended above the celestial dial, indicates sidereal time blissfully. The minute repeater system is fully on display on the reverse of the watch and sounds crystal clear when activated, it's a marvel to behold this piece and one not to be overlooked. jaeger-lecoultre.com
3. Audemars Piguet Royal Oak Concept Supersonnerie
Oh, Audemars, how we love you so. This watch is the result of over 8 years of work and research into the strange world of producing sound, adjusting it and getting it to interact with other materials. The problem is that everyone's hearing is subjective and what we enjoy listening to differs a lot, for example, we might not all enjoy listening to some genres of music because our hearing cannot detect the frequencies that other people's can due to changing circumstances. AP attached the gongs to a copper "sound board" which helps make this piece up to ten times louder than a conventional minute repeater. audemarspiguet.com
2. Breguet Tradition 7087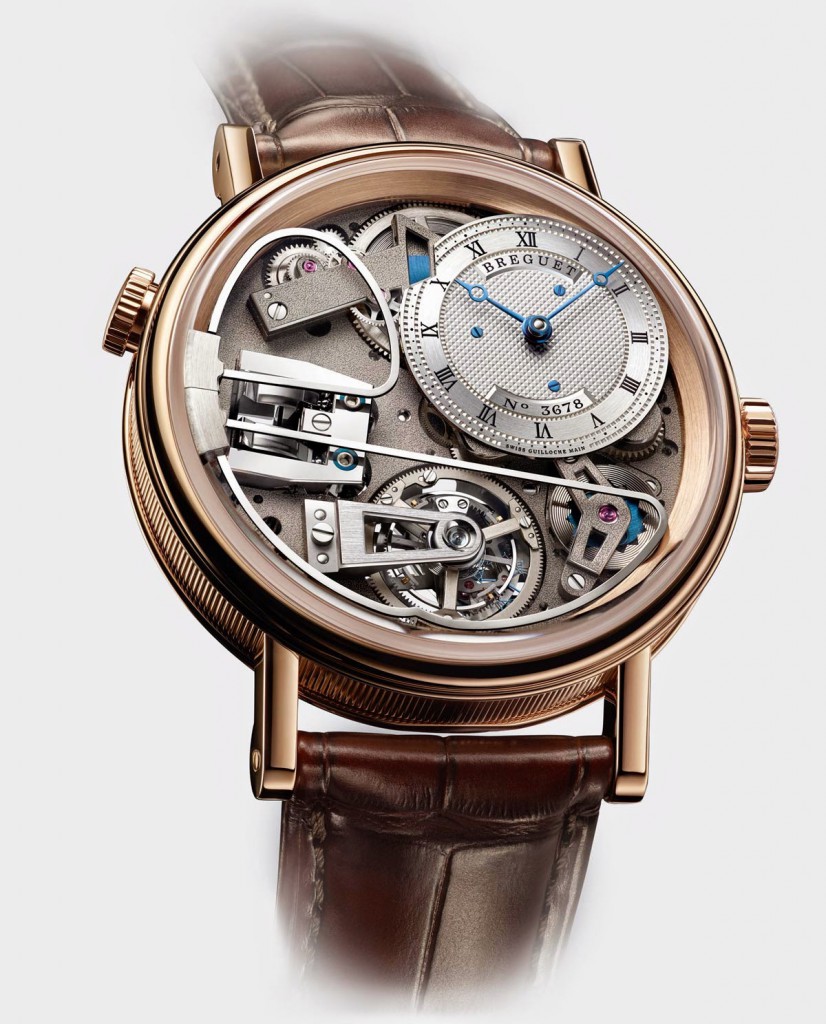 What can I say? Breguet makes a damn good watch like it or not. I used to find their art nouveau styling strange myself, but remember our tastes change and when they do Breguet is ready for you. This is one of the best offerings from their Tradition collection, a range dedicated to marrying the renaissance with the technology of the future. A small time dial has been compressed into the upper right of the face of the watch to make space for the gong springs (a Breguet invention, no less) which span the face and are struck from underneath by a complex chiming system. breguet.com
1. Lange & Söhne Zeitwerk Minute Repeater
This is two major steps in the world of horology. The first is that this is A.Lange & Söhne's second striking watch (the first being their grande complication), and the second being that this is the first time a striking system has ever been mounted to a jumping numerals time display. Lange really pulled the hat out of the bag with this one, they chose not only to make an extremely complex chiming system and fit it to an already complicated watch, but they then made it operable via a pusher instead of the usual slider. As well as this, the quarter hour 'double chime' synonymous with the minute repeater has been changed so its chimes represent ten minutes instead of the normal fifteen. Bravo Lange! We can't wait to see what they do next. alange-soehne.com
Got an idea for a WristReview Top 5? Feel free to leave it in the comments and we'll give it some thought!
HARLAN CHAPMAN-GREEN – MANAGING EDITOR
A keen bass guitar player, Harlan enjoys all the perks modern watchmaking technologies the industry has to offer. Although you might catch him sampling Omegas or the "odd" Rolex, Harlan loves all things Haute Horology, with his three favourite brands being Breguet, A.Lange & Söhne and Vacheron Constantin. He hopes to study timekeeping more in depth someday and will never be able to thank his father enough for introducing him to the industry. You can follow him on Instagram Read his articles here