Once again we're back with yet another release for 2016's worldwide hub for businesses and mecca for watch enthusiasts, Baselworld. If you're new to it all and wondering what the heck is going on, what's a Baselworld and why is everyone seemingly going mad over it, then I shall explain. Baselworld is the largest watch show of the year, it's a place where, predominantly, the industry shows off its workmanship to the interested dealers and companies that are going to be putting the watches in their windows. Luckily, it's also an open event which means fans like you and I can visit too.
Now, enough with the pleasantries and onto the focus of the article, a new watch from Blancpain. Blancpain, along with L. Leroy, Vacheron Constantin and Breguet, is one of the oldest watch companies that's in operation today (note that Vacheron Constantin is the oldest that has been going since 1755 with no company closures). The Fifty Fathoms was the first diving watch in the style we know of today, and the Bathyscaphe range is their most affordable lineup for those who want to get in on the action but don't quite have deep enough pockets for their chunkier Fifty Fathoms series or their Villeret lineup.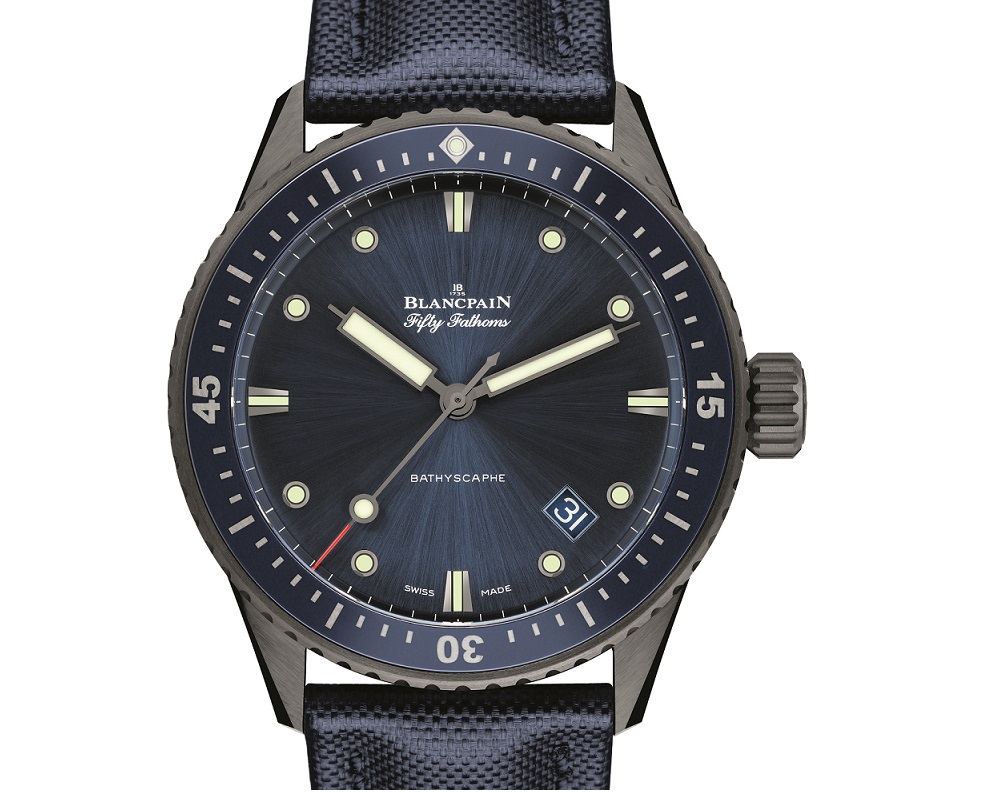 The Bathyscaphe range usually follows the same theme of thin bezels, broad rectangular hands and no nonsense movement decoration and this new piece is no exception. The main difference is the deep ocean blue colouring on the dial and the bezel. The blue bezel itself features a Swatch Group technology first pioneered by Omega called LiquidMetal. A LiquidMetal bezel differs from the standard ceramic bezel by having the shapes of the markers being cut out of it and then having the molten metal (steel in this case) being pressed into the grooves until it hardens to form part of the structure of the bezel itself, neat eh?
As with any proper dive watch these days, the Blancpain Fifty Fathoms Bathyscaphe is secured for up to 300m of water resistance. Like the Omega Speedmaster Grey Side of the Moon, the case on the Fifty Fathoms Plasma Grey Ceramic is not made of steel, it's made to look like steel. It's an extremely complex process requiring several bouts of baking in a kiln to get the ceramic to look that way, but the benefits are big with there being a lighter case produced, one that's extremely scratch resistant and one that will always be looking great, the only problem is ceramic is brittle so it's vital not to drop this one, unless it's into the sea of course.

The movement being the dial is an in-house made 1315 three hand date automatic calibre. It's a strong and resilient one, being simple in design and exquisite in execution. The silicon balance spring and glycodur golden balance wheel with golden screws help give this watch enhanced shock protection as well as anti-magnetic properties and smooth, reliable operation. This watch will cost $12,800 when it goes on sale. For more info, please visit blancpain.com
HARLAN CHAPMAN-GREEN – MANAGING EDITOR
A keen bass guitar player, Harlan enjoys all the perks modern watchmaking technologies the industry has to offer. Although you might catch him sampling Omegas or the "odd" Rolex, Harlan loves all things Haute Horology, with his three favourite brands being Breguet, A.Lange & Söhne and Vacheron Constantin. He hopes to study timekeeping more in depth someday and will never be able to thank his father enough for introducing him to the industry. You can follow him on Instagram Read his articles here