The Swiss fun just keeps on coming, doesn't it? Today alone I've already looked at two newly updated Rolex wrist watches, and BaselWorld has only just started! Rolex is a great company, the largest of its kind and produces the most wrist watches per year, but they can thank Omega for providing them with some of their ideas and offering a challenging competition. A lot pf people I've encountered over the years just go hands down with Rolex, many not even being able to justify it, no, the interesting conversations can be had with those who are pretty much fifty-fifty on the subject. Like it or not, Rolex stopped putting pin lug holes in the sides of their cases in the early 2000s because that's what Omega had done, and it was Omega stepping up the quality of the bracelet and clasp that prompted Rolex to do the same with the Oyster bracelet and clasp system. One crown Rolex has never been able to steal away from Omega (although it comes pretty close) is title to the most famous and most recognisable chronograph watch ever, the Speedmaster, and this year it's back with a vengeance.

This watch is a re-edition of a late 50s early 60s era chronograph watch from Omega. The 2998-1 reference watch is just one Omega's many ideas for their sports watch, it bears a heavy resemblance to the Professional and Moonwatch variants of the Speedmaster, too. Just like the original, the re-edition watch has what are known as alpha style hands, they're like a modified lancet design with lume in them. Almost every hand on this watch is in this style, it's so nice to see Omega going all out on this re-edition. The only one that isn't an alpha style hand is the central chronograph seconds hand which is a lovely lollipop shaped hand, also keeping to the original.
Interestingly, Omega's injected vibrant colours onto their re-edition, the base 1000 bezel (also a touch from the original) is now in blue, along with the subdials and the seconds track. The rest of the parts are white and are guaranteed to glow in sunlight. Thanks to SuperLumiNova being applied onto pretty much everything on this watch, it'll also glow in the dark. It's on the hands, the hour markers and even the bezel, I sometimes wonder if they have SuperLumiNova fights in the Omega offices as it seems to be everywhere, almost as if they had way too much stock and not much to do wth it all.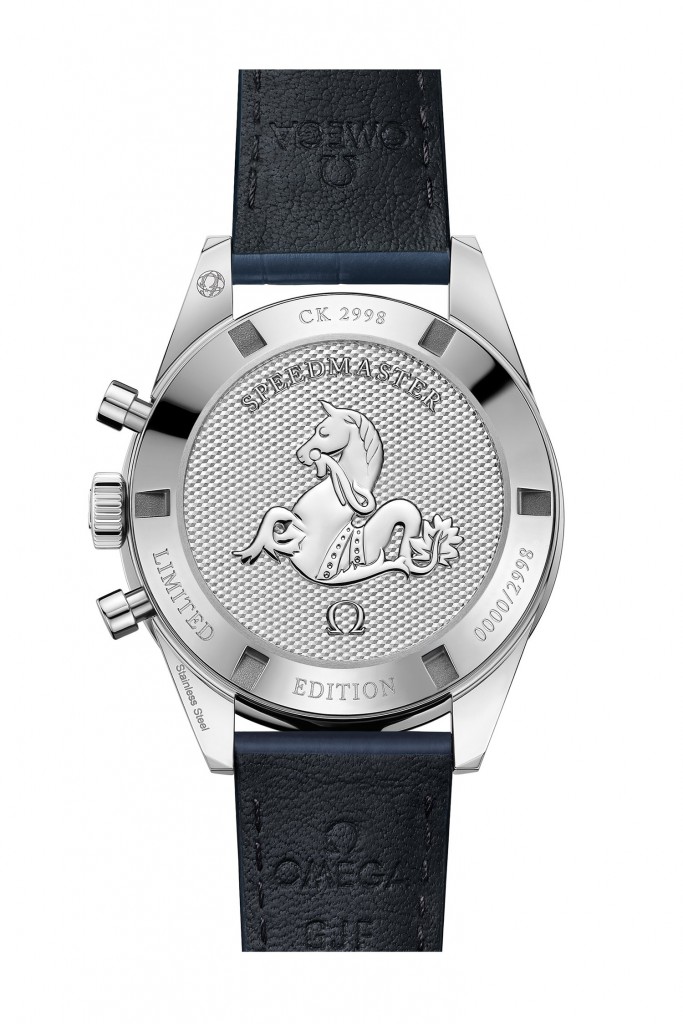 Inside the case is a manually wound 1861 calibre, it's a direct descendent of the 321 used in the original Speedmaster watches. It's a solid and reliable calibre that's not been put on display in this instance, but the back does have Omega's sea-monster design that looks good as ever. When it goes on sale it'll cost 5400 CHF and is limited to, you guessed it, 2998 pieces. For more info, please visit omegawatches.com
HARLAN CHAPMAN-GREEN – MANAGING EDITOR
A keen bass guitar player, Harlan enjoys all the perks modern watchmaking technologies the industry has to offer. Although you might catch him sampling Omegas or the "odd" Rolex, Harlan loves all things Haute Horology, with his three favourite brands being Breguet, A.Lange & Söhne and Vacheron Constantin. He hopes to study timekeeping more in depth someday and will never be able to thank his father enough for introducing him to the industry. You can follow him on Instagram Read his articles here