Breitling's Avenger collection is a cult classic. Most people when considering those dreary "Top 10 most iconic watches" lists always end up with the Reverso, Submariner, Seamaster and Navitimer in there somewhere, but, it seems to me that we see the Avenger a lot more on our screens than the Navitimer. Perhaps it's subtle enough to go under the radar? Or, perhaps we're just all used to seeing it and have become desensitised. Either way, Breitling has just refreshed this iconic collection, so it's worth taking a look.
Breitling's been on a real roller coaster of a ride in the past few years. It went from producing excellent-looking watches to a phase of quite bland timepieces and has spent the past few years shaking off that image and re-igniting our passion for its watches. A lot of issues came when it decided it was going to re-design its core collections but seemed to make a mess of it. Usually, the intricacies and quirks of the watches were replaced by, well, nothing.
I'm pleased to report that Breitling hasn't fallen into old habits, the new Avenger collection looks modern and fresh but with charm and character as well. Three models are available currently: a 42mm three-hander, a 44mm four-hander (three hands plus GMT) and a 44mm chronograph. Nearly all watches are available on either a fabric military-style strap or a three-link bracelet with Breitling's unique slanted links, but all of them have a water resistance rating of 300m.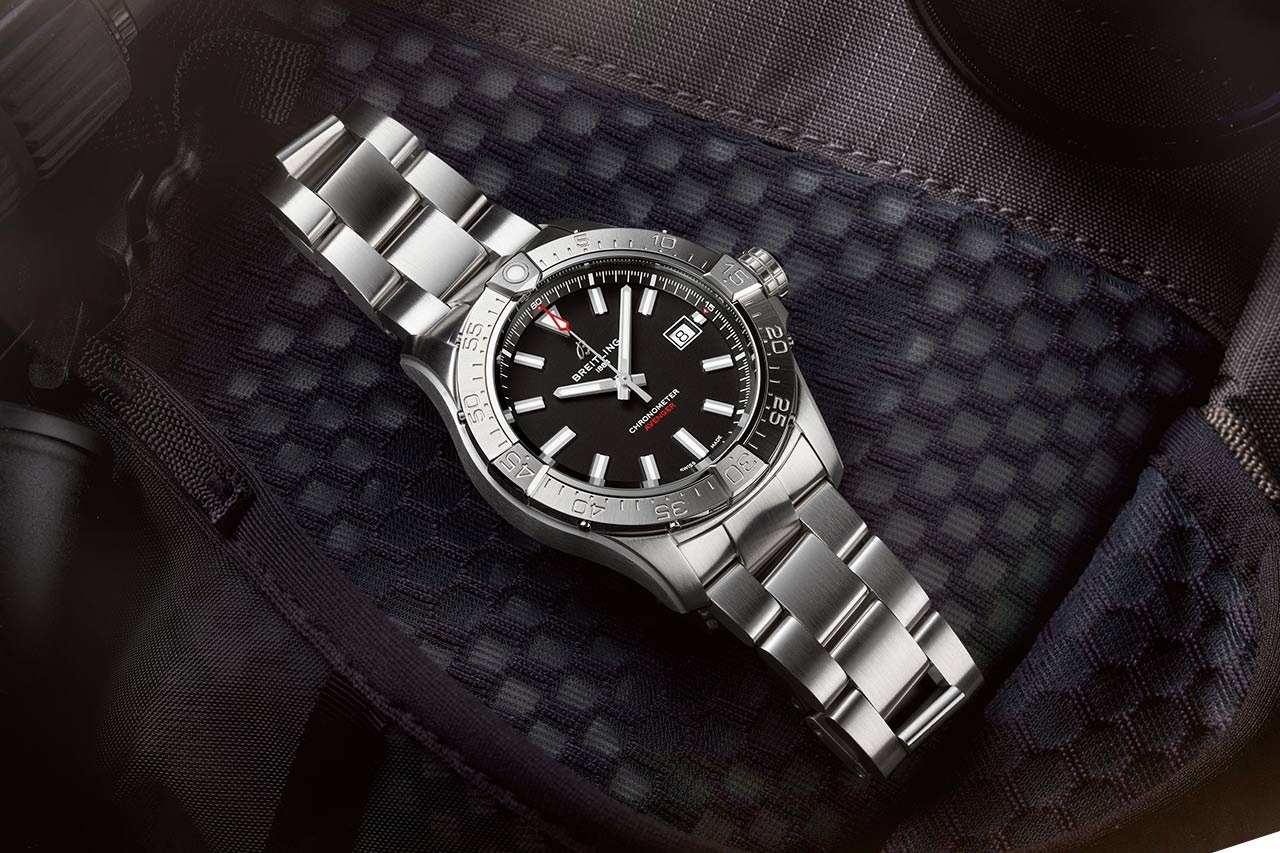 The three-handed Avenger is classy looking thanks to its simplistic design which leaves the new polished bezel to do the talking. It's got a more cosmopolitan charm to it, much like TAG Heuer's Carrera does right now, and I'm all for that. Black, blue and green are the dial choices available, and inside the watches is the Calibre 17; it's an ETA-based movement using the venerable 2824-2 ebauche, which is self-winding with a 38-hour power reserve and 4Hz beat rate. Prices begin at $4,600.
An ETA calibre is also the basis for the Calibre 32 within the Avenger GMT. The Calibre 32 is based upon an ETA 2893-2 base and still has a 4Hz beat rate but now also a slightly longer 42-hour power reserve. This version has the least amount of choices right now, only black or blue dials for the time being, but it still looks good. The polished bezel is a 24-hour GMT one in this case so you get up to three timezones with it if you know how to use it. It's also the slimmest of the three. Despite being 44mm across, it's only 12.05mm thick, 0.1mm thinner than the three-hander. The price for this one starts at $5,250.
It may only be a small difference there, but the bulky movement in the Avenger Chronograph watches makes for a bulky 44mm x 15.2mm piece, so like the classic huge Breitling sports watches. Inside all of these is the in-house made Calibre B01, which has a 70-hour power reserve, 4Hz beat rate and column wheel chronograph with vertical clutch, this is all visible through the open caseback, which the other models don't have. This model also has the most options available at launch, with dials in either black, green, blue or sand colour. There's also two "Night Mission" models which have the same case dimensions but the case is made of matte black ceramic. Those are only available on a fabric strap but come with a titanium buckle, and a choice of a black or yellow dial. The steel watches begin at $8,250 but the ceramic models will cost considerably more.
I think I like the three-hander with the black dial the most. Call me old-fashioned, but it looks charming and would be a great daily wear. But, any of these could undoubtedly stand up to the harshness of daily life.