FINALLY! My prayers have been answered. You see, despite the fact that Rolex has yet to win any editions in our comparison series (we're sure it will at some point!) they've always been dear to my heart and closely related to our family. My uncle keeps safe a 1940s DateJust, another one loves his Submariner so much it goes pretty much everywhere with him, and I just think they're splendid. Granted, not every watch was to my taste, but still.
I was discussing with the Masthead the other day the entrants for an upcoming Top 5 article and one of my suggestions to him was the Rolex DateJust, I mean, it's a classic isn't it? I go over more of the history in my Brief History of the Rolex DateJust article, but the fact is that the DateJust has been around in one form or another for a very very long time indeed. One feature that's been going along for the ride with them is the Jubilee bracelet design, this design incorporates multiple halves of a circular cylinder that have been linked together. This design often looks the best in two-tone, but steel is good as well (if you want solid gold Rolex nowadays would rather you buy a Day Date with a President bracelet if, it's only a little bit different) and is known for being a very supple design that incorporates a hidden clasp and is very easy on the wrist.
That watch is 36mm in diameter, recently Rolex added the DateJust II model, it's pretty much the same in every way except the size was increased to 41mm in diameter and it was only sold on a sporty oyster bracelet, although it still came in the same metal options. The trouble for me was that I'm not a fan of the Oyster bracelet on such a pretty and vintage inspired watch. For me, it didn't make much sense to offer a classy watch, up the size, which was understandable, and then only offers it on the sports bracelet. Thankfully, Rolex seems to have listened and now offers in place of the DateJust II the Oyster Perpetual DateJust 41mm which, I am delighted to report, is now presented on a resized Jubilee bracelet or an Oyster bracelet, with both options (bizarrely) featuring the OysterClasp which has 5mm of extra deployment and can be resized on the fly, it's understandable with the sporty Oyster bracelet, but for me the Jubilee looks best with an uninterrupted flow, much like on the current 36mm Jubilee DateJust.

Being Rolex, they could've left it at that and people would've gone out and bought one, but instead they kept on innovating with their watch and added in a new calibre. The Perpetual Calibre 3235 is an in-house developed new generation automatic winding movement with no less than 14 patents to it. It's still an officially certified chronometer movement featuring a parachrom blue hairspring, it'll be accurate to within plus or minus two seconds per day and is expected to run for around 70 hours in total.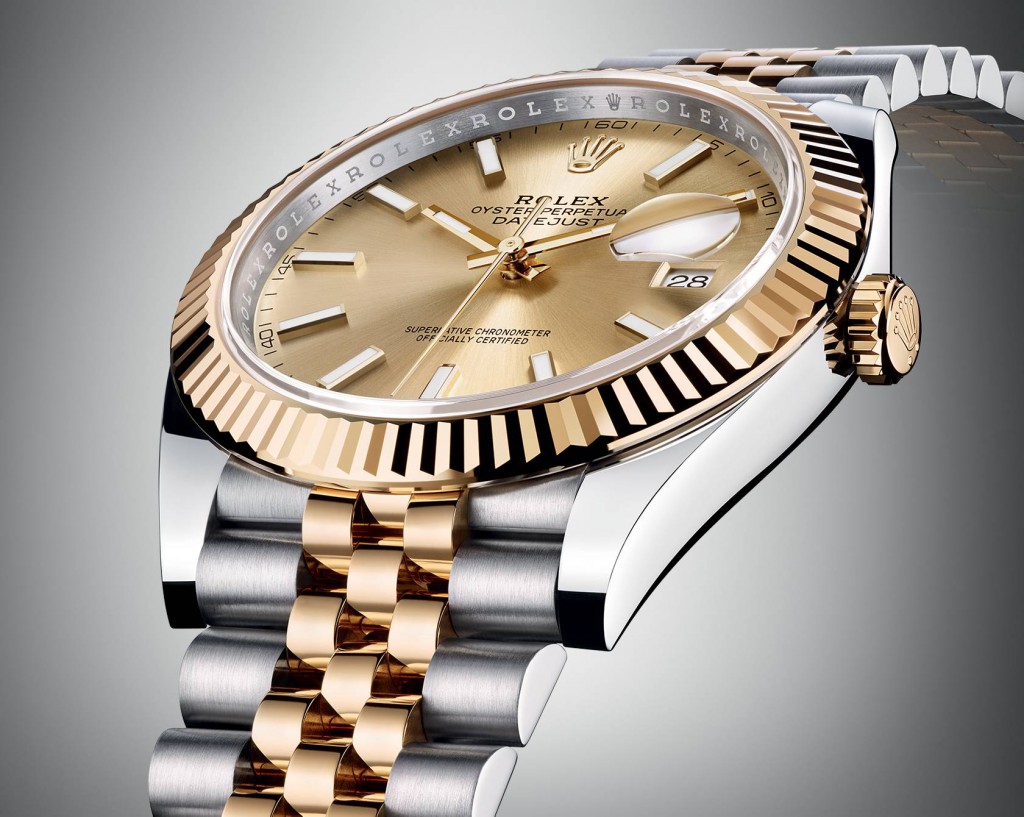 This new watch is a step in the right direction for Rolex and is much more likely to persuade me to buy one, I just wish the OysterClasp was optional with the Jubilee bracelet. All Baselworld models are two-tone either steel or yellow gold or steel and Everose gold, but it wouldn't surprise me at all if Rolex widened the variety tenfold pretty soon.
For more info, please visit rolex.com
HARLAN CHAPMAN-GREEN – MANAGING EDITOR
A keen bass guitar player, Harlan enjoys all the perks modern watchmaking technologies the industry has to offer. Although you might catch him sampling Omegas or the "odd" Rolex, Harlan loves all things Haute Horology, with his three favourite brands being Breguet, A.Lange & Söhne and Vacheron Constantin. He hopes to study timekeeping more in depth someday and will never be able to thank his father enough for introducing him to the industry. You can follow him on Instagram Read his articles here