Breguet is one of the oldest names in watchmaking, having been established by Abraham-Louis Breguet in 1775 in Paris. This Swiss-born watchmaker extraordinaire delighted people such as Marie-Antoinette and inspired watchmakers and engineers such as John Arnold and a young Isambard Kingdom Brunel. An inventor at heart, Breguet designed some of the fundamental parts of watches today, but his most famous invention is the tourbillon. Designed to counteract the effects of gravity on the balance wheel of a pocket watch, the tourbillon has little practical use today in 2D form, but we still love to see it being made.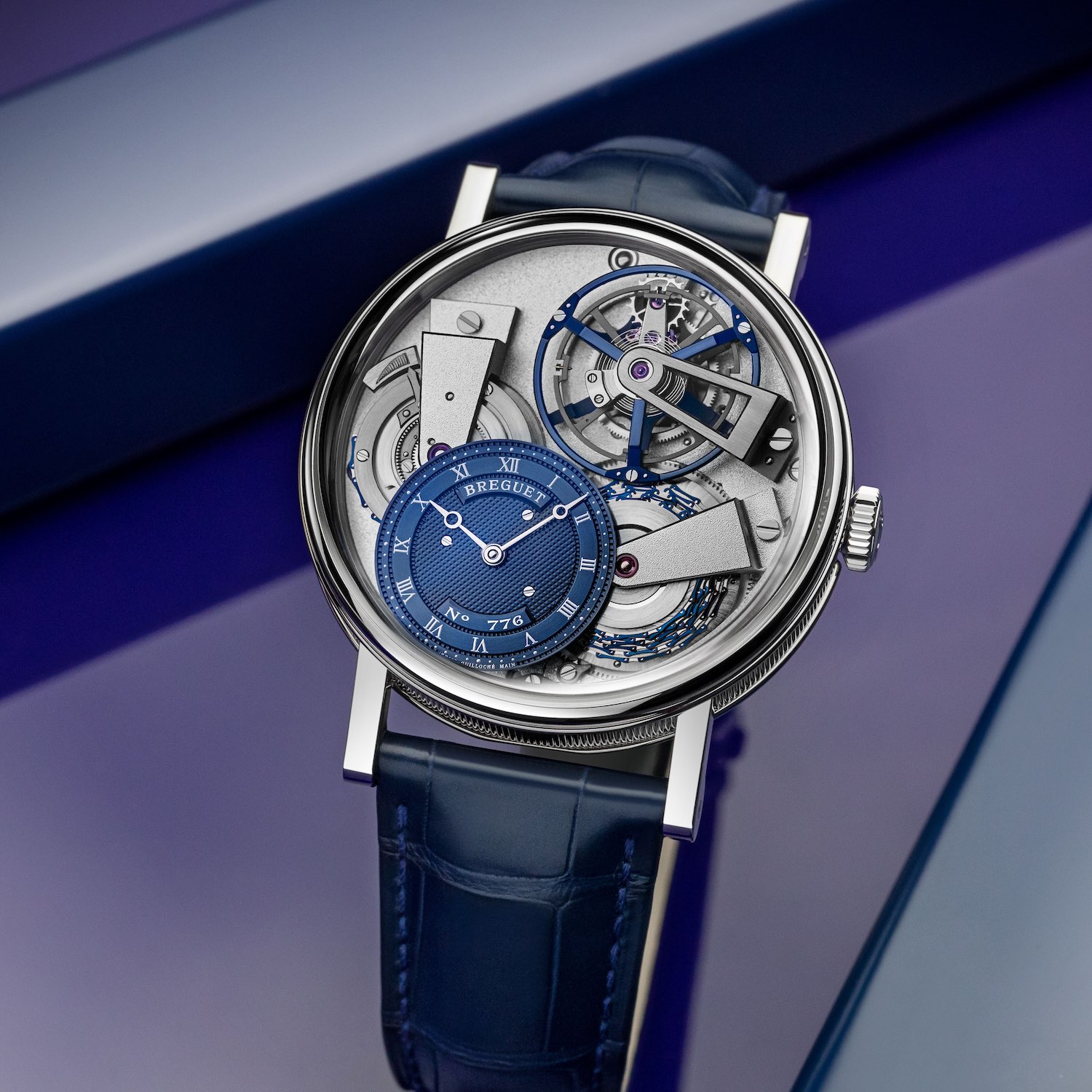 While other manufacturers went on to design more extravagant tourbillons that solved the issues of the original tourbillon design, Breguet today makes the complication in its classic format. You can find them in nearly all of Breguet's product lines, although one of its most notorious appearances is in the Tradition range. It's been there for 12 years and hasn't had much work done, not that it needed it. The watch still features the calibre 569 with its 547 components. The titanium cage surrounding the surprisingly large 13mm balance wheel still makes for excellent viewing. The off-centre time dial provides another focal point while the fusée and chain move slowly underneath.
I've said before that, on occasion, larger Haute Horlogerie manufacturers make a watch that competes directly with indie watchmakers like Karin Voutilainen and MB&F. I think the 7047 has always been on their level, and this new one reminds us of that.
The new watch hasn't changed much. The case still measures 41mm x 15.95mm, thanks to all those clever inner workings, and it's made from platinum. It also still has lots of polishing, thin welded lugs and a fluted caseband which are some of the hallmarks of Breguet's designs.
The place with the most updates is the front. Breguet has been moving towards a blue theme in recent years, while the rest of the watch industry focuses on green as the next en vogue color. The small time dial is still covered in lots of lovely hand-applied Clous de Paris guilloché decoration with Breguet hands, although it's now blue where before it was silver or black. The 17mm diameter tourbillon cage, inside which the escapement beats, is also blue. Most impressively, the solid links on the fusée and chain are now blue as well. I wish the power reserve hand were blue so it stood out, but hopefully, it's easier to see in person. It's not a deal-breaker anyway. These are all suspended over a delicately grained baseplate by titanium bridges.
The tourbillon and fusée & chain represent some of the oldest methods of keeping a mechanical watch accurate, fitting given the age of the Breguet name. However, as Breguet is still an innovator, it hasn't just left it at those two things to help this watch maintain accuracy. The horns of the inverted in-line escapement are silicone, as is the balance spring with its Breguet overcoil, making this watch less affected by changes in heat and magnetism. With its balance beating at a steady 2.5Hz, this watch has a power reserve of 50 hours.
As with most watches at this level, this new Breguet is more about artful detailing than absolute chronometric perfection, but that doesn't mean Breguet's skipped on the sciencey stuff. Available from Breguet on a blue leather strap, the new Tradition 7047PT/1Y/9ZU is available for a price of EUR 194,100/CHF 185,300.
Visit Breguet here.