Bremont, as many people know, is one of the only successful British watch companies to really get a foothold in the industry, along with Christopher Ward. The America's Cup watch line is dedicated to celebrating Anglo-American relations as the Bremont company sponsors Oracle Team USA which competes in the America's Cup which is a boat race that's now also officially timed by Bremont.
Bremont has made two watches known as the Oracle I and Oracle II. They're based on the Supermarine model and both look ready for a bit of rough and tumble treatment on the choppy seas, as they have diving bezels, thick rubber or material straps, an automatic helium escape valve and both of them, are water-resistant to 500 meters. They're also both 43mm in diameter.
The Oracle I watch is a simple three hand sports watch with a COSC chronometer grade movement inside. This movement also has added anti-shock capabilities, for those that don't know how hard the bumps from hitting a wave can be, imagine your whole body being hardly punched, over and over again. There's also a soft iron cage around the movement to protect it from magnetism. It's good to see that this simply isn't a re-badged watch but instead is one that's been toughened for the job. The Oracle II watch is similar to the Oracle I but instead of having a silver dial it has a black one instead. It's also got a GMT hand on it too for that little bit of extra function.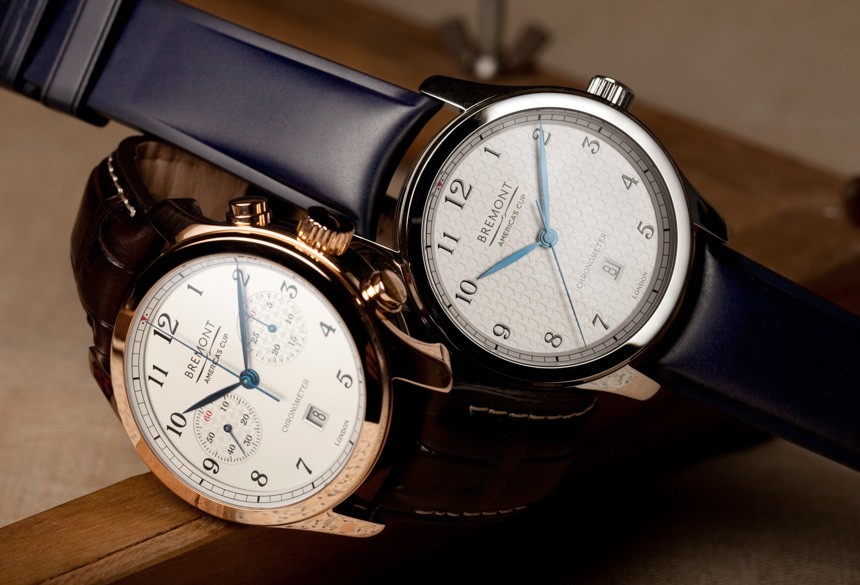 For those who want a more formal and less sporty America's Cup themed watch, there's also the AC I and AC II watches. You can immediately tell that they're the watches that will be sitting and chilling next to the finish line with an icy gin and tonic while the Oracle watches go out and have their own fun.
The AC I watch is a 43mm diameter watch made of stainless steel and has a Bremont Calibre BE-36AE in it, which is a modified ETA 2836-2 movement that's been given the COSC chronometer seal of approval. It's a three-hand date affair with a crisply decorated dial and clean, blue hands that are quite thin but extend all the way to the edge where possible. The AC II watch is presented in a 43mm diameter 18K rose gold case with an added chronograph complication with Bremont's "Tip-Trick" side barrel that's been dark DLC treated. This watch uses an ETA 7750 based Bremont BE50-AE calibre movement in that's also received the COSC chronometer rating. Both the AC I and AC II dials have an embossed "Auld Mug" pattern on them which, upon close inspection, is made up of shapes that look suspiciously like the trophy awarded to the winning team of the America's Cup.
Price list:
Oracle I – $5,595
Oracle II – $6,195
AC I – $4,695
AC II – $19,095
For more info, please visit bremont.com
HARLAN CHAPMAN-GREEN – CONTRIBUTING EDITOR
A keen bass guitar player, Harlan enjoys all the perks modern watchmaking technologies the industry has to offer. Although you might catch him sampling Omegas or the Rolex, Harlan loves all things Haute Horology, with his three favourite brands being Breguet, A.Lange & Söhne and Vacheron Constantin. He hopes to study timekeeping more in depth someday and will never be able to thank his father enough for introducing him to the industry. Read his articles here.