Ever wonder how Chopard responds to skeletonized watches of the past? Well, they have done it before and they are quite frankly, masters of the "technology" already. While the Chopard L.U.C XP timepiece came out modern instead of being traditional, it still exemplified the traditional classy Chopard timepiece spirit. The same can be said with the new Chopard L.U.C XP Skeletec although with a bit more sporty touch.
Ladies and gentlemen, this is a fascinating formal watch sporting a skeletonized form factor. It is a bit dizzying looking at it not for complexity's sake but because of the marvelous engineering spent on it. It is just lovely and classic yet very stylistic. The Chopard L.U.C XP Skeletec sports an ultra thin case at mere 7.13 mm. It is also made of 18k rose gold that stretches magnificently to its beautiful bezel and subtle lugs. The crown is also very lovely, just about the right size for a watch this caliber.
Now to the skeletonized dial where we can observe a slate colored outer dial for the hour markers. Personally, the ring-style outer dial is smoothly and skillfully designed with lovely applied hour markers offering the best legibility for this skeletonized timepiece model. Reading time on skeletonized watches tends to get more difficult because of the puzzle looking gears but Chopard have simply mastered the craft. It's just a breeze with the Chopard L.U.C XP Skeletec's fascinating two-dauphine-hand dial.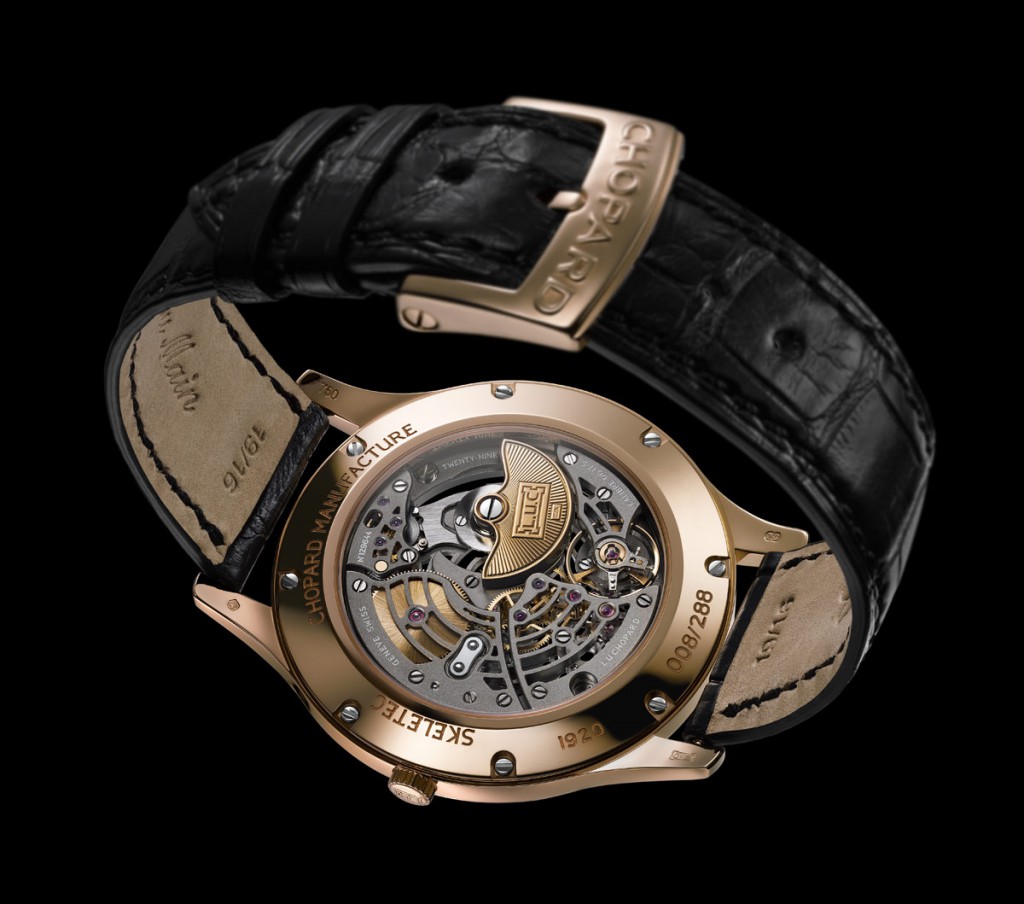 What powers the Chopard L.U.C XP Skeletec is the in-house caliber L.U.C 96.17-S automatic movement at just 3.30 mm thick. This makes it possible to give it an ultra-thin case design but nevertheless, its engineering is simply fantastic. Expect the best of Chopard's classic skills here such as the employ of 22k gold micro-rotor contrasting against the anthracite/slate gray finishing off the skeletonized movement bridges when viewed from the rear. The rear view through the exhibition caseback is just as elegant as the front where the gears seems to rotate in never-ending patterns. At this caliber, you would typically wonder how in the world did they manage to fit mainspring barrels in there. Well, I am not complaining at all.
I would like to go back to the beautiful case and talk about the rear side since I really like looking at it since the front shows only a tiny piece. You can somehow easily see the automatic rotor and regulation system in action that is if you know how to look. The design feels that this is definitely a technical watch, but the label says otherwise, that it still falls on the traditional dress watch category.
Frankly speaking, the skeletonized decoration adds masculinity to this watch and if you are afraid that it would be too showy, just don't because interestingly, it does remain inconspicuous even with its highly technical tendencies. I'm sure that collectors are vying for these babies. It's just lovely and comfortable over a leather strap on your skin. For more info, please visit chopard.com
JOVAN KRSTEVSKI – FOUNDER, PROPRIETOR & EXECUTIVE EDITOR
Jovan Krstevski has been collecting watches every since his father bought him an Omega Seamaster back when he was just a teenager. He launched Watchgeek back in 2011, which is now known as WristReview and is one of the most widely read watch blogs on the Web. He quotes 'WristReview is a site to help people find, explore, discover and enjoy wristwatches.' Besides WristReview, he also writes for a number of publications. P.S. He is also a huge fan of The Man of Steel. Read his articles here