SIHH is coming soon and Roger Dubuis has released the designs for three new watches that are coming out this year.
Some people say that 2016 is going to be the year for the women's watch market and Roger Dubuis is clearly aware of this trend with the first of the three pieces we're going to look at today. The Velvet Secret Heart is a very blue watch indeed, the leather strap it's presented on is blue and the dial of the watch is also the same shade of blue. One could argue that this blue theme on the watch is pointing to a more nautical theme, if that is so then the because the sea sparkles and shimmers, this watch must have some feature (or features depending on how you see it) that might let it sparkle. Oh wait, those diamonds around the bezel sparkle and shimmer, making the piece all the more appealing. The in-house made Geneva Seal RD821B movement is automatic winding and has a 48 power reserve with a bi-retrograde date function and is housed in an 18K white gold case. It'll cost $80,300.
Following on from the last piece, the next Velvet watch is also focused on the extravagant female. This piece is made of 18K rose gold and has also been decorated with many diamonds on the bezel. The Blossom Velvet Pink watch has a dial that is made of mother of pearl and has many colourful flowers and leaves with stalks going around the edge of the dial. Although the hands are tiny, the enamel grand feu flowers help to fill the dial all the way. The watch is encased in an 18K rose gold, inside which is an RD821 movement, it's basically the same as that in the Secret Heart except it doesn't have the date function on it. The Blossom Velvet Pink watch will also be available in a blue version as well. This watch will set you back $64,200.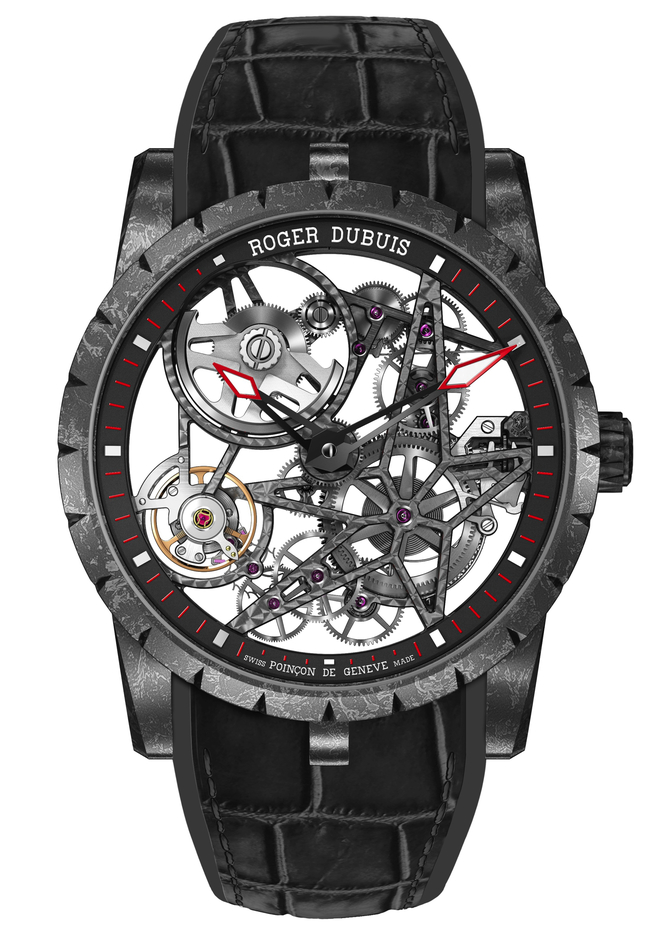 The final piece is another variation on a very popular watch from Roger Dubuis, the Excalibur Skeleton Automatic watch is based on the rather excellent Excalibur piece, one that Roger Dubuis has produced many variations of. The new version of the Excalibur is presented in a case made of carbon fibre sheet moulding compound, it's a mixture of carbon fibre that's been cut up and then mixed with a polyester resin, it's commonly used because of its lightness, strength and hypoallergenic properties (which leather doesn't have, so, in this case, it's not really a bonus). The RD820SQ movement inside this watch features a micro rotor ( a wonderful addition to any watch). The movement is set out in a star format and has a 60-hour power reserve, as well as this, it has also received the Seal of Geneva. This watch will cost $63,100 when it's released.
For more info, please visit rogerdubuis.com
HARLAN CHAPMAN-GREEN – CONTRIBUTING EDITOR
A keen bass guitar player, Harlan enjoys all the perks modern watchmaking technologies the industry has to offer. Although you might catch him sampling Omegas or the odd Rolex, Harlan loves all things Haute Horology, with his three favourite brands being Breguet, A.Lange & Söhne and Vacheron Constantin. He hopes to study timekeeping more in depth someday and will never be able to thank his father enough for introducing him to the industry. You can follow him on Instagram Read his articles here