For this edition in the WristReview Exclusive series Clash of the Divers, we're going to the darkest places on Planet Earth we can think of where strange happenings occur ever day, where weirdness is abundant, it's also where watches such as Breitling's Avenger Blackbird and Tudor's newly released Black Bay Dark watches reside when they're not scoping out and spying on our world. Whatever the reasons are, we seem to love our watches in stealth black these days, whether it be an adventurous black ceramic case that you might find on a Chanel or a Panerai, or a more simple PVD coating such as those on Bell & Ross watches or Bamford modified Rolex Submariners. We've chosen two of the coolest black diving watches for your approval in this edition and we can't wait to get started.
Probably the three biggest watch companies that are completely independent of watch group monopoly that seems to be going on these days (I'm looking at you Swatch, Richemont and LVMH) are Rolex, Patek Philippe and Breitling. This independence from the other big players is a good thing for Breitling as it allows them to specify where they want their watches to go and they can more easily choose what to invest their money into, because of their aviation backgrounds it's appropriate for them to invest in the Breitling jet display team and the Breitling Wingwalkers, one of my favourite displays at the annual RNAS Yeovilton Air Day that I enjoy attending. On an interesting side-note, that's where most of the photos for the Fortnight Review with the Bell & Ross BR01 watch came from, I queued for a total of two hours to climb into the cockpit of a USAF C-17 to get those pictures, and I'm still glad I did.
Back to the main theme, the militaristic design inspiration somewhat carries over to the Avenger Blackbird 44mm. The black echoes the idea that it can simply disappear if you're not paying attention while the winged Breitling logo reminds you of Breitling's involvement with the aerospace industry. Despite being a diver watch this makes it like the B2 Spirit of dive watches, one that you have no idea of its presence until it's right on top of you, to aid this idea even further Breitling claims that the watchword for this piece is 'Power in Action', a fitting description if I do say so myself.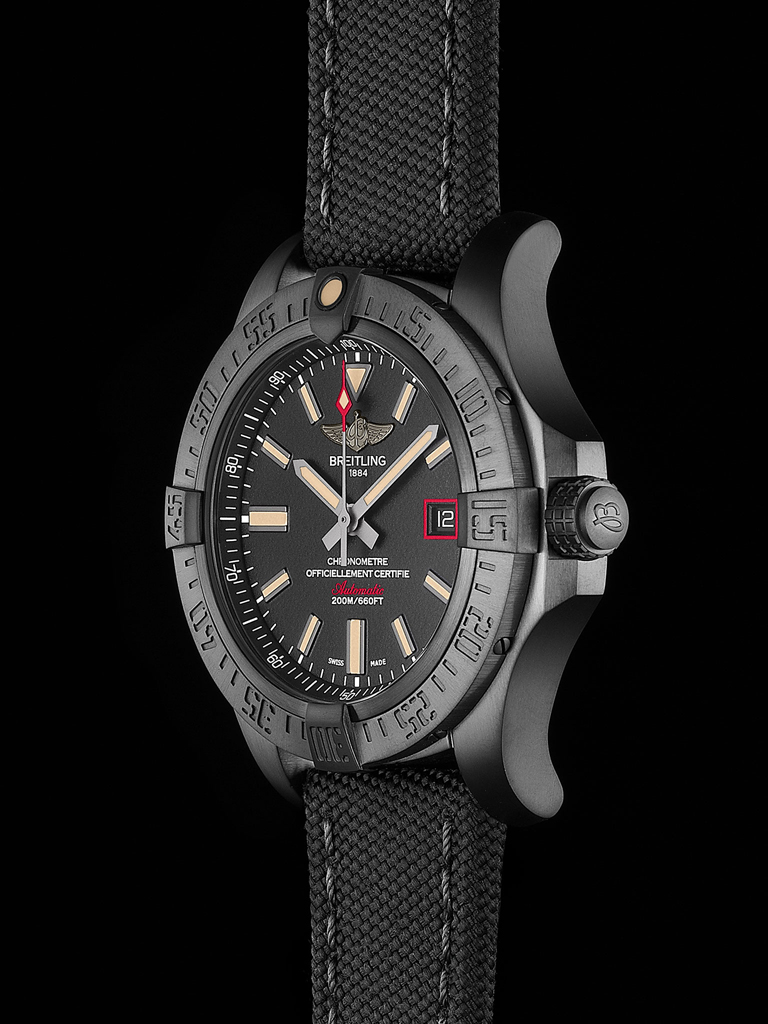 The case of the watch is made of super lightweight titanium that's been given a carbon treatment to make it this colour and a satin treatment for extra measure. Despite most of the watch being black, the dial is still extremely legible thanks to a good measure of lume on the hands, hours markers and the rider tab on the bezel at 12 O'clock. The distinctive rider tabs have been on seafaring Breitling watches for years and aid in making the bezel easy to adjust with gloves on. The dial also has a couple of red splashes on it, they're on the end of the seconds hand, the border of the date window at 3 O'clock and also the word 'Automatic' has been written red text.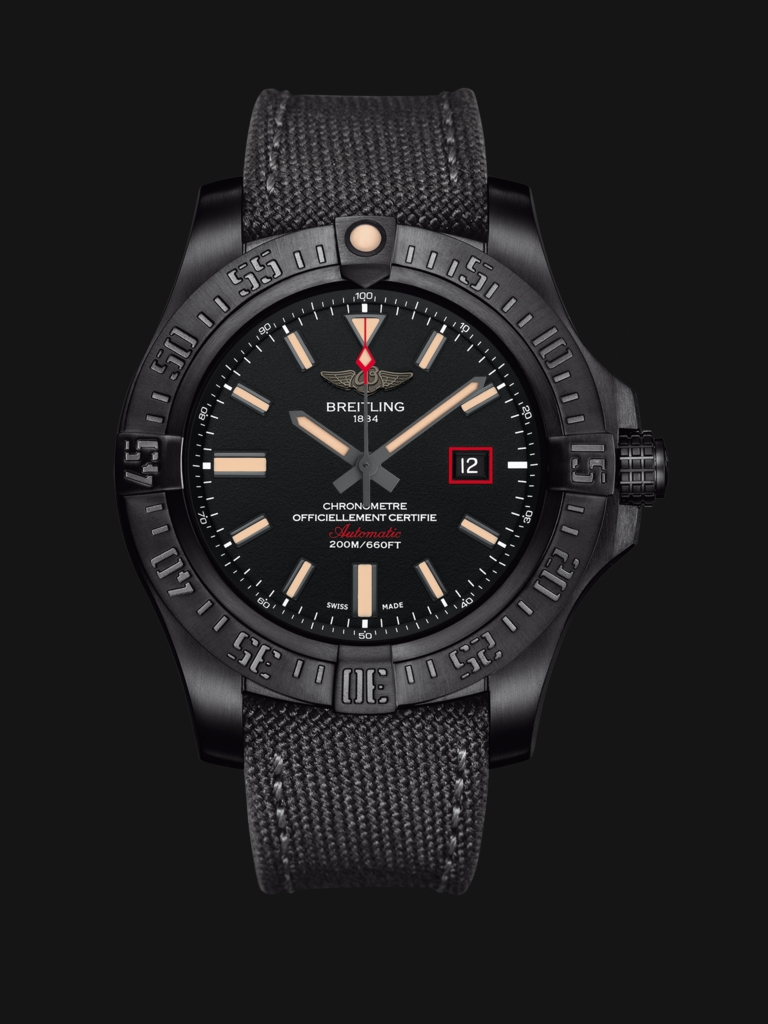 Inside this Breitling watch is a Breitling Calibre 17 movement which has been based of an ETA 2824-2 automatic movement and offers robust reliability and a quick set date feature. The power reserve offered by this movement exceeds 40 hours of run time, so you're safe to leave this at home for a weekend away, but given that this watch loves to be on an adventure I don't think you'd want to leave it behind. The watch itself is 200m water resistant, a good depth and very much deeper than you'd normally scuba dive but it just borders on what we'd consider being a diving watch at all, but it makes it and it has the necessary tools to make it genuinely practical in sub-aqueous situations so it's all good for us!
There's another black piece that we need to look at. It's a mysterious watch that offers sublime design and effortless cool in one hit. I am, of course, talking about Tudor's Heritage Black Bay Dark watch, it's new for 2016 and if all goes well then it's about to receive one of the highest accolades in the business.

For this year, Tudor unveiled to us their most popular model of watch, the Heritage Black Bay, in one of the most requested variations, all black. Unlike Breitling, Tudor isn't independent, in fact, there was a time when a Tudor watch was a Rolex with a different logo and a lower price point. Nowadays, though, they get their own designs and their own followers as well, although still owned by the crown, Tudor now makes its own watches and we love them here.
Although they share a few similarities such as the font on the bezel, the hour markers on the dial and the hour hand style, although it's not the classical Mercedes hand on Rolex models, the idea is similar.
Apart from the black case on the watch, the other major selling point of this watch, one that even the Breitling doesn't have, is that the new Tudor has an in-house made movement. That's right, those people who were sceptical of the company have been proven wrong, soon I predict that most of the Tudor range will have an in-house made movement, I personally can't wait.

Yet another advantage of this watch is are the options for its wear, it can be purchased new with either a black bracelet with the same PVD coating as the head of the watch, or a black leather alternative strap for those who aren't the sporting type or would fancy something more stylish. My only concern with the bracelet option is the PVD being worn off after a while, especially if one plans on desk diving. Luckily, Tudor includes a NATO strap with all versions of the watch so you can enjoy sporting in rugged comfort.
The cost of the Tudor is $4150 on the leather strap and $4475 on the PVD bracelet. The Breitling, on the other hand, has no strap options, just coming on the one textile strap and will cost you around $5200 to purchase. This tight pricing and the stylish designs of both watches leads me to a hard conclusion. The safety of the Breitling name or the strength of the Tudor design?
Both watches are good investments too, these kinds of watches don't lose a lot of money if they're in a good condition, which is where Tudor's PVD coating might cause an issue with someone who doesn't like the used and abused look.
The winner of this month's Clash of the Divers has to be the Tudor. The Breitling's a fantastic opportunity to own a blacked out watch and is going to be a safe investment, but the Tudor is so much cooler! Tudor watches tend to be that swish piece of engineering that others can only dream of, the in-house movement, blacked out design and 200m water resistance mean it's rough and ready and then able to blend in when needed in the evenings.
For more info, please visit tudorwatch.com & breitling.com
HARLAN CHAPMAN-GREEN – MANAGING EDITOR
A keen bass guitar player, Harlan enjoys all the perks modern watchmaking technologies the industry has to offer. Although you might catch him sampling Omegas or the "odd" Rolex, Harlan loves all things Haute Horology, with his three favourite brands being Breguet, A.Lange & Söhne and Vacheron Constantin. He hopes to study timekeeping more in depth someday and will never be able to thank his father enough for introducing him to the industry. You can follow him on Instagram Read his articles here