Ok so let us talk about mysteries and how in the world it ever fell on watches. Well, thanks to Cartier Mysterious Hour Watch, now we know for sure. The mystery here refers to the use of transparent discs to move the hands which is very cool. To get the feeling of being thrown off your feet with one gaze at this watch, pretend to be a totally clueless guy and read the time. Perhaps, you would even think that this is probably an electronic display with hi-tech mirroring technology that displays your skin at the very dial screen together with the perfect pixels for the hour presentation. That is the mystery that Cartier displays but I don't see it as groundbreaking or revolutionary. Well, that is just me but there is something totally new with this new Clé iteration.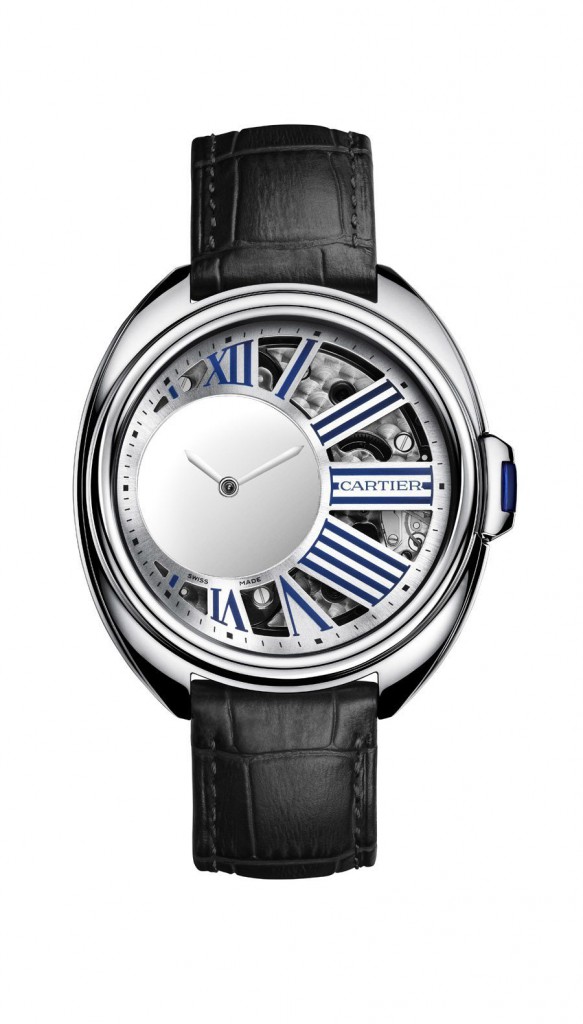 The case has grown by 1 millimeter which is now 41 mm wide. Some horology enthusiasts blame the movement for the extra space that I also surmise. Nonetheless, at almost 11.25 mm thickness it is still very thin by all standards. The watch is expected to be in the wild in two variants namely 18 k pink gold and 950 palladium. Personally, I don't see Cartier ever releasing a steel version for this watch but if they do, that will bring the price down a notch. This watch after all is designed for men and the mystery appeal is supposed to heighten your masculinity depth. So tell me, how does wearing a $68,500 watch makes you feel? Pretty darn confient of course!
This watch would mostly appeal to those looking for grand style, but the Palladium one sounds really cool for a man. Forgive my bias but I do like steel watches and the asymmetrical design of this watch defeats my passion for neatness and order plus the mystery doesn't really feel mysterious but absurd. Nevertheless, I'll give my honest opinion about this watch. The case is, of course, fascinating and it still falls at the standard men size. Its classy feel is also what I respect plus the seemingly exuberant attitude it evokes to those looking at it. Then the rectangular crown looks very pleasing with a blue sapphire crystal at its center. The lugs are nearly invisible which is very inviting and if you look closer, it just makes the design of the case so effective.
The dial is of course where the magic rather the mystery happens. If you have a hairy arm then you'll be gazing at your hair so often. Kidding aside, the dial shows a portion of the movement thanks to its half skeletonized design. The hour markers are rather huge then so small which is the case of the asymmetrical environment. It feels like the 9 o'clock is a blackhole since everything gravitates towards it.
The watch uses an in-house 9981 MC movement beating at 4 Hz. With 48 hours power reserve, I honestly expected more. The movement is made with a total of 158 moving parts and by design it looks like a crescent moon. The new Clé is definitely marvelous, but I wouldn't shell out that much just for a dash of mystery.
For more info, please visit cartier.com
JOVAN KRSTEVSKI – FOUNDER, PROPRIETOR & EXECUTIVE EDITOR
Watch collector, aficionado and an Event profile in the Swedish nightlife. He launched Watchgeek back in 2011, which is now known as WristReview and is one of the most widely read watch blogs on the Web. He quotes 'WristReview is a site to help people find, explore, discover and enjoy wristwatches.'  His passion jump started in his early teens when he was given his first mid-range wristwatch which was an Omega Seamaster. Since then he has always been in love with wristwatches! Besides WristReview, he also writes for a number of publications. Read his articles here