The Story
Following World War I, slim pocket watches with fancy matching chains were used by the classiest of gentlemen. The Duke Pembroke isby this unprecedented sophistication. The flecked white face backs up shiny silver markings influenced by Louis XIV, which is why the marking at four is "IIII" instead of the proper "IV." He preferred beautiful symmetry over the correct form, and I can't blame him for that! The watch straps, called NATO straps, are inspired by a later war. The Cold War induced the simple invention for British naval forces. These simple nylon bands were cheap, waterproof, and were long enough to fit over the top of a jacket or wetsuit to be visible at all times. The combination of these two inspirations attempts to create a cultured piece with a rich backstory that is also very practical.
Packaging and Presentation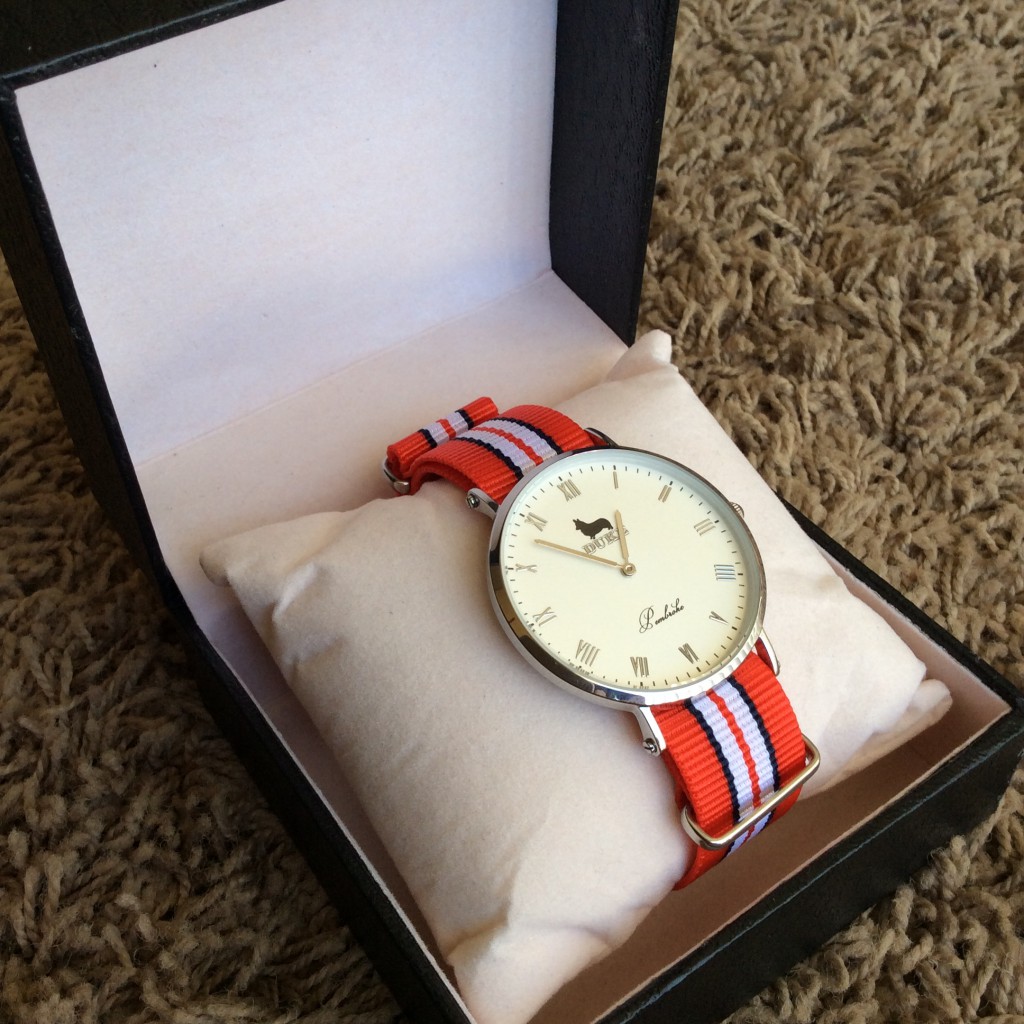 "I'm always looking to see that watch companies send their watches to the customer with excellent presentation. I think it adds a great touch by showing they are grateful for their business and respect the customer." This watch box is decent, but it's nothing to get on a soap box about. It does its job and I'll keep it around, but the pillow is quite low quality and the box isn't all that sturdy either. The effort is certainly appreciated especially as a start up company. As they grow, though, I would suggest better quality to accompany a great looking watch.
Design and Specifications
• 40mm case diameter
• Japanese Quartz Miyota (GL20) movement
• Stainless steel case and buckle
• White dial with raised silver markings
• Water resistant 5ATM
• 20mm red/white/blue NATO strap
• 6.8mm case thickness
• Hardened mineral crystal glass
The Face
There's a few watch faces out there that really grab my attention and this is one of them. The shiny silver markings against a white background may be simple, but it stands out and makes a statement. I really enjoy the elegant Pembroke logo combined with the Roman numerals because it makes this piece a bit more unique from other watches with similar case structures. It's also very cool that the Roman numerals (particularly "IIII") come with a specific, quite unique story. On the other hand, I'm not a huge fan of the Duke logo because I haven't heard or read the reasoning behind it so therefore it seems quite out of place.
The hand designs seem to make up for it, though. The thin base makes them seem much more careful and tedious, which gives a feeling that the watch is extremely precise without the assurance of a second hand. Overall the design is well put together in an elegant manner that literally shines brighter than the rest.
Case Back
The case back is the perfect place for the interesting logo. It would be really cool to tone down the logo on the face and then offer more detail to the viewer on the back. I think it's safe to assume that it is a dog and to see more of it and maybe even have a short explanation of it would make the case back much better.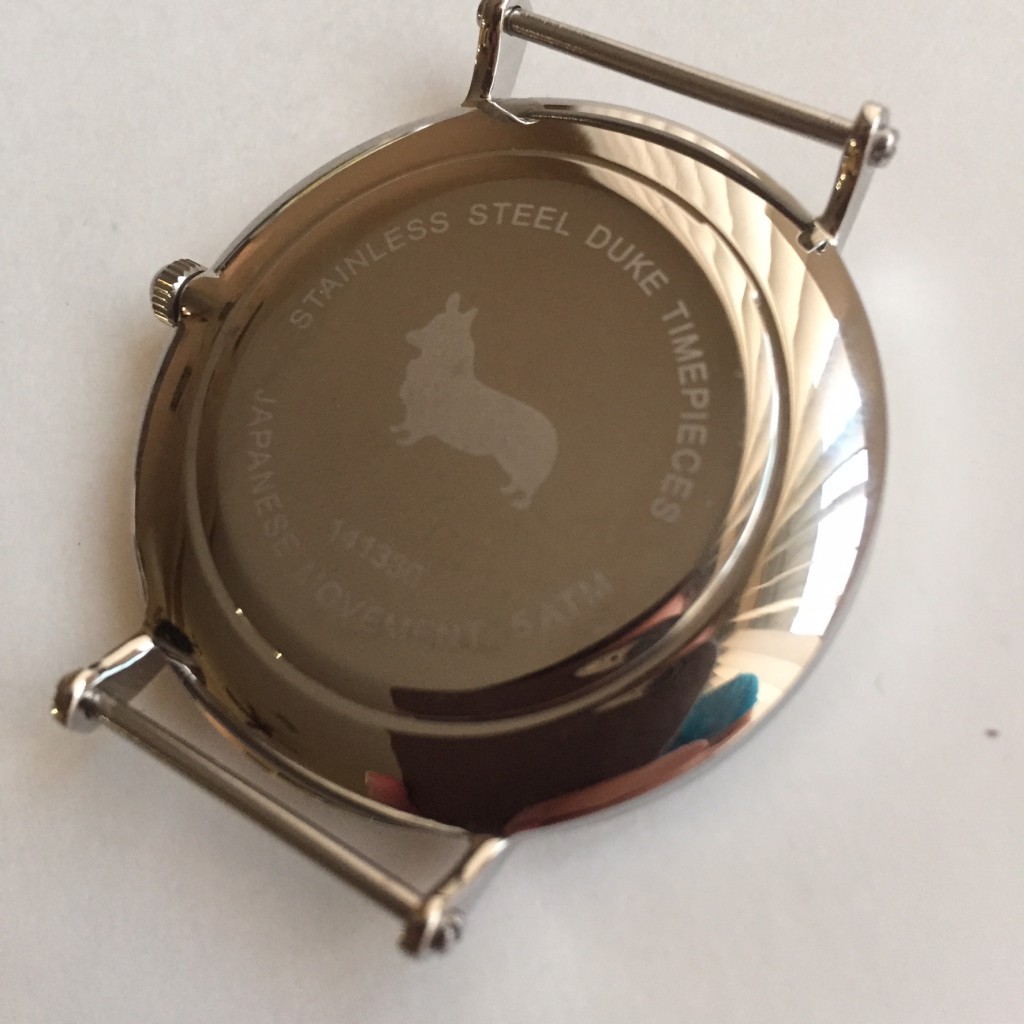 Other than that, all it does is offer some reassurance that the watch is stainless steel, 5 ATM water resistant, and has a Japanese Quartz Miyota movement. One thing about the case design that could be improved is the crown. It fits the watch nicely, but it's nearly impossible to set the time because it's so small and so stiff. If it were somehow loosened up to make things a bit easier…this watch would have yet another green check mark from me!
Strap and Buckle
As I always begin the strap section of my reviews: "I'm a huge watch strap fan. I love custom straps made by old guys in their garages, NATO straps from Europe, and odd straps like denim, ostrich, or stingray. Just one beautiful strap can create multiple new looks for your collection.
" Like I said, I love NATO straps…but I think it's a cheap cop out as a stock strap. I would like it if it was some sort of extra thrown in as a surprise that I wasn't expecting. Otherwise…this watch should come with a much nicer strap especially for the price tag. Leather, tweed, ostrich, stingray, even canvas would've been more thoughtful than a colorful NATO. At the same time, though, I'd rather get a quality watch with a crappy strap than the other way around. That would be much different if I didn't have a bunch of extra straps to switch it out with. If I was just an everyday buyer…I would not be satisfied.
The Verdict
A classy and slim case design with a trendy strap. Beautiful elegance made for ladies and gents, but could be improved with a higher quality strap. For more info, please visit duketimepieces.com
Mark Wisdom Phillips – Contributing Writer
Mark largely collects practical watches, but never hesitates if he can snag a deal good enough to call it an economical decision. He loves taking photos of his collection and participating in the tight knit watch community on Instagram. You can see his photos and follow him here. He is highly opinionated and expects nothing but the best and at the cheapest price possible. In his eyes, a watch needs to have superb and bold design to be worthy of anybody's wrist. To him, organization creates valuable time and so you should expect it from him in his reviews. Wisdom is his middle name and he is here to share it with you. Read his articles here.