Today I'm going over another interesting diving watch. In my last article, I looked at a Sinn piece which had some features even I wasn't expecting it to have. This time we are taking a look at a Swiss made piece that's been designed by a company founded by a Spaniard. Trust me it makes complete sense.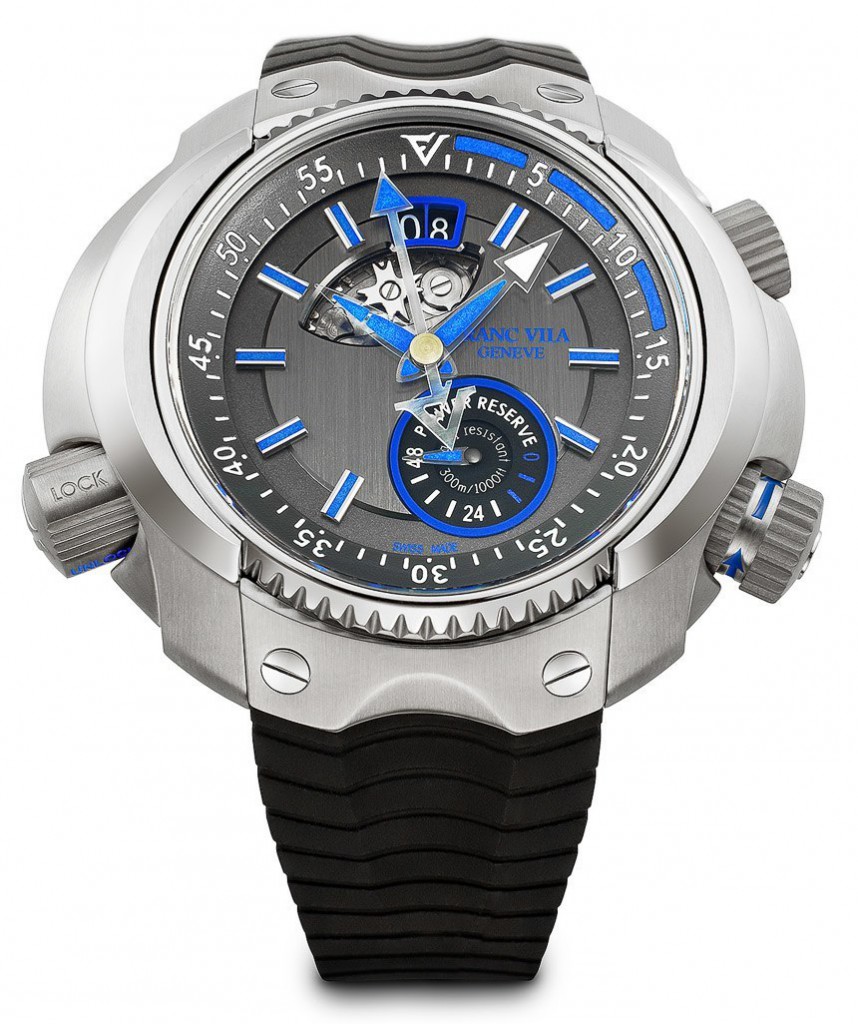 The watch on the other hand, at first glance at least, doesn't make as much sense. It's a massive looking piece with 3 screw crowns and an enormous bezel to it. The appearance that this watch is very big (57mm across, 53mm tall and 15mm deep) is helped along by the relatively narrow custom rubber strap that's provided with the watch. If you like the idea of big watches for a purpose such as the Blancpain X Fathoms or the Omega Seamaster Ploprof, but you don't want either of those then this could just be your salvation. The technical prowess is matched only by the case size with this piece which has been enlarged to allow this piece to be water resistant to 300m.
A nifty feature that fans of mechanical pieces are sure to love is the exposed part of the movement below the big date that stretches from 10 O'clock to 12 O'clock. There's even a power reserve meter in place of the 5 and 6 O'clock markers on the dial which shows that this watch can run for up to 48 hours. You don't need to worry about the underwater legibility of this piece either as that cut out doesn't interrupt any functional parts of the dial. What does catch my attention for this piece is the amount of lume that appears to be missing from the hands of the watch. Normally the hands on diving watches are coated in a really bright and long lasting lume to compensate for the fact that light doesn't penetrate areas of deep water well. It could be that the coloured parts of the hands are actually coloured lume which would be pretty incredible looking in the dark.
As I mentioned earlier in the article, the watch has three crowns on it. Of course there is the standard crown used for time setting and winding the movement if needed, there's also the crown on the left-hand side of the case which is used to lock the rotating bezel in place while the lower crown on the right-hand side is used to move the bezel around (when the locking crown is released, of course). The movement inside this watch is an in-house made FV 62 calibre movement featuring bridges that have been made out of a new composite metal consisting of aluminium and lithium that Franc Vila have cleverly called 'Lightnium'.
This new material is really hard and lightweight in the watch and is coloured in red which is pretty awesome. You can get the case of this new watch in either black DLC titanium or simply brushed titanium, depending on exactly how stealthy you feel when you go to buy it. Both case options can come with either a blue or a red set of indicators and hands and other decorative touches on it. The brushed titanium model will sell for $15,000 while the black DLC will sell for $16,500. For more info, please visit francvila.com
HARLAN CHAPMAN-GREEN – CONTRIBUTING EDITOR
A keen bass guitar player, Harlan enjoys all the perks modern watchmaking technologies the industry has to offer. Although you might catch him sampling Omegas or the Rolex, Harlan loves all things Haute Horology, with his three favourite brands being Breguet, A.Lange & Söhne and Vacheron Constantin. He hopes to study timekeeping more in depth someday and will never be able to thank his father enough for introducing him to the industry. Read his articles here.