Seiko has been producing great sports watches ever since I became a horology fan. The details that I see on Seiko watches are simply electrifying if not, highly innovative such as their Spring Drive implementation and oversized high-quality stainless steel cases. Interestingly, there is nothing sweeter than re-engineering the 1960 Grand Seiko watch for the company's 55th-anniversary celebration. As such, they'll be releasing the limited edition Grand Seiko Spring Drive Chronograph GMT SBGC013 that also marks the brand's foray into ceramic technology which can be seen prominently on the Grand Seiko's deep black ceramic bezel. Of course, we now know that ceramic materials are indeed more scratch resistant than typical steels and most watchmakers have already incorporated the material into their premium line but not Seiko at least not yet until now. So what's really the deal here? The Seiko's unsurpassable Spring Drive of course. Heck, people even sell their Rolexes just to get a bite of this amazing tech which is nowhere to be found on Swiss Made watches. Alright, let me get down to the nitty-gritty details.
The watch wears rather large at 43.5mm wide and 16.5mm thick but it's a great watch to show off anyway and it's a sports watch plus the case is made purely of Seiko's very own high intensity titanium which is remarkably strong and scratch proof and being mated with a ceramic bezel makes it extra tough. The ceramic bezel, lugs, pushers, and the crown are all using the same classic design that is smooth steel surface oozing with masculine texture. Another remarkable element is the large size of the pushers featuring screw down locks which makes using the chronograph fun.
As for the dial, Seiko used its signature deep blue dial accented with some gold hands and labeling. Seiko designed the dial to be easier to read, thus arranging the chronographs in a unique way. The date is of course at its classic position at 3 o'clock. The sapphire crystal covers it all plus the same crystal also covers the exhibition case back.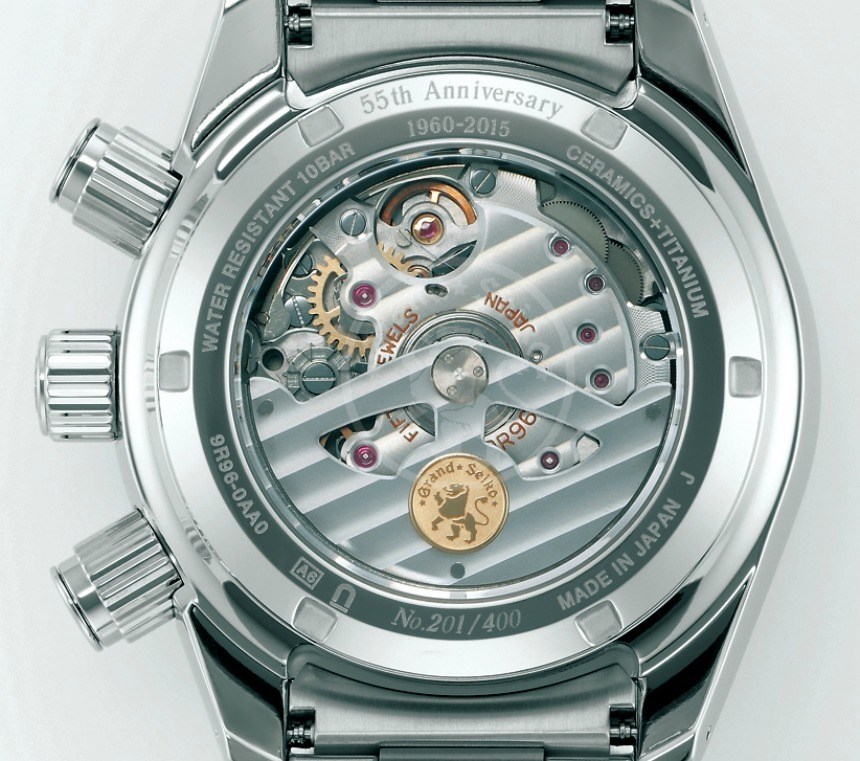 What powers the subsidiary seconds, date, power reserve indicator, GMT hand, and 12-hour chronograph is the in-house caliber 9R96 automatic Spring Drive Chronograph GMT movement designed and made at Seiko's Shinshi Watch Studio. If you're a fan of Swiss Made watches, then you'll likely agree that Spring Drive movements aren't mechanical at all rather it's a hybrid of sorts. I go for the latter myself since one of the advantages of the Spring Drive is its high accuracy clocked in at 10 seconds per month. Now, if you look at the caseback, you'll be greeted by a large 18k yellow gold Grand Seiko "GS" emblem in the automatic rotor on the finely designed movement. Being a collectible watch, it subtly encodes "1960 – 2015" label aside from the limited edition numbering highlighting its 55th anniversary.
These babies are priced at $11,000 which is a rather hefty price tag but you get to own a collectible watch that's built to withstand the tests of time and give you an incredible timekeeper for all your sports oriented activities. For more info, please visit seikowatches.com
JOVAN KRSTEVSKI – FOUNDER, PROPRIETOR & EXECUTIVE EDITOR
Watch collector, aficionado and an Event profile in the Swedish nightlife. He launched Watchgeek back in 2011, which is now known as WristReview and is one of the most widely read watch blogs on the Web. He quotes 'WristReview is a site to help people find, explore, discover and enjoy wristwatches.'  His passion jump started in his early teens when he was given his first mid-range wristwatch which was an Omega Seamaster. Since then he has always been in love with wristwatches! Besides WristReview, he also writes for a number of publications. Read his articles here.