Greubel Forsey, the brand that a fair few of us to be the makers of the world's finest watches, strikes out again with its timeless Double Tourbillon watch, now in a relaxing blue sapphire. Every time I do a blue themed watch, I make a point to mention that blue is the currently popular theme in watchmaking. Well, it seems that Bucherer isn't the only brand that is willing to 'bring in some extra spendo' by making a watch blue. However, Greubel Forsey does this with class and oodles of horological prowess for good measure. Just to be clear, this is NOT a Bucherer edition watch.
This line from Greubel Forsey has been around for 15 years. That's right, the Double Tourbillon 30° Technique made its debut in 2004 at the Baselworld fair, and in that 15 years, we've seen quite a few different variations of the watch. This is, however, the first time we've seen it done in blue ceramic. This is a case (no pun intended) of exceptional horology, and we'll get to that in a moment, but it should be noted there is one downside to this watch for most people: the case's size. It's 48.4mm in diameter and 17.8mm thick, making it too large for some. Luckily, heft won't be a problem, as the ceramic case is undoubtedly light.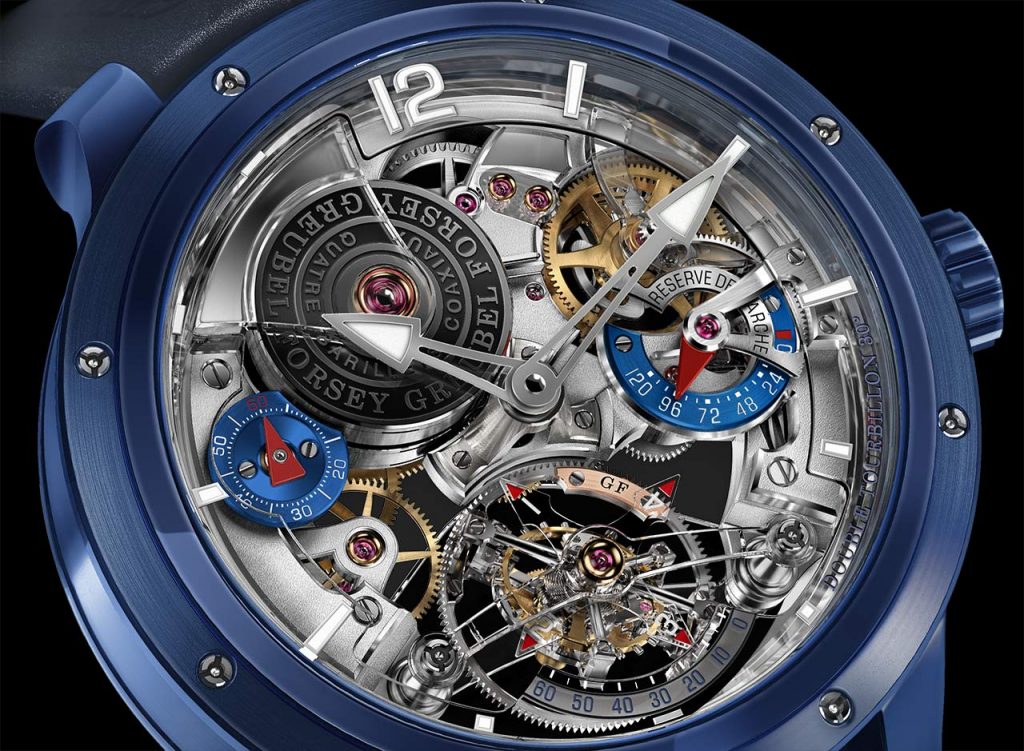 The dial, if you could call it that, combines avant-garde design with traditional watchmaking. No one feature draws the eye, at least in my view. At the top is an engraved mainspring barrel, a power reserve indicator sits at 3 o'clock, at 6 o'clock is Greubel Forsey's now-legendary double tourbillon, which combines a tourbillon mounted at thirty degrees inside another tourbillon, making two tourbillons in one. At 9 O'clock, a blue seconds subdial, for good measure.
The hands are mounted centrally, are hollowed out and given a lume tip to make this a practical watch in the dark. Perhaps the most unusual feature that would take a little time to spot is the heavy use of sapphire crystal in the movement. The tourbillon appears to be suspended, held in place by its own gravity, however, it's mounted on a sapphire bridge. A sapphire mount also tops the mainspring barrel, holding it in place, while the markers around the outside are floating on their own sapphire pieces. All in all, this is a very attractive design, both technically and aesthetically.
If there's one downside to this watch, other than its dimensions, its the price tag. At $695,000, it's out of reach of pretty much all of us. Still, one can always play the lottery, right?
Visit Greubel Forsey here.