Greubel Forsey is known for making, well, not making very many watches per year. Unlike most manufacturers, which may make a hundred or even a thousand versions of a limited-edition timepiece, Greubel Forsey rarely gets into the 20s with their watches. That's for a couple of reasons. When you're a niche watchmaker, you tend not to have the budget or army of staff at your disposal to make lots of watches. And then, of course, there are the watches themselves. Greubel Forsey watches are pieces of mechanical art for the wrist. Granted, it's sometimes abstract art that not many people seem to like the look of, but the time and effort spent on them is undeniable.
The latest in Greubel Forsey's collection is a reworking of a model they introduced in 2019 called the GMT Quadruple Tourbillon. For 2021, Greubel Forsey presents the next version of the GMT Quadruple Tourbillon with a titanium case and some new colours.
The first thing to note about the new watch is this is not the watch every luxury watch fan owns. If you're just getting into luxury watches (or if this is the first time you've heard of a Greubel Forsey watch), you should note that this is at the very top end of luxury watches. At this stage, the point of telling the time takes a back seat to the ability of the designer and watchmaker to build something incredible. This watch is not the benchmark of luxury watches; it's a pinnacle.
In true Greubel Forsey fashion, the watch's dial has been pushed to one side to show off the mechanics behind the scenes. The time dial is still present with Greubel Forsey's signature hand design (with lume) and a power reserve indicator. Nearby to the time dial is a 12-hour indicator with a red arrow-shaped hand, below which is a seconds hand. At 8 O'clock is a small globe that can tell you the time in all 24 timezones (although this does seem a little challenging). Luckily, Greubel Forsey has added a small sapphire crystal window in the caseband allowing you a side-on glance of the globe in all its majesty.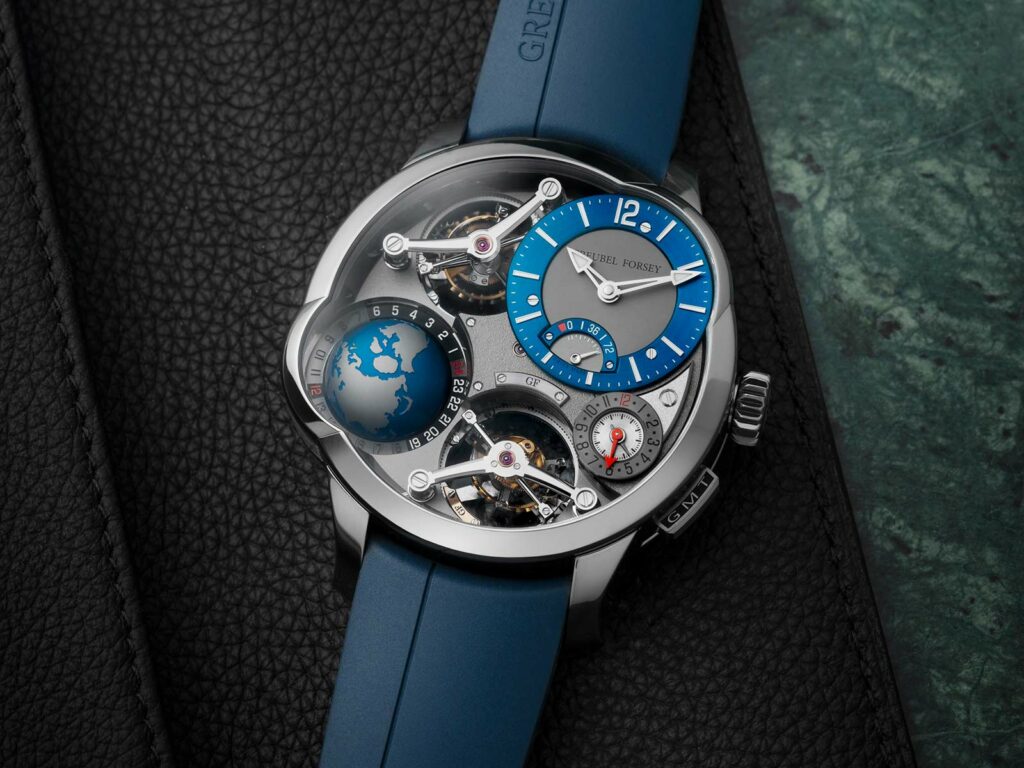 You may be wondering how Greubel Forsey squeezed four tourbillons in this watch, given that it seems only two are visible. In actual fact, all four tourbillons are on display on the dial side. It's just they have been placed inside each other. This design was first seen a number of years ago on their Double Tourbillon 30. It sets the balance wheel and escapement at a 30-degree angle, and a one-minute tourbillon rotates the balance wheel on that 30-degree axis. Then, Greubel Forsey mounts that system on a cage which is rotating once every four minutes, making this a tourbillon within a tourbillon. It's Greubel Forsey's solution to the issue faced by a regular tourbillon when placed in a wristwatch; that is, the fact the wristwatch is moving around in a 3D space means the 2D tourbillon cannot do its job of counteracting gravity properly. There are several other ideas for this, such as Jaeger-LeCoultre's Sphérotourbillon and Gyrotourbillon models or Thomas Prescher's Triple Axis Tourbillon.
These four tourbillons are powered by hand. There's no automatic winding here, which means you'll need to give this one a wind every 72-hours or so. Because of the amount of stuff physically in there, the titanium case is quite large at 46.5mm x 17.45mm. As I said, you're paying for the mechanics and the finishing, not for a robust daily. Speaking of finishing, Greubel Forsey has changed it around a bit for this series of watches. The blue hour ring on the time dial features a new circular-grained finish, and the mainplate has a new frosted finish with polished countersinks and bevelling. These add to the top-level finishing already on the watch. My favourite detail is the polishing on the tourbillon bridges.
Greubel Forsey will only be making eleven of these, and they need to pay the bills, so don't expect them to be cheap, because they aren't. One of these will set you back CHF760,000 before tax.
Visit Greubel Forsey here.