Sometimes, a little flash is needed to get your message across. Sometimes, you need to speak up a little to get heard properly. Still, you don't want to come off as crass, tacky, or otherwise reeking of the taint of somewhat being trashy. When it comes to the world of timepiece fashions, there's a thin line between class and sophistication on the one hand and shrill classless tastelessness and 'trying too hard' at the other extreme. It may seem like these are pronounced extremes, but they aren't. In fact, it sometimes takes just one seemingly minor detail for a watch to tip to one side or the other of the tacky versus class divide.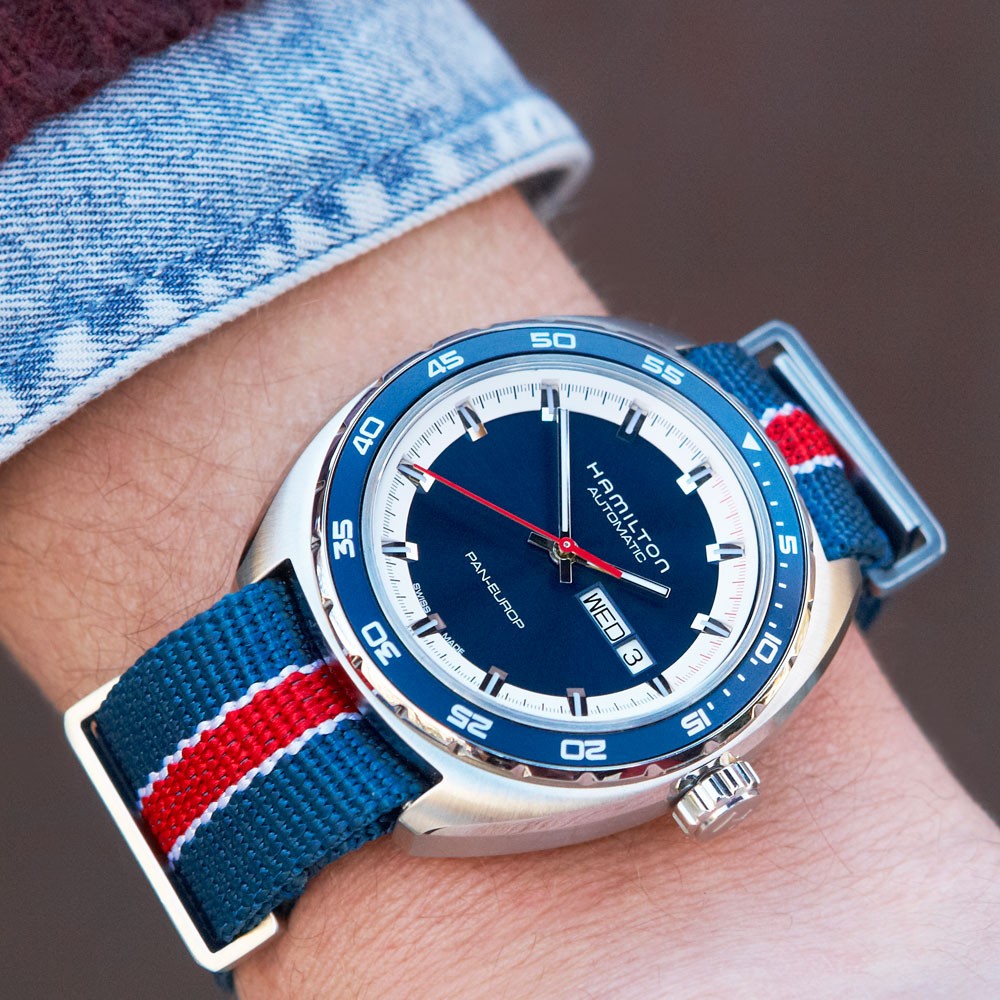 This is the sort of design tension that's at play with the Hamilton Timeless Classic Pan Europ H35405741. To no one's surprise, Swiss watchmaker Hamilton pulls off this design quite well. It goes without saying that newer and perhaps 'hungrier' watch brands might have had a worse time pulling off what Hamilton did with this watch's design.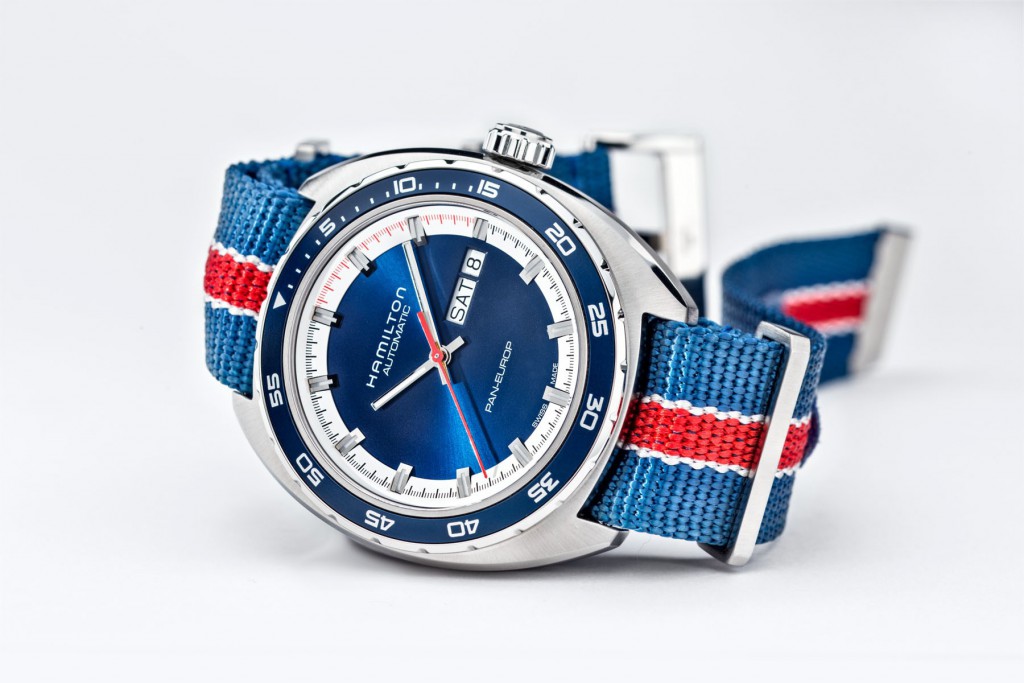 Besides its Swiss provenance, the one factor that makes this model worth paying attention to is its versatility. You can swap out its nylon and leather bands depending on the ambiance of the setting you'll be wearing this watch in. Besides being clever and giving its wearers more options, this design detail speaks volumes about the ambitions Hamilton has for this model. It appears the Swiss watchmaker wants its clients to have a high quality true automatic watch that fits the widest range of settings as possible. I'm happy to report that this sleek and well-put-together timepiece more than delivers.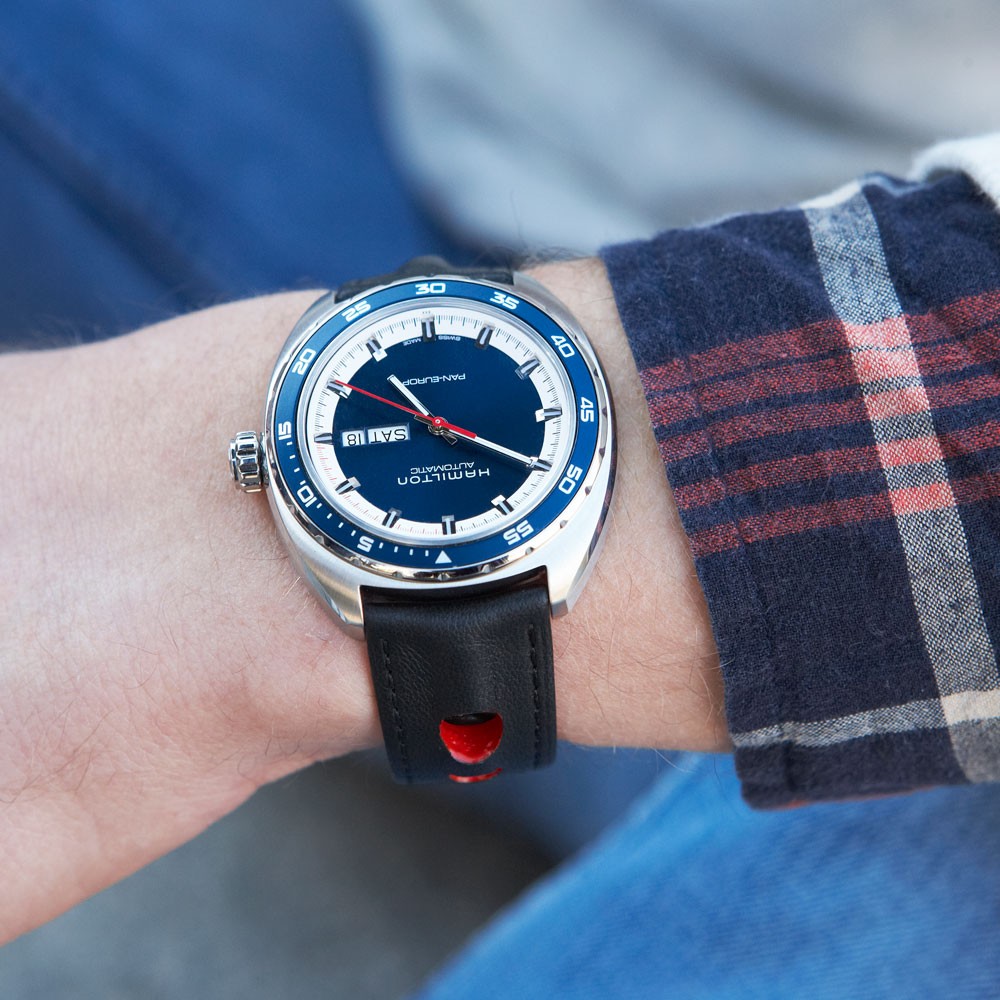 Best of all, considering how skillfully this watch's design straddles the thin line between being flashy and classy, you can be sure to turn quite a bit of heads. If there is one thing most watch fans and brand followers can agree on about the Hamilton Timeless Classic Pan Europ H35405741 Watch it isn't shy about pushing the envelope. This is precisely the source of this watch's distinct charm. If you have an edgy side to you, this watch would complement that side of your personality quite well.
If you're looking for top-notch classic Swiss watch automatic movement technology, the Hamilton H35405741 does not pull any punches. You get solid fully automatic movement which is good for an average of 80 hours between manual windings. Paired with the sleek finish of this timepiece, this model's automatic movement adds a very welcome element of class to a very sporty and, depending on the setting and presentation, possibly edgy watch. Of course, this unit's fully automatic movement means you'd have to pay a premium for it.
As mentioned above, this watch's quirky look and the edgy appeal is complemented by its versatility. Thanks to the two straps (leather and nylon) it ships with, you can be sure this watch will make you look good whether you find yourself at a corporate meeting or rubbing shoulders with co-workers at a bar after work. Paired with this model's attention-grabbing design, you can rest assured that your watch has the elements it takes to turn heads.
In terms of overall value, the Hamilton Timeless Classic Pan Europ H35405741 presents Swiss watch fans with a solid opportunity. Not only can they look trendy and edgy but they can do so with the assurance that their watch's distinct look won't go out of fashion anytime soon. Besides, there will always be a need for watches that make you stand apart from the crowd. Your watch still embodies the class, sophistication and technology people are looking for, but you do it in a way that bucks conventional tastes.
For more info, please visit hamiltonwatch.com
Technical Specifications
42mm Stainless steel case
Anti-reflective treatment sapphire crystal
Automatic movement
Water resistance to 50m
Open caseback

MATTHEW CATELLIER – CONTRIBUTING WRITER
Stemming from his childhood days, Mat can remember when his father bought him his first watch, a Timex. Ever since then he has had a strong passion for a large variety of timepieces. Coupled with his entrepreneurial spirit, Mat founded WatchReviewBlog.com, where he shares his personal views and opinions on mid to luxury level watches. Mat is also a keen sportsman and enjoys getting out and traveling the world when he can. Read his articles here