The BR-05 Horolum is an intriguing watch from Bell & Ross, the famous French watchmaker, although its watches are Swiss-made. If you like pilot-style watches or watches with aeronautical themes, for over 20 years, Bell & Ross has been making the aeronauticalyist (is that a word?) watches of them all. Square cases with big white contrasted hands and markers are the things that come to mind with Bell & Ross watches. While Bell & Ross never made aircraft instruments back in the heyday of pre-digitised cockpits, they weren't even around then; you'd think they had as their most famous watches look like they've been torn straight out of the cockpits of the world's most exciting machines. I got some pictures of one inside the cockpit of a C-17 Globemaster in one of my very first hands-on reviews for WristReview, so it's easy to see the influence.
You might've been a little surprised when Bell & Ross unveiled the BR-05 in 2019. It seemed to have the brand's characteristic squareness and the bolts in the bezel but did not resemble what we've come to know as a Bell & Ross watch.
And yet, in its own way, it did, and it's been quite popular. Late last year, Bell & Ross introduced the BR-05 Horolum, a stealthy version of the BR-05, which we got to have some time on the wrist with.
What surprised me first about the watch was its mass. It caught me off guard when the courier handed me the cardboard box containing this little horological number. For reference, watch brands don't generally ship their watches to the press with the presentation box, that goes to the client instead. This time was no different, and the mass became even more apparent upon taking it out of its little suede pouch.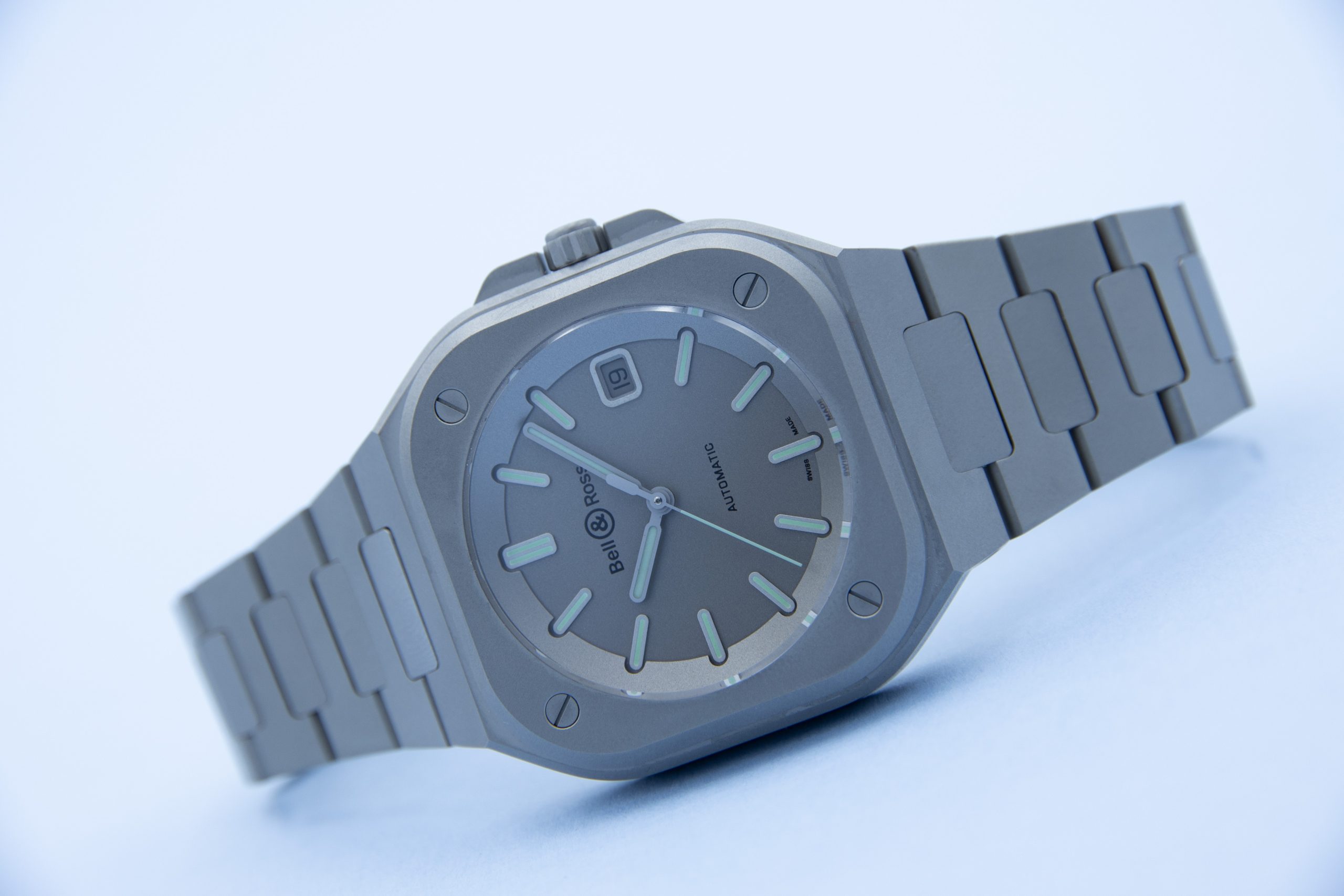 Despite the measurements of the watch's case being relatively restrained at 40mm x 13mm, it weighs 165 grams on the VSS (Very Scientific (Kitchen) Scales). That makes it the second heaviest watch I've measured after A.Lange & Söhne's behemoth Datograph Perpetual Tourbillon which was made of gold and was 6 grams heavier. Of course, plenty of the BR-05 Horolum's mass came from its chunky bracelet, but still.
Speaking of the bracelet, it's unusual to have a steel sports watch on the wrist that doesn't glint or reflect lights much. It's industrial, but it still looks and feels like a quality item. There are also some small details to keep watch fans happy, such as screwed links of the bracelet and the gentle tapers of each link. I like that the hidden butterfly clasp seals with the Bell & Ross ampersand logo, and the triggers to release the clasp are subtle but easy to use. Unlike the last watch I reviewed, the bracelet doesn't feel like it has any unfinished edges, which should be expected of a luxury timepiece.
The high finishing of tangible parts continues to the watch head, too, where there are no rough surfaces despite the micro-bead blasted case looking like it should be. It's smooth and tactile, although if you're hoping that the matte case will avoid the scratches that plague polished watches you'll be disappointed.
In fact, not only will you still see scratches, but dirt is a little easier to spot on this watch too. All the more reason to keep your watches clean and in good condition, nobody likes to see someone's arm-fluff on a quality watch.
As you'd expect, the dial is very legible at a glance. The bead-blasted finish of the case flows onto the dial and gives a base layer to build from. The applied markers (with SuperLumiNova) match the hands and sit above the matte dial to provide a good depth. Bell & Ross' hesitancy to use plenty of writing on the dial is also much appreciated.
One downside to this is the date window, which seemed a little small and unreadable under most artificial lights. It would interrupt the smooth looks, but this watch could do with a date magnifier or a bigger date entirely. Still, it's nice that it's there, and it doesn't put the dial out of symmetry. The lume is also bright in the dark, although I didn't test how long it lasted.
To me, the greyness of the BR-05 Horolum requires you to do a balancing act when choosing your attire. That's not a bad thing per se. In fact, if you're like me and not particularly fashion-conscious, it could help you choose some new clothes for a new look.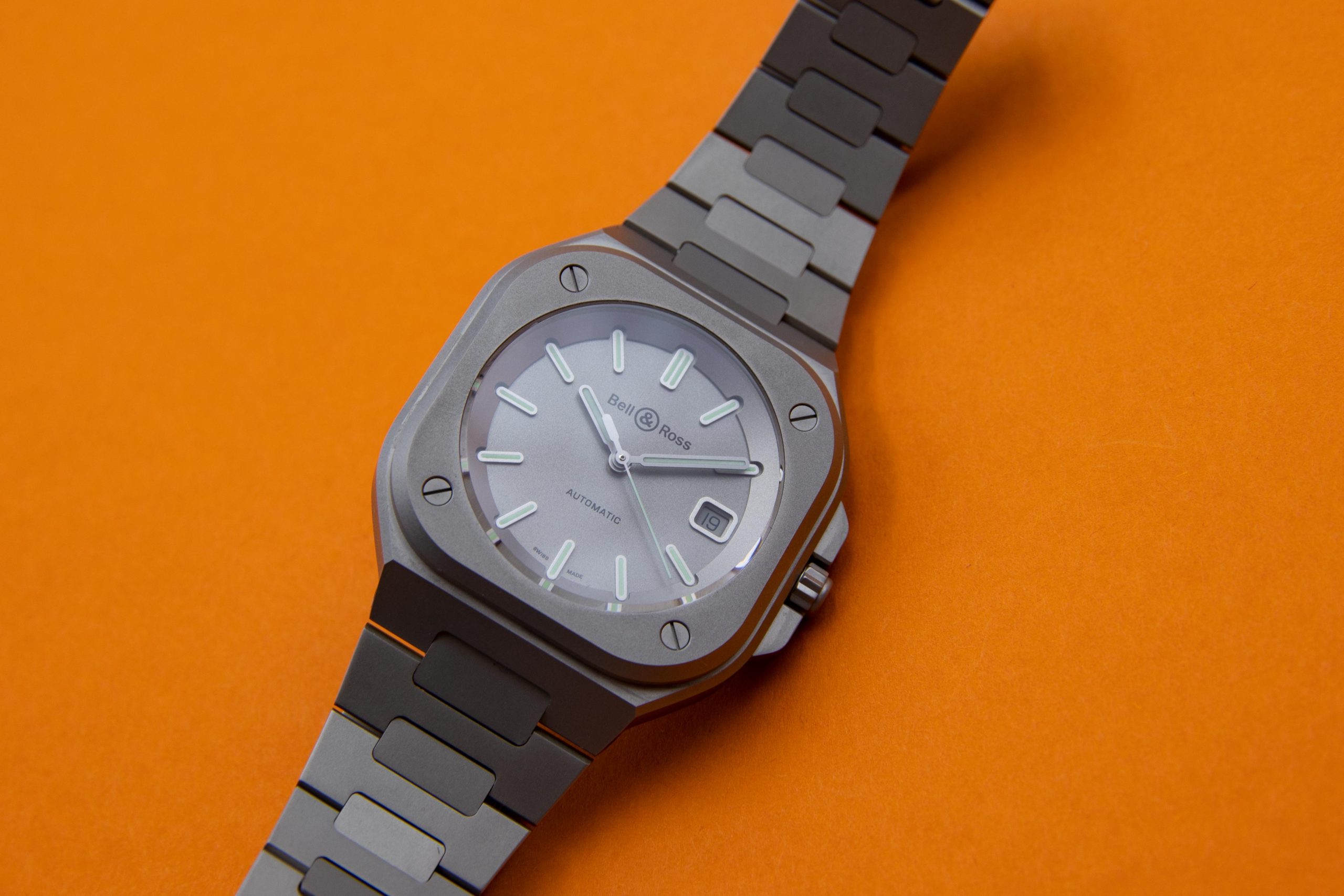 I found that the watch worked best for me with some colour, hence the photos. Unless you want to look like you work in a Hugo Boss store, you shouldn't be afraid to throw on that flowery Hawaiian shirt and rock a smart/casual look.
Around the back of the watch is a sapphire crystal that displays the BR-CAL.321. This is a modified Sellita SW300 calibre, although looking at it, you wouldn't think it. I know Bell & Ross uses the wheel-motif rotor for the standard BR-05, although here, I don't entirely see the connection. Still, there's plenty to like, mainly the grey bead blasted finish. It's not uncommon to see small pockmarks or tiny specs of dust leftover from manufacturing, but the BR-CAL.321 looks clean indeed. To be clear, these two afflictions of watch movements are invisible to the naked eye, although the macro lens on my camera does a good job of picking them up usually.
Bell & Ross made a couple of changes to make this movement look different to the plethora of Sellita-powered watches. They added the special edition sticker with the ampersand logo over the centre for starters.
If you read my articles a lot, you'll know I'm not usually a fan of this, but it's not covering up anything significant in this case, so it gets a pass. Also, there's no rotor wobble like you usually get with movements like this. To be fair, I don't know whether this was Bell & Ross or not, but it looks good. The BR-Cal.321 has a 4Hz beat rate with a 38-hour power reserve and 25 jewels.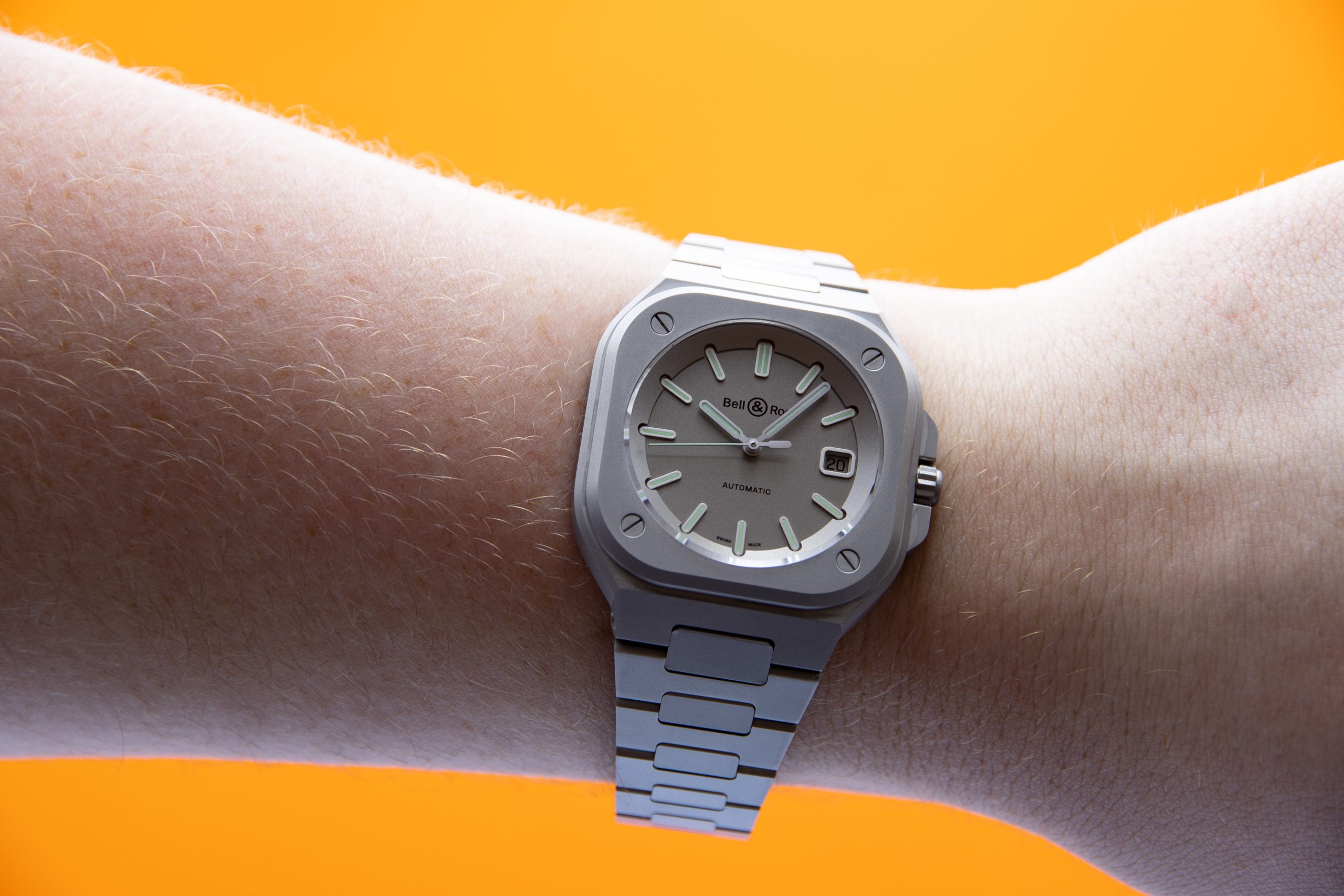 As a sporty/casual watch, the BR-05 Horolum leans on the side of sporty, although it's sized well, so it can be used daily with smarter clothing, bearing in mind what I said earlier about colours. One minor nitpick was the screw-down crown, which was small and fiddly and didn't seem to hook onto the thread to screw down easily, but these points are minor. Just be aware that that finish, though it works well, will show marks and dirt easily.
The price is $5400, and Bell & Ross is only making 250.
Visit Bell & Ross here.