Thousands of new products were presented at Baselworld and it's not easy to choose favourites over other pieces. Still I'm ready to give it a shot and I will try to present the 8 pieces that I appreciated most and that impressed me. This classification is not in any particular because it would not be right to chose the number 1 timepiece of the show.
One thing is sure, the big names of the luxury watchmaking industry continue to mark their differences by developing ultra-exclusive watches and some are very innovative. For my part, I still have a strong preference for independent brands because it's they who generally put forward our industry. Nevertheless, we can note that this year some big houses have elevated their levels further, for example Breguet with the extraordinary Tradition Tourbillon Minute Repeater 7087 (419.500€). In short, I cannot cover all the beautiful innovations in one article, so in this "ranking" I'll give you a view of some pieces that I really appreciated. For the others you'll need to wait a bit.
Antoine Preziuso Triple Tourbillon AFP-TTR-3X
No less than 10 years of work and 3 patent applications have been used to aid Antoine Prezuiso and his son Florian to finalize this exceptional timepiece. Just to explain in two words, this watch named the "Tourbillon of Tourbillons", has 3 one minute tourbillons placed on a revolving plate making one revolution every 10 minutes. The whole movement is driven by an original triple planetary differential. Also note that each tourbillon resonates with its neighbours, oscillating at a stable and identical frequency. This special association endows the watch with unique precision in all wearing positions. The magical choreography of the three tourbillons on their revolving plate will amaze all the people who see it.
HYT H3
A world premiere in the watchmaking industry. The H3´s fluidic module activates the rotating hour dial thanks to the energy recovered during the retrograde function of the fluid. The brand, whose name is an acronym of HYdromechanical Time, offers a time display completely unusual and unique. It "simply" displays the time with a liquid which progresses over the hours in a small capillary. This fluid is pumped into the circuit of the H3 thanks to pistons powered by the watch movement and it moves along parallel to a row of dice like cubes which rotate once every six hours. This is what is called "hydromechanical hours" because on the other side the minutes are presented in a more or less classic way with a hand whose stroke is linear but also retrograde. Everything is set in a rectangular case which offers a horizontal reading of the hour. A futuristic design for a watch at the forefront of technology and a true watchmaking creation.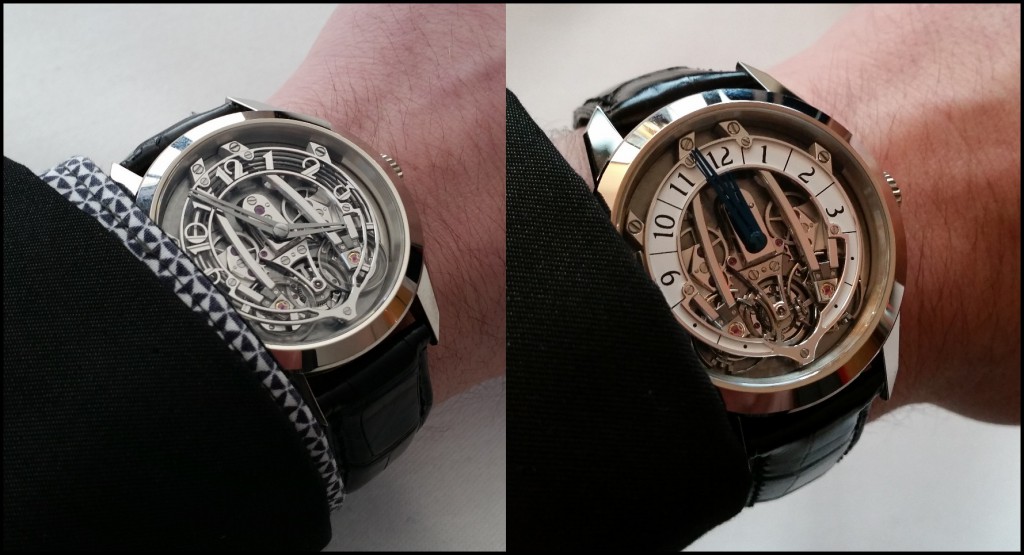 A. Favre & Fils Phoenix 10.3 Gatsby & Hugo
The Swiss brand A. Favre & Fils is the fruit of the creative mind of Laurent Favre. Some years ago he decided to figratively relight the family torch and to develop and create his own timepieces. While Laurent Favre has created three different models in the last few years, I think that this one will be the flagship of the brand. This new timepiece comes in two versions. I must admit that I was very impressed by this amazing timepiece made of Titanium with an open dial. Inside this open dial we have an amazing technical feature in the way of two oscillators that mutually compensate and harmonise each other. The geometry of the open dial, that gives an absolutely stunning Art Deco style, creates a truly pleasant view to the eyes.
Moreover, the figures are suspended which gives a great sense of depth to the dial. What is really interesting is the size of the watch. The Phoenix 10.3 is housed in a 41 mm case with the same structural shape as the two other timepieces. The Titanium case is crafted with a unique balance of brushed and polished surfaces in order to create a contemporary case that remains really elegant and that also captures all the various kinds of light that you'll have in a day. This is undoubtedly a great timepiece both technically and aesthetically. The second one is presented under the codename of "Hugo". On the latter, the figures are mounted on a white dial. This gives a great contrast with the blued hands and the visualised movement. "The man realizes what he has best in him thanks to his determination, endurance, discipline and perseverance." Here's what could define Laurent Favre.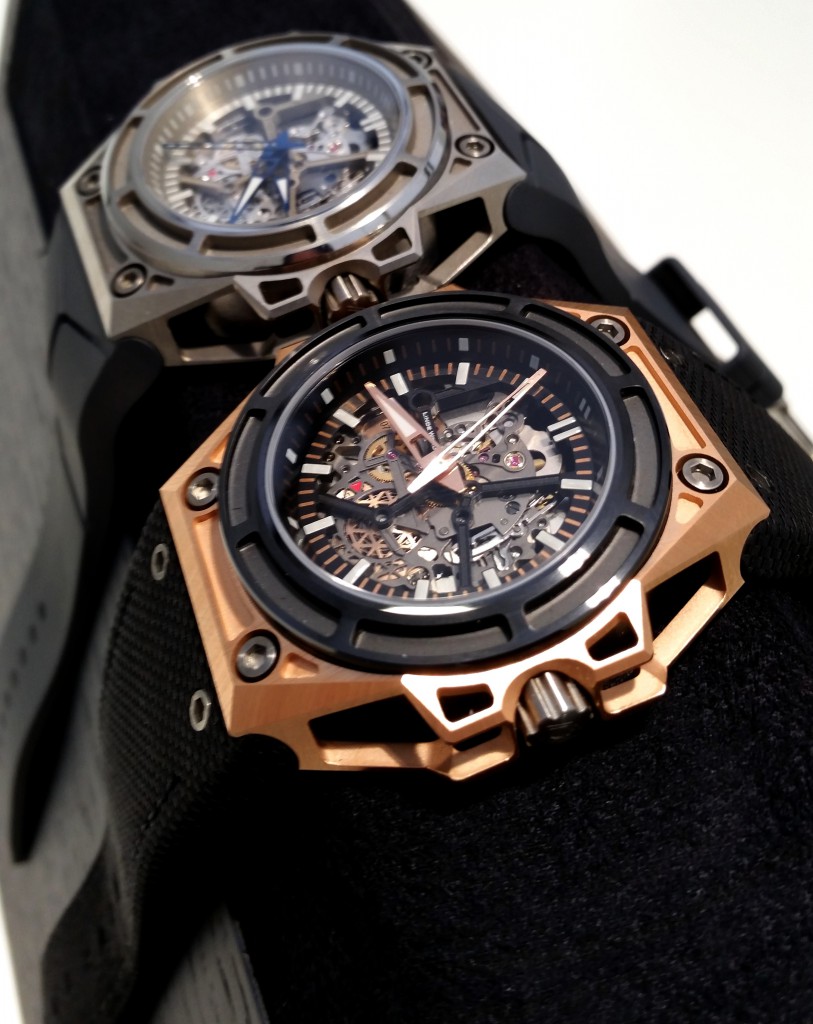 Linde Werdelin Spidolite Rose Gold
Still one of my favourites, it's easy to know since I really like the brand. This piece is amazing for several reasons. First, thanks to the iconic "Spider" case, whose construction reminds me of a sculpture, especially in this rose gold version. I'm not sure why, I guess it's just my own perception. Maybe it's helped along by the remarkable skeletonised dial which gives a great view of the movement. The design of the case added to the skeleton dial gives a cool and special look to the timepiece. There's also been an evolution in weight-optimized construction and reveals the first ever Linde Werdelin power reserve indicator. This timepiece comes in two versions.
Both watches are created with the SpidoLite case measuring 44 mm in diameter. The SpidoLite Gold (my favourite) is made of 5N 18K rose gold, and the SpidoLite Titanium is made of titanium grade 5. Both watches sport titanium crowns engraved with a spider icon and solid case backs made out of titanium. While the SpidoLite Gold features a bezel made of black ceramic, the SpidoLite Titanium's bezel is also made of titanium. At the heart of the timepiece we find the calibre LW07 with a 42-hour power reserve. Both watches present eight titanium screws and the "Limited Edition" information engraved with by a laser as well as the LW and SpidoLite logos. In the case of the SpidoLite Gold, the engravings are filled with 5N rose gold.
Be on the lookout for part 2 which is coming soon!


Jonathan Kopp – Contributing Writer
Jonathan Kopp has an avid enthusiasm for timepieces of all genre, from vintage timepieces to modern Luxury Haute Horology. His preference goes to small and independent high-end watchmakers. He loves the difference rather than classicism, although if he admits to being in love with several ultra-classics pieces. Jonathan was caught by the passion for watchmaking there are almost 6 years. For about 5 years, he wanders in this industry and was Communication-Marketing-PR Consultant for several brands. He has worked for over 2 years as a freelance for the development of the Swiss brand Arthur Oskar Stampfli (AOSWatches). To keep in touch with Jonathan you can follow him on the various social networks:Instagram, Facebook and Twitter. Read his articles here.