You may remember about a year ago I wrote about the new (at the time, duh) Breitling Chronoliner, a very handsome wristwatch presented on a sort of milanese loop stainless steel bracelet. Said watch made use of an ETA movement with an added chronograph module in order to make it a through and through pilot watch that professionals might actually want to use in the field, or air in their case. I have seen this watch in person in an authorized dealership for Breitling and I can confirm for you it does actually look and feel as you'd expect from a Breitling and the bracelet feels almost like fabric it's so well made.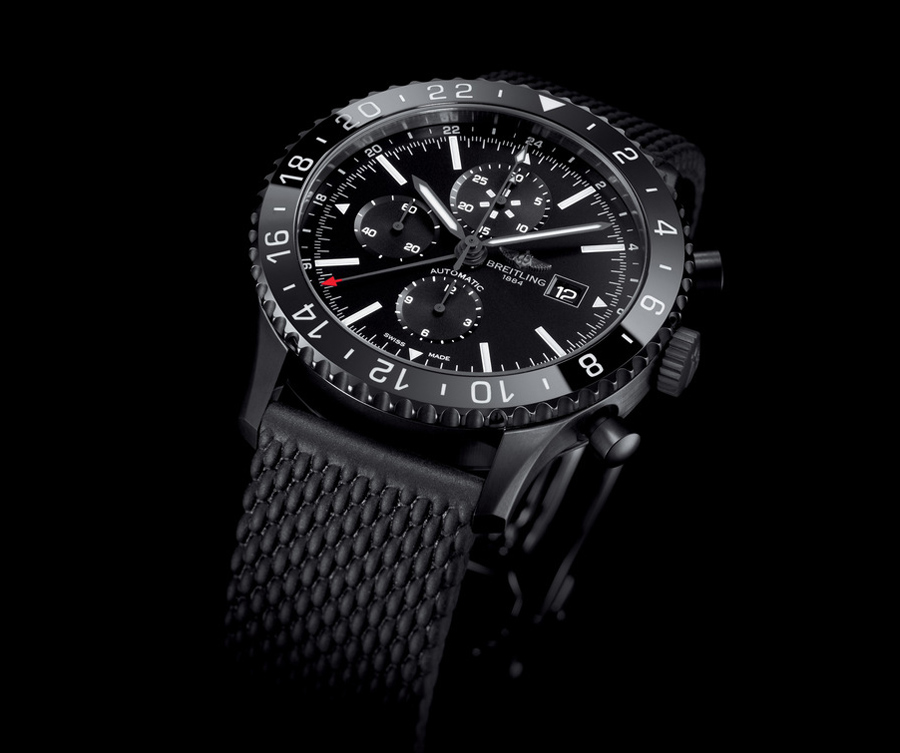 The new Blacksteel Chronoliner marries up Breitling's high tech manufacture ceramic bezel in the classic GMT configuration. You'll find this style of bezel on other such icons as the Rolex GMT Master & GMT Master II. It has also made its way onto the Planet Ocean 600m by Omega, bizarre considering the Planet Ocean has always been a diving watch since its inception. If you're thinking about the GMT Master II as well then consider this; while yes the GMT Master II is based on a Submariner, it's been changed thanks to a lesser water resistance of just 100m compared to the Sub's 300m and the polished centre links on the bracelet. The Planet Ocean, however, is a dive watch that they've changed into a GMT watch which defeats the purpose of the diving part, it just so happens to be a very water resistant pilot's watch with a helium escape valve. What a digression that paragraph turned out to be, right?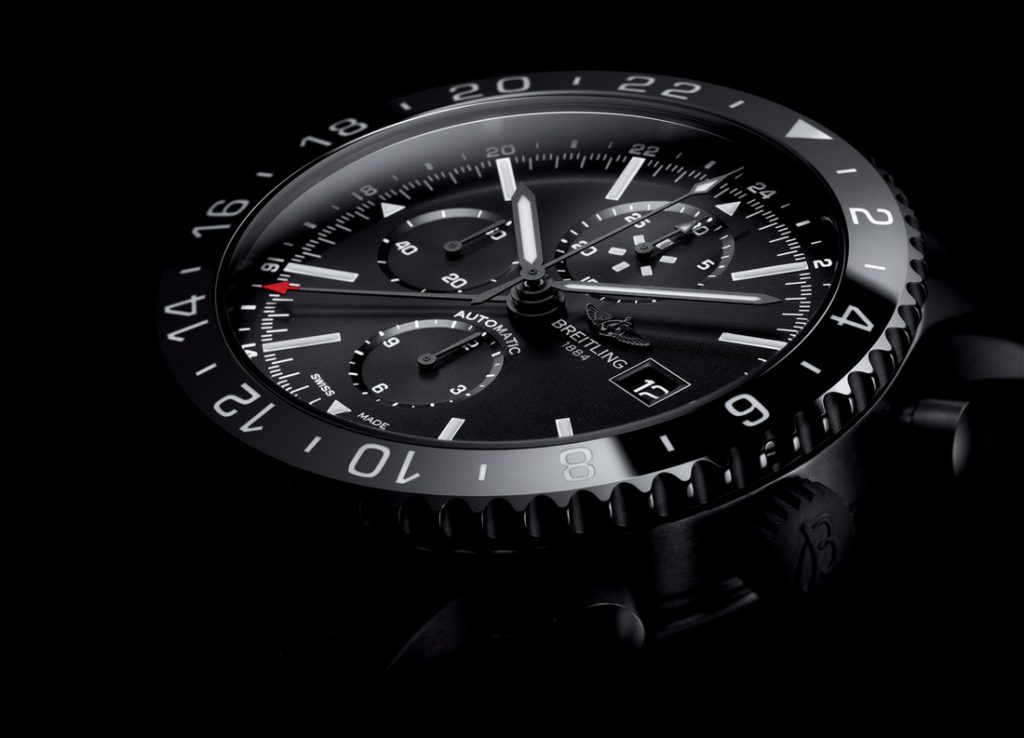 The new Chronoliner Blacksteel has been coated with Breitling's carbon-based treatment as seen on some of their other black watches of the recent months. Think of it as PVD but way more resistant to scratches thanks to the addition of those carbon atoms. The case isn't the only thing that's black on this watch, though, the rubber strap has also been given a good solid dosage of blackness. The case itself is 46mm in diameter and is 15.95mm thick, water resistant to 100m and has a solid caseback. The white markers on the silver indices really contrast well with the deep black dial and case meanwhile the red arrow on the GMT hand stands out just so that you don't get lost in the sea of information presented to you if all you need is a passing glance. The hands and those lovely long indices have been given a rich treatment of SuperLumiNova as well.
The movement inside this watch is the same as before, still based on an ETA movement at heart with the tech bits added by Breitling to make it COSC certified. My biggest criticism of this watch (and it really isn't that important) is that they simply went with what everyone else is doing, black versions of their watches. Things like the Apple Watch and Omega's newest Planet Ocean Deep Black watches spring to mind at this point as examples of watches that follow this pattern of making blacked out versions. I would've preferred to see something way crazier like a full black ceramic case but we all know the resale value would be astronomical, anyway, that's just my two cents on the current situation. For more info, please visit breitling.com