In 1906 a German watch company that started with luxury pens in Hamburg, Germany was born and to mark its 110 years of fine craftsmanship, the Villeret Tourbillon Bi-Cylindrique 110 Years Anniversary is soon to be released. From pens to watches the brand has made giant leaps in watchmaking industry with some gorgeous timepieces now being manufactured by Minerva which is now called the Villeret workshop. The celebratory watch features an in-house one-minute tourbillon with double cylindrical balance spring (Tourbillon Bi-Cylindrique) and the Heures Mystérieuses display (floating hands) on a prestigiously engraved dial with a little quirk of a snake around the bezel. That is very quirky indeed for a celebratory release.
If you ask why snakes well since the brand is looking back on its rich heritage, they decided that the classic Maison's first fountain pen series sporting the unique serpent clip is the appropriate source of inspiration. The pen itself belongs to the historic Rouge et Noir series.
The serpent on the Montblanc Villeret Tourbillon Bi-Cylindrique 110 Years Anniversary dial also features a 3D hand engraved anthracite Serpent meticulously integrated into the bezel. From the way it behaves, it seems ready to devour the time since it circles the entire dial except the off-centered time subdial at 6 o'clock. This release of unbelievably 3 pieces only is offered on 18K red gold 52 mm case that gets rid of the traditional water drop design to achieve more classical rounded shape. The hand engraved serpent decoration is also found on the 18K red gold caseback.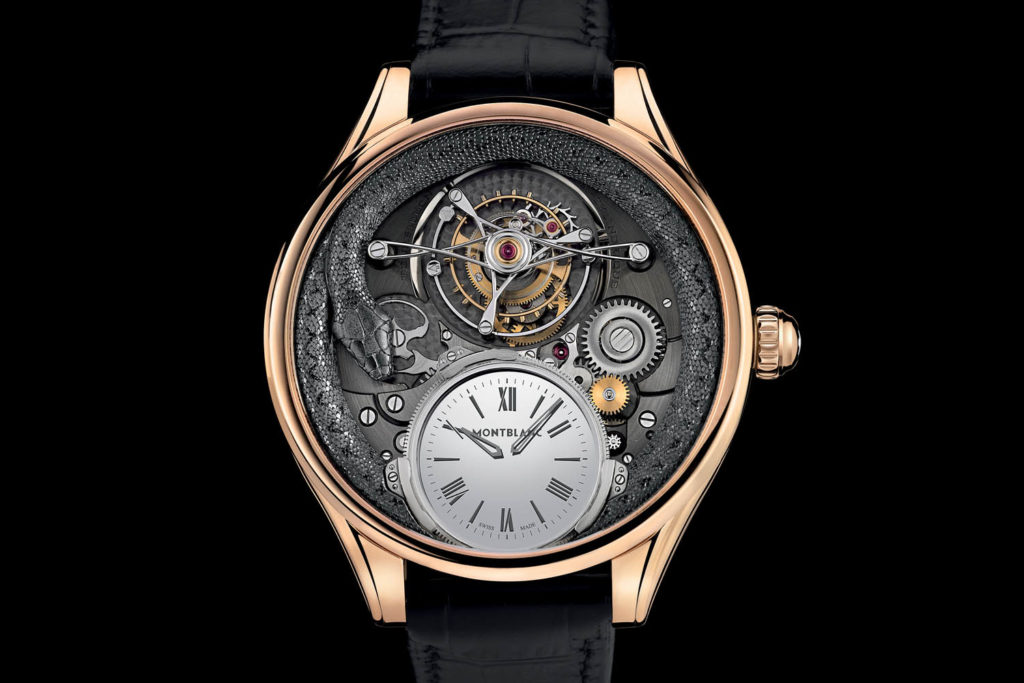 The case is noticeably large at 52 mm since according to the company, the engraving requires a bit of space so it seems that the serpent is indeed the center of attraction here while it slowly points to the time sub dial. The crown looks majestic with its iconic design plus the lugs are very smooth as it balances the rather large looking case.
When it comes to the dial the celebration really starts since you can see the watch's Tourbillon Bi-Cylindrique and Heures Mystérieuses display. These 2 complications are extremely nice and I am sure horology fans will be happy to hear more about it. The floating hands illusion is achieved by using two thin and transparent sapphire crystal discs linked to the movement via their periphery and rotating to indicate the time. This simple mechanism is quite very effective but for the keen eyed the gears around the sapphire discs driving the hands can be seen through the skeletonized dial so the floating hands mystery is pretty much solved. The other complication is the fine 18.4 mm Tourbillon Bi-Cylindrique. It looks very pleasant and very mechanical on a skeletonized dial. What we can see here is a one-minute tourbillon sporting a concentrically positioned double cylindrical hairspring providing not only an eye candy but ultimate precision. Very nice indeed.
For all you folks out there ready to get a hand of this watch, remember that the Montblanc Villeret Tourbillon Bi-Cylindrique 110 Years Anniversary is only available in 3 pieces. With the price not revealed yet, I wonder how the watch collectors are going to fight each other for a piece of this watch. For more info, please visit montblanc.com
JOVAN KRSTEVSKI – FOUNDER, PROPRIETOR & EXECUTIVE EDITOR
Jovan Krstevski has been collecting watches every since his father bought him an Omega Seamaster back when he was just a teenager. He launched Watchgeek back in 2011, which is now known as WristReview and is one of the most widely read watch blogs on the Web. He quotes 'WristReview is a site to help people find, explore, discover and enjoy wristwatches.' Besides WristReview, he also writes for a number of publications. Read his articles here