In life, you either play the game or not… literally, I'm talking about the game that is Pokémon. Lately Pokémon game on the mobile platforms has been gaining a lot of popularity, but this game has been raging on for 20 years and in the spirit of gaming, that is a long time. So RJ seizes the opportunity to also tap into the Pokémon craze by partnering with The Pokémon Company International itself. The game is another story but if you're a gamer, you'd certainly get one of these watches, but since this is a commemorative piece, it has only 20 pieces to be released in the wild. This is such a small number making having one, worthwhile especially if you're a collector.
There are many characters in the Pokémon but for the watch, Pikachu is chosen for its lively personality. The watch seems to be animated in itself, so alive thanks to its playful presentation yet very serious appeal.
Being a watch dedicated to honoring 20 years of Pokémon, the Romain Jerome RJ x Pokémon Pikachu sports a 46 mm Moon Invader titanium case sporting a black diamond-like carbon (DLC) coating. This material is very tough yet very light making the case almost synonymous to the electrifying powers of Pikachu. I like the titanium case here since it sports RJ's signature emblematic articulated lugs with integrated ball-and-socket joints that allows for breezy on-the-wrist adjustments. For watch lovers, we have been all here, and if it is difficult to adjust, something is not right thankfully with RJ's technology, this is an issue that belongs to the past.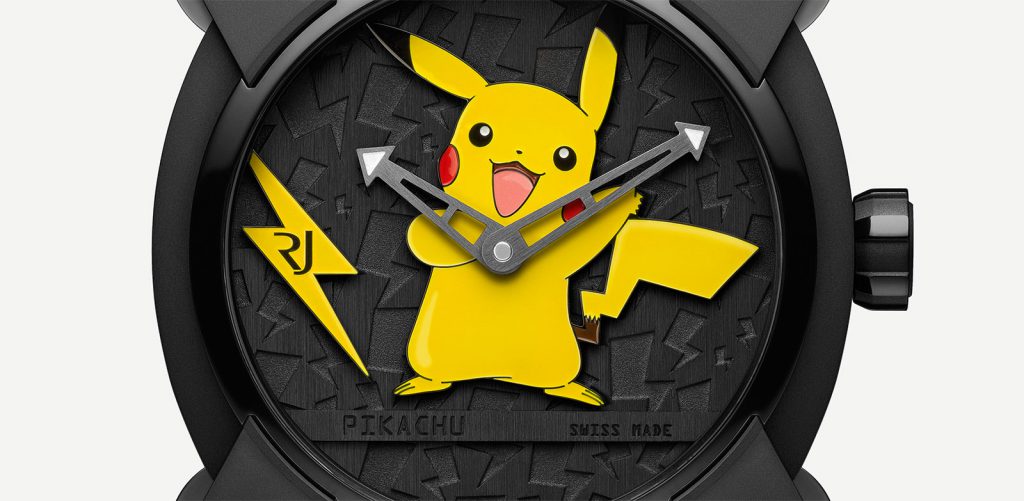 Moving on to the dial, the main character Pikachu is the star. I like how yellow blends so well with the black DLC-coated baseplate. The result is really playful particularly that Pikachu is also amplified by the engraved lightning pattern at the 9 o'clock. For those who know the character of Pikachu, we all remember the electrifying powers of the wild Pokémon which is really nice to be showcased in a watch. The dial has some very nice touches too like sand-blasted or satin-brushed textures which admittedly really looks good o Pikachu. The resulted depth is simply awesome.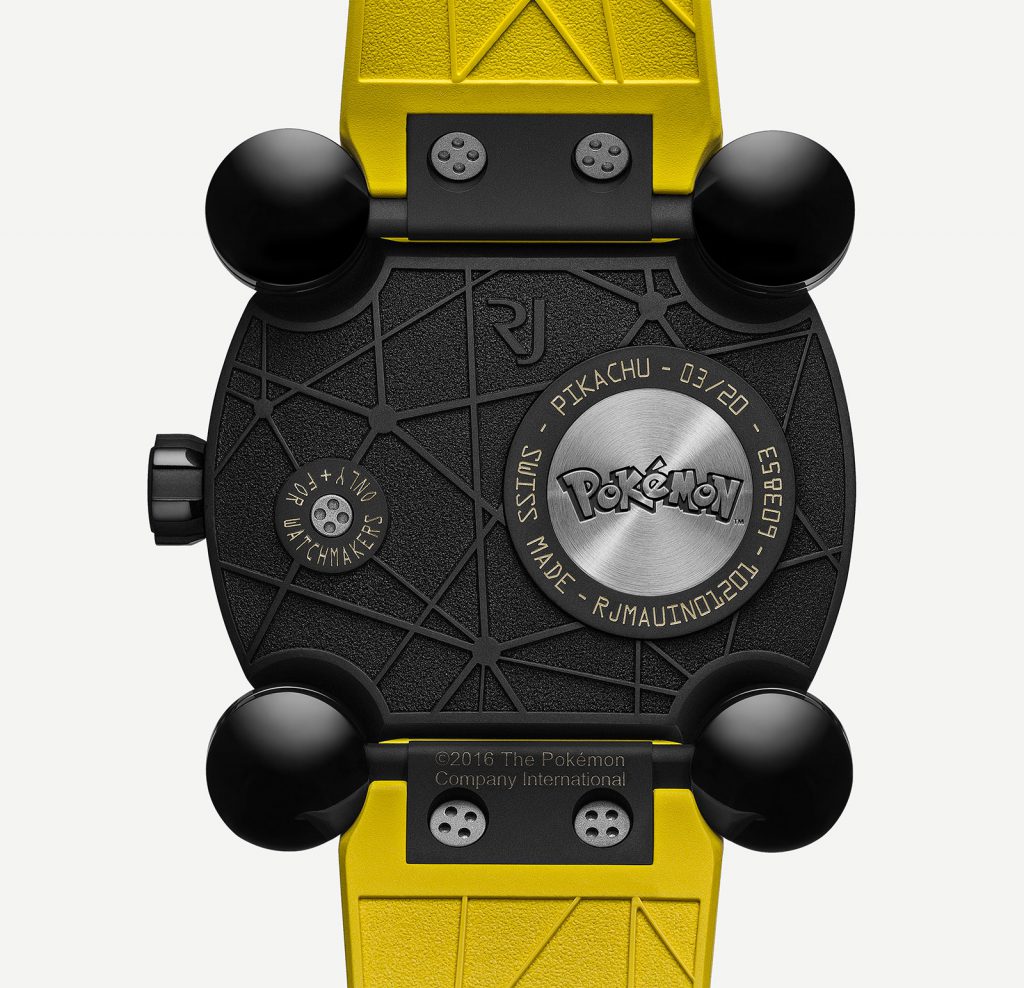 Now as we turn to the caseback, well we are greeted with a very nice animated presentation of the brand honoring Pokémon. The way Pokemon is printed on the stellar-patterned caseback is really thoughtful and I like it. Nothing much to see here except the number of the watch out of 20 pieces that has been created.
The Romain Jerome RJ x Pokémon Pikachu comes on a very nice vulcanized rubber strap perfectly matching Pikachu's lively yellow color. The grainy texture on the caseback also goes to the backside of the strap all the way to a circular-brushed steel Pokémon medallion.
As of this writing, the watch is priced at US$20,000 and is only available at Romain Jerome retailers in Europe, the Americas and the Middle East. For more info, please visit romainjerome.ch